Admit it; had you been looking at the five-year point-to-point returns of equity funds in the last few months, you would have been tempted to simply stash your money in FDs. I am not blaming. I mean, a 4.5 per cent category-average 5-year return of equity funds would take you nowhere! And inflation rose at 7.6 per cent annually over the same period.
Does this shock you? It should, because there is no better example than this period to showcase to you the perils of lump sum investing in equity markets. On the flip side, there is no better example than this to tell why you should not be looking at point-to-point fund returns alone to arrive at your fund buy-sell decision.
The five-year misery
Let us take the example of our recent report ' The FundsIndia 5' (if you haven't had a chance to read this, login to your FundsIndia account and click the link on the top right) ; five funds that stood the test of time for over a decade.
We had the five and ten-year point-to-point returns of these funds mentioned in the report and what a contrast they were. The ten-year returns were in high double digits while the five-year returns were in the range of 4-8 per cent. Now, that set quite a few of you wondering how these funds were investment worthy in the first place. Others felt, funds simply reflect markets. If the markets were at a peak in 2007 (our five-year period was Dec 2007-12), then funds can't be any better.
The number game
Yes, some of you were right that funds cannot perform too differently from the markets. After all, that is where they invest. And that is the reason why when markets move, fund performance can change drastically.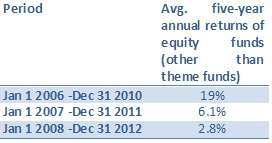 See the table given alongside. Returns from peak markets of 2007 and early 2008 clearly delivered poor returns because both the market and your funds would have been at a high then. But 2006 was different as the market was just entering a bull phase.
Simply put, the base matters when it comes to returns; or in other words, when you invested matters (if you invest through lump sum). Calculate from a peak and your returns are low. Calculate from a low and the scene changes drastically. The former is what we have been seeing in recent months.
Now coming back to FundsIndia 5, see table below. Compare the SIP returns over the same period compared with the 5-year point-to-point returns. The former is superior and does not alarm you.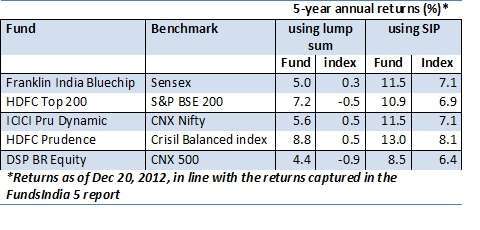 Agreed, that it was a tough period overall and superior return was hard to come by (pl. note that some funds managed better returns than this but for illustrative purposes we chose FundsIndia 5).
Now if you are a regular, systematic investor, this is what you should be looking at, in your portfolio, not just the flash in the pan point-to-point returns. (please note that your portfolio at FundsIndia provides you the IRR of your SIPs of over one year and also that of the whole portfolio) Otherwise, there is a risk of your making a sell decision (or sometimes a buy decision) based on the point-to-point returns.
Does it mean that you should never go for lump sum? You can, if you have a very long-term goal of say 8-10 years or more. In such as case, even if you time your entry poorly, chances are that markets go through multi-cycles in those 10 years or more to deliver decent returns.
If you have a medium-term goal of five years are so, SIPs can be a less risky bet. At best, you may supplement it with lump sums when you see a market correction of say 5 per cent or more if you wish to prop up your portfolio returns.
[fbcomments]