We all know that the new Indian government has launched a whole set of reform initiatives. Thanks to these, the country's economy is poised to grow on a fast track mode over the next few years. But, how can you, as an investor, take advantage of this situation and invest smartly?
We have analysed hundreds of schemes to identify a small set of funds that are best positioned to take advantage of the revival story, so that they deliver great returns to you. We are calling it the 'New India Portfolio' and it is available for you to invest and benefit from the India story.
Why invest now
Post the new political regime, there have been a spate of reforms announced from mid-2014 causing the markets to gain. However, these reforms received a structure and shape (by way of fund allocation, laws, etc.), after the recent budget.
India's macroeconomic indicators are improving over the last one year as indicated below. Major factors which impacted the economy are turning positive. Lower inflation, improving deficit situation aided by lower crude prices, and the stable currency are some of the improving macro economic factors. Similarly, petrol and diesel prices' deregulation helped the government reign in fiscal deficit.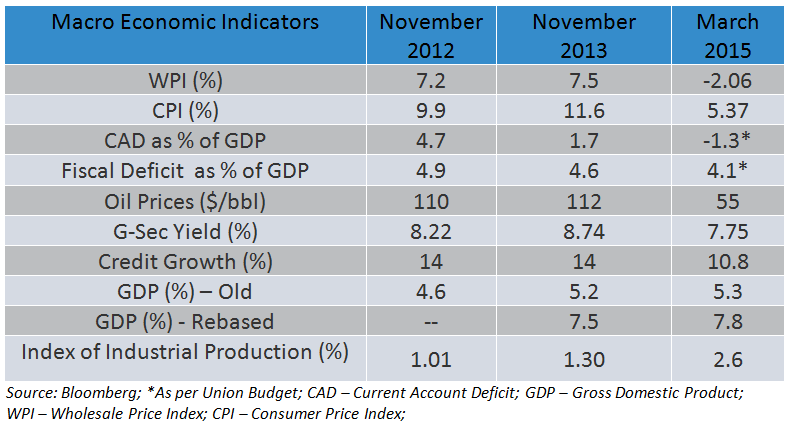 Besides the above, the environment for growth became conducive since the Reserve Bank of India (RBI) started cutting rates (2 rate cuts of 25 basis points have so far been done; more to come).
This prompted us to build a portfolio that will gain from an economic revival and easing rate cut scenario. Those who are keen to benefit from India's growth revival should consider the New India Portfolio for long-term wealth creation.
The funds and why they were chosen
We analysed hundreds of schemes to identify a small set of funds that are best positioned to take advantage of the revival story, so that they deliver returns stemming from a revival story. And in the process, we did not lose sight of the core of our fund picking philosophy – that of consistency and stability.
This is reflected in our choice of funds for the New India Portfolio as well. In other words, this is not a portfolio meant to deliver flashy returns. You may, therefore, not find all top notch funds alone in the portfolio. Stability, together with portfolios tuned towards reviving sectors and themes, will distinguish this 4-fund portfolio from regular funds.
A diversified fund – A diversified fund with premium blue chip companies and a general bias for large caps can provide stability to the portfolio. Such a fund is necessary in any core portfolio. We have chosen one that scales high on a risk-adjusted basis, and has low volatility. The fund has a consistent track record of more than 5 years.
A mid-cap fund – A contrarian mid-cap fund will help you capture the potential in quality mid-sized companies that usually outperform broad markets. Mid-sized companies that benefit from higher capacity utilisation or deleverage in an easing interest rate also benefit from operating and financial leverage. These companies, albeit risky, are well placed to gain in a prolonged rally. We have tried to mitigate the risks from a typical mid-cap fund by choosing one that is less volatile, even as its portfolio is well placed to capture the upside from economic reforms. The fund has a consistent track record of more than 5 years.
A diversified theme fund – We chose a fund that will invest in multi-themes (infrastructure, resources, finance, social development, and agriculture) that are meant to act as building blocks for the economy. This fund can be expected to benefit well from a revival in cyclical sectors. Cyclical sectors such as manufacturing, infrastructure, banking, auto and so on are the ones that prop the Gross Domestic Product (GDP) growth in any economic revival. This was seen in 1992-97, as well as the 2003-2008 rally.
A long-term debt fund – To ride the interest rate rally (when rates fall) and to provide meaningful asset allocation, we added an income fund that is well placed now to gain from falling rates (price rally when rates fall). The fund seeks to play the credit spread – which is the difference between the government bond (called gilt) and corporate bond rates. It also takes higher exposure in government securities, if the interest environment is conducive. This fund takes exposure currently to medium-to-long term maturity government securities and AAA-rated bonds, and is ideally placed to gain from a debt rally.
How the portfolio fared
Back testing analysis seeks to estimate the performance of a strategy if it had been employed during a past period. You may be aware about the individual performance of the underlying funds; but the weighted average performance of the underlying funds can bring to light its ability to contain volatility or otherwise, and generate superior returns overall. The portfolio generated 18 per cent compounded annual returns in the last five years, compared with the 11 per cent returns from the blended index.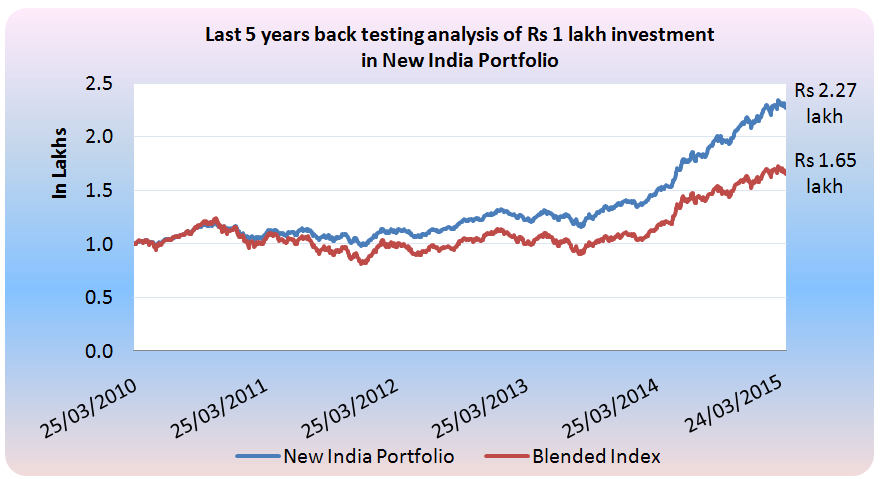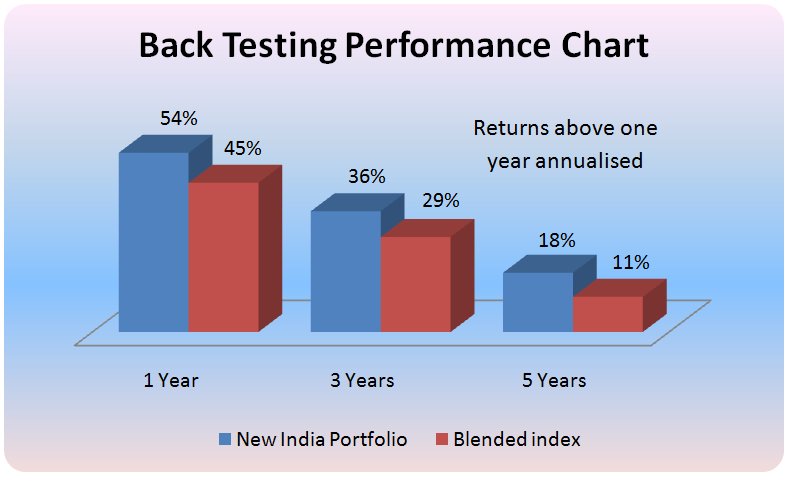 Returns over one year are annualized (as of 24/03/2015).
Is it for you?
If you are looking for a high risk-high return predominantly equity portfolio with some amount of debt, and are willing to hold for at least 5 years, then you could consider New India Portfolio for long term wealth creation.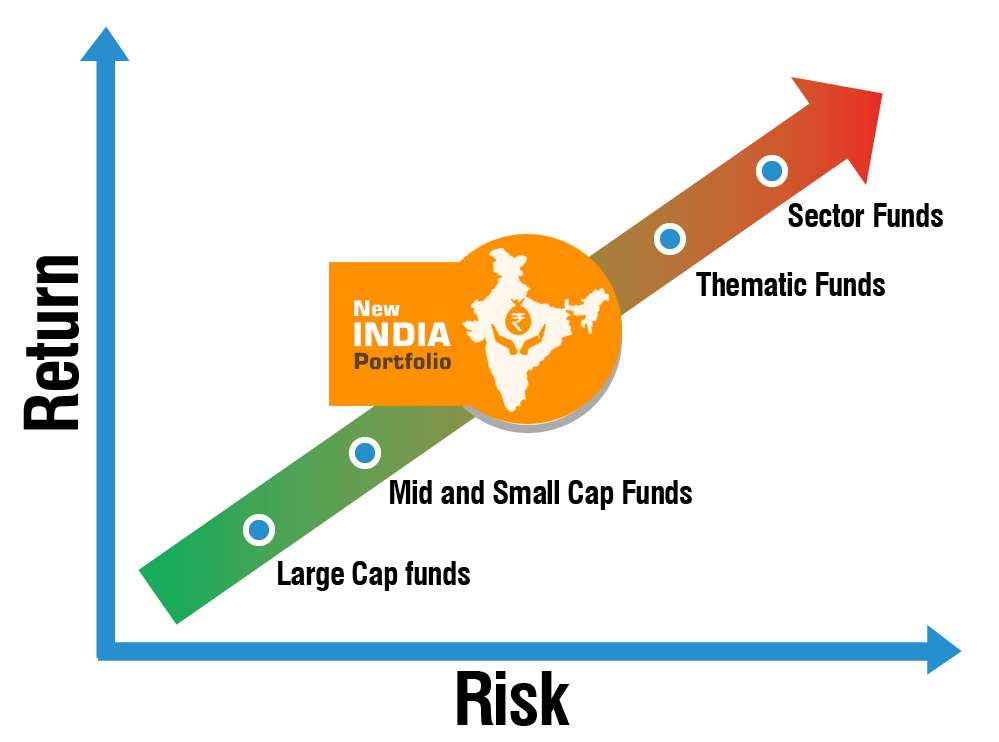 On a risk-reward basis, the New India Portfolio is positioned above large and mid-cap funds, but below thematic and sector funds. This portfolio could be more volatile than a pure large cap portfolio, but well positioned to deliver better returns in the long run. It is more suitable for existing investors who look for a slightly aggressive portfolio to supplement their existing portfolio.
The New India Portfolio is a high-risk portfolio, and investors are advised to get it reviewed with their advisors every 6 months. As always, our advisors would be able to give you the in-house view on these funds, and whether your strategy needs any change.
*Mutual Fund investments are subject to market risks, read all scheme related documents carefully. Past performance is not indicative of future results.
[fbcomments]