Investing regularly helps builds wealth. You may have heard this axiom several times, and you might even agree to it. The world's most successful investors swear by it. But there's still some difficulty in getting started, isn't it?
You may put off investing, and thereby put off building wealth, due to one or more of the following reasons:
• A lot of time is required – There are hundreds of schemes in the mutual fund universe, and each one claims to be the best. That makes it difficult to shortlist the best fund that will work for you.
• What is best for you? – That's the million dollar question. The answer lies in understanding what you require (your goal, investment time frame, monthly investment amount, and of course, your risk profile), and then picking the best funds that can help you meet your requirement in time.
These nitty-gritties lie at the heart of successful investing. Get them right, and your investment journey will be a smooth ride; get them wrong, and you may either make the wrong investments, or even worse, put off investing in mutual funds altogether.
The solution
Presenting FundsIndia's 'SIP Designer' – a powerful tool that will instantly design a portfolio of India's best mutual funds according to your requirements. Here's how it works: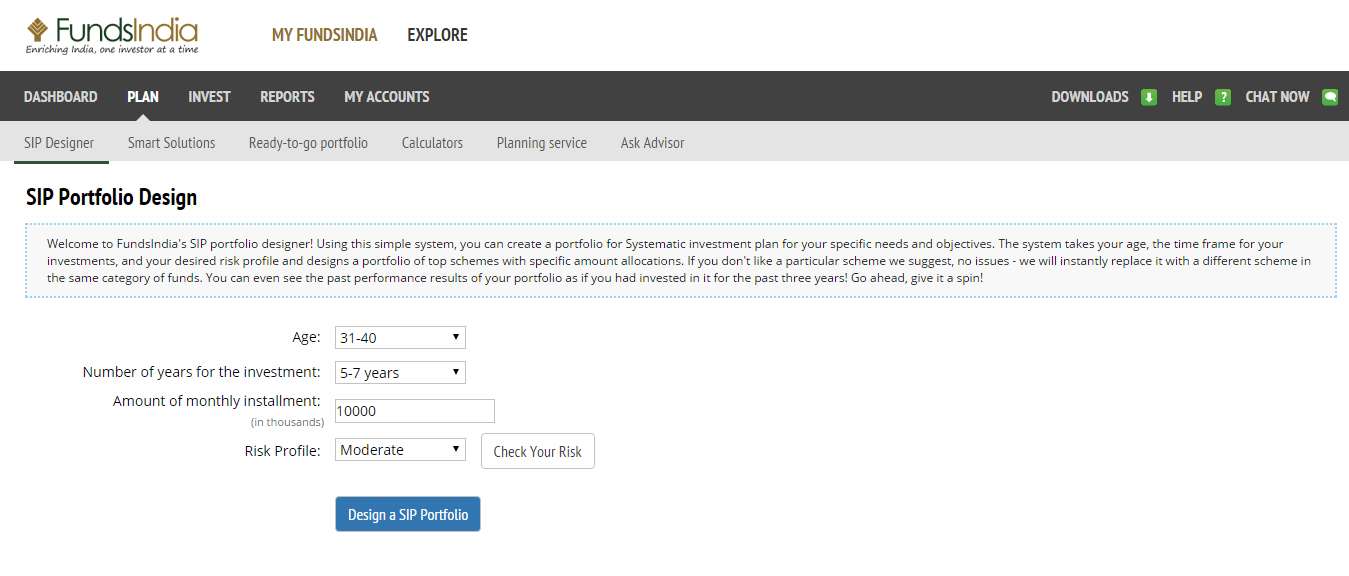 1. It's all about you – The SIP Designer needs to know your age, investment time frame, and monthly instalment amount. Your risk profile is also an important determinant in designing your portfolio. If you're not too sure about your risk profile, then you can take a quick and simple risk test by clicking on 'Check your risk'.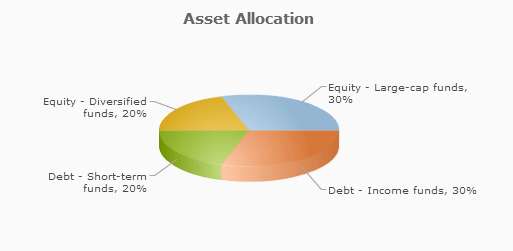 2. Get a customised portfolio instantly – That's it! Our SIP Designer will instantly design a powerful mutual fund portfolio for systematic investing based on your inputs. Incredible, isn't it? You can look at the funds shortlisted for you under different categories, and get going with your investment journey by clicking the 'Create SIP' button at the end of the page.
The instant wealth designer
Here's why the SIP Designer will work for you:
• It's consistent – The SIP Designer runs on a robust algorithm. Based on your inputs, the system assigns a risk score to your portfolio and creates an asset allocation pattern. Depending on the categories of funds in the asset allocation pattern, the top schemes under that category are used to build the portfolio. You also enjoy flexibility because if you do not want a particular scheme that has been suggested to you in your portfolio, then you have the freedom to change it with an equivalent scheme from the same category.
• It gives you the best of both worlds – It is built with powerful technological tools, along with the expertise of FundsIndia's Mutual Fund Research Desk. You can be confident that the portfolio designed for you will only pick the best funds for you in an unbiased manner, and in accordance with your needs.
• It is instant – That's the best part! It will take you less than five minutes to kick-start your journey to wealth with the SIP Designer. Moreover, you can get your portfolio designed anytime and anywhere, without any time or geographical restrictions.
Investing is truly easy when you invest with the best, isn't it?

[fbcomments]