A luxury car is waiting outside your house. It is an absolute dream-like drive machine with looks to kill. As you stand outside gaping at it with child-like excitement, the door of the car opens for you. You're excited, but cautious. You peer in and slowly seat yourself inside the car, finding instant comfort in its luxurious interiors. That's when you realise something is amiss – you see that the car doesn't have a human driver.
Instead, the driver's seat has been occupied by a robot. The robot asks you to state the name of your destination. With some effort, you shake off your tongue-tiedness and utter it, only to watch in surprise as the car calmly makes its way on the road towards your destination. Occasionally, it makes pit stops at premium service stations where automobile experts make sure that the car has enough energy to run, and that it is well-oiled. You're savouring the smooth ride, pleased that you don't have to take the trouble of driving yourself, or being driven around by unruly cab drivers. Before you know it, you realise that you've arrived at your destination in just the right amount of time.
Sounds surreal, doesn't it? Now imagine if you had a luxury car to take you to your investment goal in as much, if not more, convenience. Wouldn't that be a dream come true? Well, such a luxury investment vehicle does exist, and it's called 'Smart Solutions'. Here's how FundsIndia's Smart Solutions is your luxury investment car:
1. You choose your destination to start: What is your investment goal – is it to build a comfortable retirement corpus for yourself, or to save enough money for your children's higher education, or their marriage a few years down the line? You just have to select your investment destination to kick-start your journey in the Smart Solutions vehicle, and you will be taken to your destination no matter what.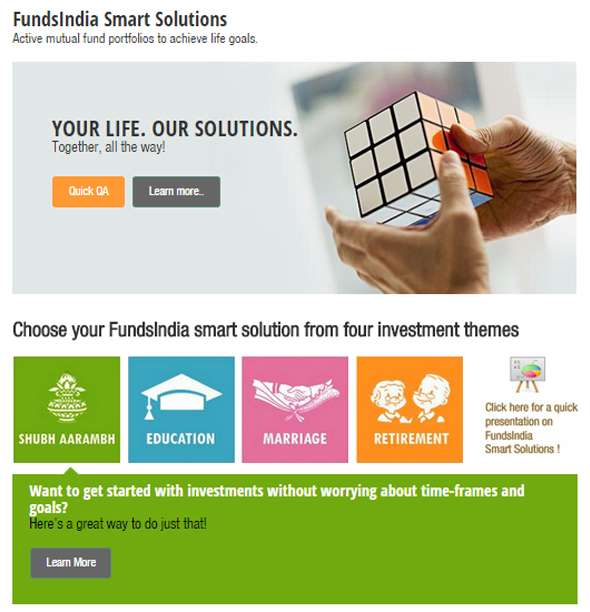 2. It's a dream drive machine: Your Smart Solutions car is nothing short of a dream, really. Unlike other providers or products that just suggest funds for you and then dust their hands off any and all responsibilities pertaining to you, the Smart Solutions vehicle promises to stay with you until you reach your destination. That's saying a lot about the quality of the product, isn't it?
3. A smart robot at your service: Human intervention is at its minimal best in the Smart Solutions vehicle, what with the power of Robot-advisory to drive it! This powerful blend of technological expertise and research will be able to track the performance of your investment portfolio, and monitor its progress towards your goal. If any deviation is found, then click-easy expert changes will be suggested. These changes will automatically be implemented once you click 'Yes'.
4. Pit stops with automobile experts: The Mutual Fund Research Desk of FundsIndia.com keeps a close eye on the performance of all Smart Solutions' portfolios. Apart from Robot-advisory to track performance, periodic reviews by investment advisors ensure that your Smart Solutions portfolios are always ahead in the journey of wealth.
5. Be on track towards your destination: The Smart Solutions car liberates you from the pain of maintaining your portfolio all by yourself, where there may be chances of it getting stuck in a traffic jam of bad returns. Once you get started, you can rest assured that you will be taken safely to your destination. At any given point of time, if your portfolio isn't performing in line with your goal, then asset-rebalancing measures will be suggested to you. These are click-easy expert recommendations that will immediately be implemented once you say 'yes'.
So, when you invest in the smart portfolios of FundsIndia's Smart Solutions, you can be footloose and fancy-free because you will be taken to your investment destination in style, without you having anything to worry about.
[fbcomments]