India's widening current account deficit is a cause of concern and the government has been under pressure to reign in the deficit. The government has taken a few measures including the partial decontrol of diesel pricing and a hike in import duty on gold. The measures taken by the government  has its repercussions on the local currency as well. It's therefore topical to take a look at the technical set-up in the Indian Rupee – US Dollar pair.
From the daily chart of USD/INR pair featured below, it is apparent that  US Dollar has been in a downward correction in the recent months.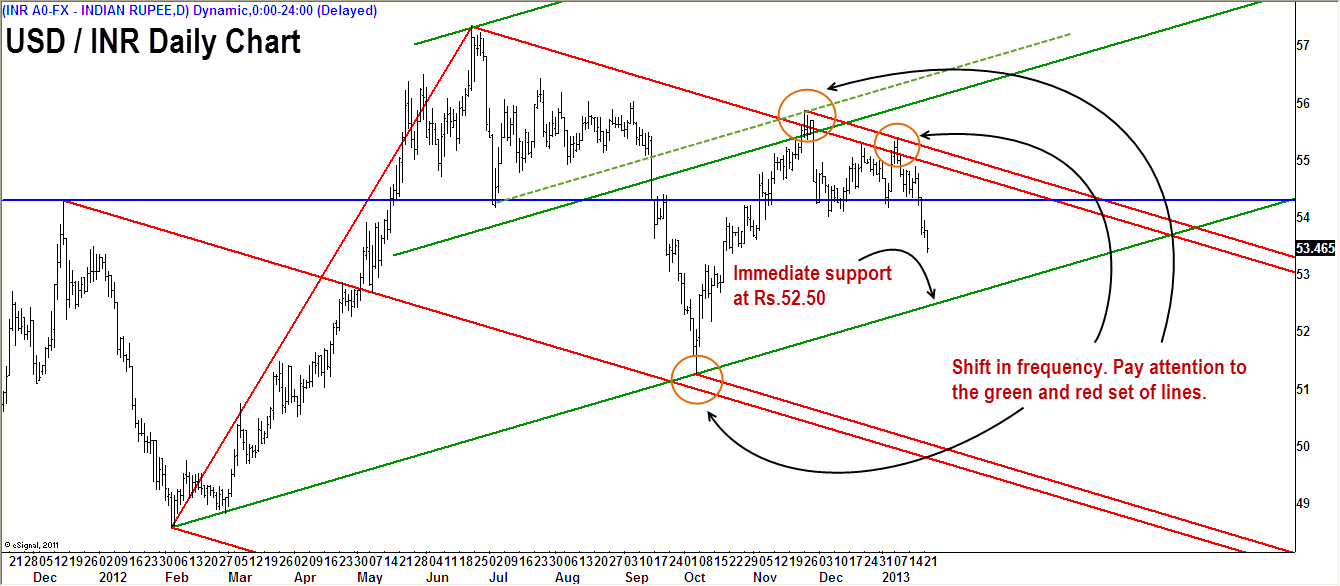 There are a lot of interesting technical analysis concepts at play in the chart above. The prior support at 54.30, captured by the blue line,  has been breached and this level would act as a resistance now . In the earlier post, I had also alluded to the concept of a Shift in Frequency which again is at play in this chart.
We expect the US Dollar to continue its downtrend (Rupee to appreciate) to the immediate support at Rs.52.40-52.50 range. A fall below the Oct.5 swing low of Rs.51.27 would strengthen the case for a further decline in the US Dollar.
The short-term trend for the green back remains bearish as long as it trades below the resistance at Rs.56. Let's talk about lower targets for the US Dollar once Rs.51.27 is busted.
From a broader perspective, the uptrend in the US Dollar is pretty much intact. Though the US Dollar has depreciated in the recent weeks, the fall is still within the confines of a correction in an uptrend. Only a fall below the Feb.6 swing low of Rs.48.59 would  indicate the reversal of the long-term uptrend.
Await an update as and when the US Dollar breaches any significant level.
[fbcomments]