Securing your family's well-being is one of the most important goals in life. One way to ensure this is by planning for their protection against uncertain events through insurance. An untimely death can cause a major setback to your family – both emotionally as well as financially, especially if you are their sole breadwinner.
What is Human Life Value?
Human Life Value (HLV) is a way of deciding how much life insurance you actually need. Your income, expenses, and number of employable years, along with the inflation adjusted cost of your future expenses will be taken into consideration here.
There are two ways to calculate HLV:
Income Replacement Method
Need Analysis Method
Income Replacement Method
Let's say your income is Rs. 6,00,000 per annum. Let's keep aside 20% of this for personal expenses like petrol, or other essential recreational expenses. Your family needs Rs. 4,80,000 for their regular expenses. You don't have any financial assets under your name. In this case, we need to have a corpus of Rs. 80,00,000 as fixed deposit which provides an interest of 6% per annum. In this case, your HLV is Rs. 80,00,000 presuming you don't have any existing insurance and you haven't made any investments earlier. The same would be less if you have already taken any insurance, or have any financial investments in your name.

Need Analysis Method
In this method, you have to first identify your liabilities like home loans, car loans or personal loans. There could also be other liabilities like the expenses of your wife and kids, goals like your children's higher education, their marriage in the future, etc. Based on this, you can find out the insurance gap in your life. If all your liabilities are covered by all your accumulated assets, then you don't need insurance.
Remember:
HLV = All liabilities
Insurance Gap = HLV – Accumulated Assets – Insurance already taken
For example, if your HLV is Rs. 1,00,00,000 and your investments in various asset classes (properties and other financial assets) is Rs.1,00,00,000, then your accumulated assets are backing your HLV and you don't require insurance.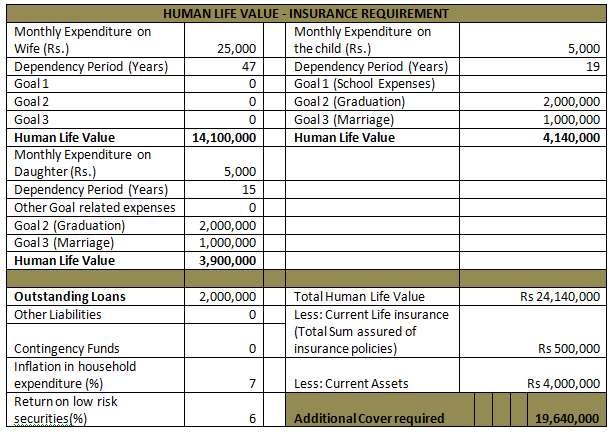 In the illustration given above, the monthly expenses of a man and his family are Rs. 25,000. His wife is 38 years old and her life expectancy is 85 years. Thus, the family's needs are to be met till the life expectancy of the spouse is met. He has two children and he wishes to save money for their higher education and marriage, which will cost him Rs. 20,00,000 and Rs. 10,00,000 respectively for each child. The children's ongoing expenses are Rs. 5,000 per month for each child. He also has a home loan liability of Rs. 20,00,000.
In the above case, the HLV works out to be close to Rs. 2.5 crore. He already has taken insurance coverage to the tune of Rs. 5,00,000 and he has accumulated assets worth Rs. 40,00,000. The insurance gap identified in the above illustration is Rs. 1.9 crore.
Save all your documents online – Take advantage of our e-Insurance Repository that will allow you to consolidate all your insurance reports in one convenient online location.
Make revisions on the go – Make changes and revisions to your insurance documents online in a quick and easy manner.
Get the power of choice – Compare between different term insurance providers online and choose the best plan depending on the features and cost of the plan.
Expert advice to assist you – Don't know which term plan is best for you? Talk to our expert insurance advisors who will guide you to choose the best plan.
[fbcomments]