Are you looking to add some equity funds to your portfolio? If you already hold a basket of well-diversified funds, then Religare Mid N Small Cap fund can be a good addition to provide some returns kicker to your portfolio. With a return of 17 per cent compounded annually over the last three years, this mid and small-cap focused fund convincingly beat its benchmark CNX Midcap's performance of 5.3 per cent. Its rather offbeat portfolio of both mid and small-cap stocks can provide you with exposure to the lesser known stocks in the smaller market-cap segment in the market.
Suitability
Religare Mid N Small Cap fund cannot be your core holding. Its limited track record (launched in March 2008) and small asset size adds to its risk. You can at best hold this fund as a diversifier and limit exposure to 5-10 per cent of your portfolio. Invest through the systematic investment plan route to avoid the risk of ill-timing the market. A 3-5 year perspective can help average costs well and earn optimal returns.
Performance
Religare Mid N Small Cap delivered 10.3 per cent annually since its launch in March 2008. The returns may not seem extraordinary; but is still higher than its benchmark return of 6.1 per cent and the equity category average of 6.5 per cent.
Its return since inception could have been even better had the fund stayed fully invested in equities in the rally following the March 2009 lows. It had a fifth of its assets in debt and cash then. Still, by 2010, the fund found its feet well in the markets. It managed 35 per cent that year, well above the equity category average of 20 per cent.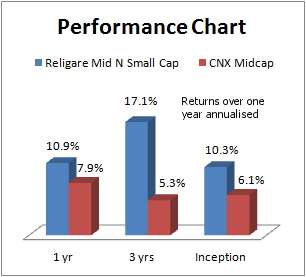 In the volatile year of 2011 too, it fell 7 percentage points lower than the category, what with some offbeat picks that did not have high correlation with the market as well as defensive FMCG stocks. Religare Mid N Small Cap fund scores well on the risk front too. Its risk-adjusted returns, measured by the sharpe ratio, is as good as its larger peer IDFC Premier Equity over a three-year period. But HDFC Mid-Cap Opportunities still remains a notch better.
The fund has also been a consistent performer, beating its benchmark, three-fifths of the time in the last three years.
Portfolio
Like most other funds, banking and financial sector remains Religare Mid N Small Cap's top pick. While the sector was not an outperformer last year, the fund's picks such as City Union Bank, ING Vysya Bank and Federal bank managed decent gains. In the sector holding chart given, chemicals, hotels, consumer durable and trading fall in the 'other 50 per cent' category.
Some of its other offbeat picks that delivered well include Tree House Education and Accessories, Eros International Media and Kaveri Seed Company. The last-mentioned stock trebled in price in the past year.
The fund is managed by Vinay Paharia. The fund house has stated that there will be no change in the fund management team as a result of a recent investment it received from a U.S company.
-Vidya Bala, Head FundsIndia Mutual Fund Research
[fbcomments]