Since 2008, housing and opportunities in housing is not an investment idea that has been much talked about in our market. Given this background, the new fund offer from HDFC AMC does seem unique for its theme and the timing of the theme.
HDFC Housing Opportunities Fund (Series I) is 1140 days, closed-ended thematic equity fund. It is not a real estate or realty fund. It will invest 80-85% in equity stocks of housing and all allied businesses and 15-20% in debt and money market instruments. It can also use derivatives for downside protection in case of falls.
The fund seeks to play on all opportunities arising from a rise in housing demand. A housing boom involves several sectors – banks and financials, cement, steel, chemicals, construction contractors, building products, paints, electricals, and even consumer durables and other household furnishings. So while there may not be relevant opportunities in the real estate sector itself, the theme can be played through these sectors. Further, segments such as steel, cement, construction, banks, and those consumer-related have additional drivers through the planned infrastructure push, bank recapitalisation, and higher consumer spending. The fund may also aim at capping downside risks through derivatives.
A new benchmark with a base date of March 31st 2017 has been created for this fund called the India Housing and Allied Business index, provided by IISL. The heaviest sector weights in this benchmark are banks, cement, and housing finance and the index will be rebalanced half-yearly. 
This fund is betting on a revival in housing demand. While the real estate sector has been moribund for some time now, affordable housing as a sub-segment could see some revival. There are several potential drivers: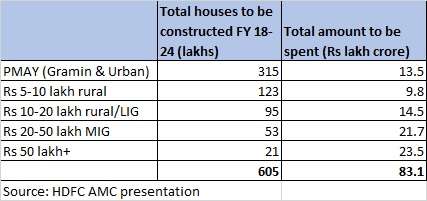 One, there is a focused government push on affordable housing.
The government has a large-scale plan to construct houses over five years under Pradhan Mantri Awaas Yojana – Urban and Gramin.
This push includes interest rate subsidies for borrowers and tax incentives for developers.
For the 6 crore houses stated above, analyst reports peg the demand for key inputs as follows (see accompanying table):
Aside of the above, fresh credit growth by way of home loans also makes housing finance a big sector to play the housing theme.
Two, with interest rates moving lower and a general preference by many banks to grow their retail loan book, affordability on part of home buyers has improved.
The data below provides ratio of EMI to post-tax income. A lower ratio indicates higher affordability. As can be seen, the ratio has been steadily falling since FY-12.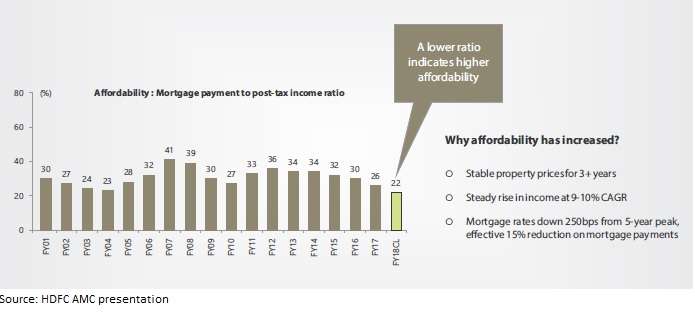 ​​
Three, far stricter regulation through the RERA Act can improve transparency, instilling confidence in buyers that developers will honour their obligations. Recourse in case of failure on part of the developers is also defined in the Act, all of which can revive buying sentiment.
Challenges
The challenge in this fund is whether or not the theme is at the cusp of a recovery. A delay in affordable housing product launches, demand not picking up pace, or a longer time for pay-off and earnings acceleration in related sectors, whether through housing or through infrastructure, can set back a price run up. Given the 3-year period for the fund, a delayed pickup can mean that the full benefit of the up-cycle may not be realised. Many of the sectors that are related to housing have mid and small-cap stocks that may run up or correct fast and also see quick dry-up of liquidity. The fund will have to be on its feet both in terms of entry and exits in some of the sectors/stocks.
The fund will be managed by Srinivas Rao Ravuri. You can view the AMC's presentation of the fund and other details here. The NFO opened on November 16 and closes on November 30. It has a product labelling of high risk. Minimum investment is Rs 5000 and in multiples of Rs 10 thereafter.
The above article explains the feature of HDFC Housing Opportunities' NFO and is not a recommendation. Investors need to take into account their investment objective, time frame and risk appetite before investing. Mutual funds are subject to market risks. Please read the scheme information and other related documents before investing.
[fbcomments]