Short on time? Listen to a brief overview of this week's recommendation.


What
Equity fund that invests across market capitalisations
Looks for opportunities in stocks of companies that are temporarily mispriced or are turning around
Why
Strong pick up in performance in the past few years
Focus on risk and quality when looking at low-valued stocks to avoid value traps
Well-defined and broad value strategy
With a 1-year return of 38.9 percent, Invesco India Contra is among the top diversified or multi-cap funds. These returns also place it 6 percentage points above the BSE 500 index – a feat not achieved by more than half the diversified funds in the past year. The fund's value strategy, which saw it picking stocks in sectors such as fertilisers, construction, and industrials early on, supported returns over the past three years. The fund has also seen a pickup in size, going from less than Rs 100 crore at end-2014 to Rs 736 crore now.
Strategy
Invesco India Contra (Invesco Contra) orients its stock-picking strategy towards finding lower-valued stocks across market capitalisations. It finds value in two ways. The first is a broader sector call, where a sector may be marked down in valuation multiples, either because of negative market sentiment or because it is going through a down-phase. In such a situation, the fund may go overweight on the sector compared to its benchmark, the BSE 500 index. For example, the fund picked up industrials in 2013, construction and energy in 2015 and 2016 and is betting on IT now. The second way is to pick up stocks that are relatively cheaper, even though the sector or theme itself may not be. Examples here include holding ITC in 2015 and adding Britannia Industries in 2013, at a time when FMCG valuations were soaring.
The idea behind a value strategy is to gain when the re-rating of the sector and stock take place. This, Invesco Contra has managed very well. Stocks such as MRF, Maruti Suzuki, HDFC Bank, Coromandel International, KNR Constructions, Ashoka Buildcon, Dish TV, HPCL, Britannia Industries, Greenply Indsutries, have all been timed right and paid off very well over the past three years. In picking value stocks, the fund pays attention to the strength of the company's balance sheet – a trait shared by most Invesco equity funds – to ensure that undue risk is not being taken.
Invesco Contra also maintains a part of the portfolio in stocks that have so run up, but still hold potential. That is, it may not qualify as a 'value' pick, but can continue to deliver providing further support to returns. Examples here include the fund's continued holding of HDFC Bank, Maruti Suzuki, or MRF. In this way, the fund includes a little bit of the growth strategy benefit which can be useful at times value takes time to deliver.
Performance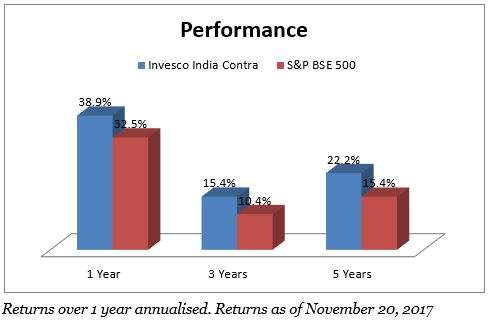 On a 1-year rolling return over the past three years, Invesco Contra has beaten the Nifty 500 index and the diversified category average nearly all the time. Over a longer timeframe though, the consistency metric drops. Rolling 3-year returns over the past seven years has the fund beating the category average 78 percent of the time. Other value-oriented funds such as ICICI Prudential Value Discovery and those tending towards a valuation-rooted approach such as Franklin India Prima Plus beat the average nearly all the time. The fund also has a higher proportion of delivering losses on a 1-year and 3-year basis compared to these funds.
This underperformance was during 2012 and 2013, when the fund moved into sectors such as engineering and other capital goods, while still going underweight on sectors such as financials. Select stock picks failing also pulled down returns. The fund's then small sub-Rs 70 crore size may have also been a factor. The better rolling 1-year return though, suggests that the fund's performance in recent years has improved.
On other metrics such as risk-adjusted return (measured by Sharpe) and downside containment (measured by Sortino) too, the fund is catching up to peers. On both metrics, it has moved above category average now and is on par with those such as Franklin India Prima Plus and better than ICICI Prudential Value Discovery and dividend yield funds (which also mostly follow a value-based strategy).
Portfolio
Invesco Contra has been gradually adding banks and financials in the past few months, but it is still not overweight on the sector. With the sharp rally in financial and most private bank stocks, it's hard to find the combination of stronger fundamentals and lower valuations. The fund has been cutting back on automobiles, where it had high holdings.
The portfolio now is tending towards cyclical stocks in spaces such as engineering, metals, and energy. It also has raised exposure to the beaten down software sector. Unlike other value funds, Invesco Contra has thus far remained cautious in terms of going overweight on the pharma space, given the external uncertainties dogging the sector. A higher pharma holding has weighed on returns for other funds.
Given its strategy, the fund would require longer holding periods and a moderate to high risk appetite. There could be periods of underperformance in funds with contrarian strategies. The fund's long-time manager is Amit Ganatra, with Taher Badshah joining in January this year post Vetri Subramaniam's exit.
FundsIndia's Research team has, to the best of its ability, taken into account various factors – both quantitative measures and qualitative assessments, in an unbiased manner, while choosing the fund(s) mentioned above. However, they carry unknown risks and uncertainties linked to broad markets, as well as analysts' expectations about future events. They should not, therefore, be the sole basis for investment decisions. To know how to read our weekly fund reviews, please click here. 
[fbcomments]