While the Sensex may have had a swift rally post September 2013, scaling newer peaks, the run-up has been restricted to a select universe of stocks. In other words, the markets remain polarized. That leaves fund houses to cherry pick stocks, especially in the mid and small-cap universe.
Such stocks, of course, may not be too favoured by the market currently as they are beaten down for a reason – either because of sector downturn, or for being at too nascent a stage in an emerging industry or theme. These stocks also need patience in terms of holding to reach a stage ripe enough to deliver returns, but may hold the potential to become multi-baggers during an economic upturn.
Fund houses seem to find opportunity in this segment in the current market scenario and hence, the launch of closed-end funds in this universe. Let us take a quick look at the two NFOs this week.
This 2-year closed-end fund that will become open-ended post the 2-year lock in, will predominantly invest in companies that are at a nascent stage in their respective businesses, and hold the potential to grow their revenues and profits higher than the broader market.
The table below (right) shows how the CNX Small Cap and CNX Midcap indices have underperformed post 2007, even as the bellwether index Nifty moved past its earlier index. That said, the table (left) also indicates the kind of returns that the smaller indices generated in the prolonged rally between 2004 and 2007 and also in the bounce back following the March 2009 lows.
As can be seen, the CNX Small Cap nearly doubled from the lows in February 2009, in a span of a little over a year and a half.
L&T Emerging Business will seek to hold companies that are under-researched by the broking community and those will a low free float of FII ownership, thus keeping them from the vagaries of FII inflows and exits. The fund also reckons that a good number of companies in the lower market cap segment are trading at valuations of 12PE or lower, thus providing scope for appreciation (see table below).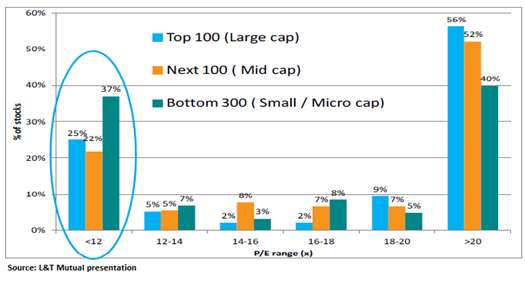 The fund has also identified themes such as auto ancillary and building products which are expected to do well during an economic pickup, besides themes such as farm products – given the structural issues in agri productivity and hence, food inflation.
The 2-year closed window is expected to give the fund some breathing space to buy and hold such stocks. The fund will become open-ended after the 2-year period. The fund will be managed by S.N. Lahiri and Rajesh Pherwani. The NFO closes on May 6.
Birla Sun Life Emerging Leaders Fund – Series 1
The other closed-end fund with a similar theme is from the Birla Sun Life stable. This, 3-year closed-end fund will invest 70-100 percent of its assets in high quality companies in the mid and small-cap space. It would look for such companies, with significant business presence in their area of operation, albeit being mid-sized in terms of market cap.
It hopes to put in place financial metrics such as return on investment and return on equity to ensure that quality in the balance sheet of these companies is not compromised.
The fund has identified potential opportunities in sectors such as rural and consumer finance, urban infrastructure, media, mobile internet and e-commerce. It will also seek to pick stocks that are attractively valued.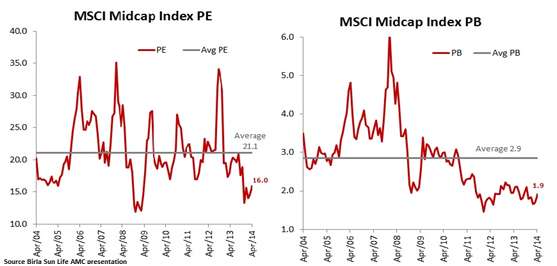 According to data from Morgan Stanley Research, mid-caps are still trading at a discount of 24% and 33% – their 10-year Price Earnings and Price-to-Book average valuations respectively. Such a discount therefore provides potential for returns if the right stocks are picked.
Hitesh Zaveri will manage the fund. The NFO opens on April 25 and closes on April 30.
Suitability of the Above Funds
The above funds are suitable only for investors with a high risk appetite. These funds may hold risks higher than regular mid-cap funds, given their market-cap segment and the nascent nature of businesses for many of the companies that the funds might hold.
Currently, open-ended funds such as DSP BR Microcap or SBI Emerging Businesses have delivered stellar returns in a bull market, but have also fallen steeply in market corrections. Hence, the ability to tolerate risk and volatility needs to be higher for such funds.
Investing in NFO is made simple with FundsIndia. Open a free FundsIndia account in less than 20 minutes for NFO investing.
[fbcomments]