Riding the Dollar Wave
If you thought only international funds generated double-digit returns in the past one year, ICICI Pru Exports and Other Services Fund's performance may surprise you. With a return of 37% in the last one year, the fund is among the top 5 funds in the equity category, almost at par with returns of US-focused funds.
The Fund
ICICI Pru Export and Other Services Fund, was, until recently, called ICICI Pru Services Industries Fund. Clearly, the name change has been done to emphasize the fact that many of the service industries are also dependent on export revenues for a good part.
That means such companies earn their revenue in foreign currency, mostly in US dollars. And not surprisingly, the appreciating dollar against the rupee has led to a rally in the stocks held by this fund, pushing its short-term record.
ICICI Pru Export and Other Services Fund has a reasonably wide universe that includes sectors such as IT and IT-enabled services, telecom, banking and financial services, healthcare, media and entertainment, and hotels.
Performance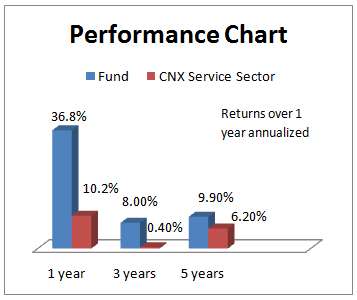 ICICI Pru Export and Other Services Fund may not have an illustrious track record to speak for. The fund delivered 11% annually since its inception in end-2005 and in fact trailed the CNX Service Sector by about 3 percentage points.
Its three-year return at 8% annually, though, is far superior to the nearly negative returns in diversified equity funds and the 0.4% return generated annually by its benchmark. The returns, in fact closely resemble that of technology theme funds.
Clearly, in the last few years of turbulence, it is the service sector that has driven the economic growth, even as manufacturing numbers slackened in pace. That amply explains the pick-up in performance of stocks in these sectors – whether it is IT or healthcare.
Suitability
As is the case with theme funds, ICICI Pru Exports and Other Services Fund too requires timely entry and profit-booking strategies. It is also noteworthy that the fund has underperformed diversified peers in market revival years such as 2009.
If you believed that the export story might have just started, spurred by a revival in markets such as the US, then this fund could be a channel to ride such a boom.
Currently, export numbers are beginning to look up, what with July 2013 exports being 11% higher, even in dollar terms. Stocks, though, have moved up ahead of export numbers and many stocks, especially in the IT space command rich valuations. That apart, the more important question for you to answer would be whether the story will hold steam if you see a domestic economic revival.
Assuming that such an event may be unlikely in the near term, a fund with such a theme would still call for a re-look in a year's time from now. The fund's portfolio, although holding stocks that can strike it rich, equally has risky bets that may hurt if they turn sour.
For investors already holding the fund, some profit booking strategy before the end of FY-14 would be in order to make good the paper profits.
Portfolio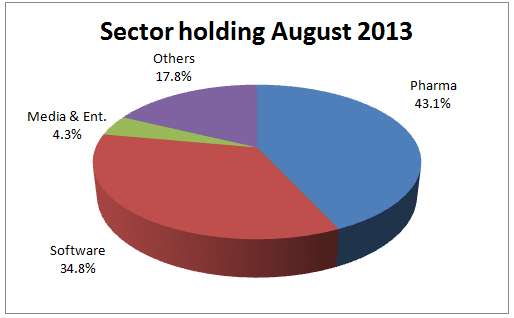 The fund's portfolio turnover, at 0.77 times (August 2013) suggests that it actively churns its portfolio. Also, being a theme fund, sector concentration can be high, lending itself to higher risk.
Banking and financial services, which was the second top sector last year (after IT), did not find a place in the top 5 sectors as of August 2013. It was replaced by pharma; which took a chunky 43% of assets. The IT space came in next with about 35% of assets.
The usual software suspects – Infosys, TCS and HCL Technologies were seen in the portfolio. But other interesting picks in the sector included Infotech Enterprises and Persistent Systems.
The fund is managed by Yogesh Bhatt.
[fbcomments]