Investors with a penchant for risk can consider moderate exposure to UTI Mid Cap Fund. Launched in 2004, this mid-cap fund has made its mark more recently, i.e., in the last 5 years. A high-beta portfolio, the ability to quickly spot sector fortunes, as well as pick small-cap stocks ahead of the market has put this fund in the radar since the mid-cap moved up in late 2013.
With a return of 23 per cent annually in the last 5 years, the fund comfortably beat its benchmark's (CNX Midcap) return of 12.7 per cent annually, and also scored 3 percentage points over the category average in the above period.
The fund and its suitability
UTI Mid Cap currently sports a portfolio of stocks with an average market cap of about Rs 8,200 crore. This average is lower than that of HDFC Mid Cap Opportunities whose market cap is around Rs 10,700 crore. That means UTI Mid Cap invests in more companies with lower market cap as compared to the HDFC fund.
We had recommended HDFC Mid Cap Opportunities last week. That fund is suitable for the mid-cap opportunities. It has a higher standard deviation. That means it can swing quite a bit from its mean returns, making it a bit volatile.
This fund is therefore only suitable for those looking for a high risk-high return proposition. Given the volatile nature of a mid-cap fund in general, investments need to be done in a phased manner, preferably through SIPs. An annual review of the fund performance will also be warranted.
Performance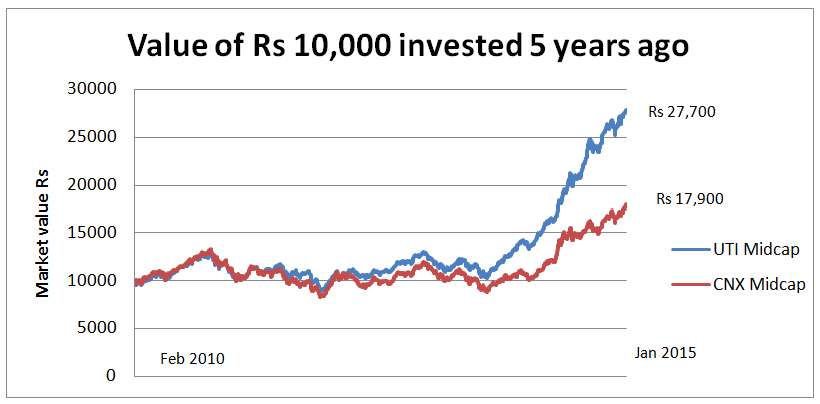 UTI Mid Cap started off well in its year of launch and did well in the following year as well. However, in the bull run of 2006 and 2007, while its returns since inception continued to be higher, its performance against benchmark slackened and the returns in those years lagged the CNX Midcap index. Lower exposure to sectors such as infrastructure and industrial products, and higher exposure to oil and gas, and petro products was one reason for the fund underperforming its benchmark in that period.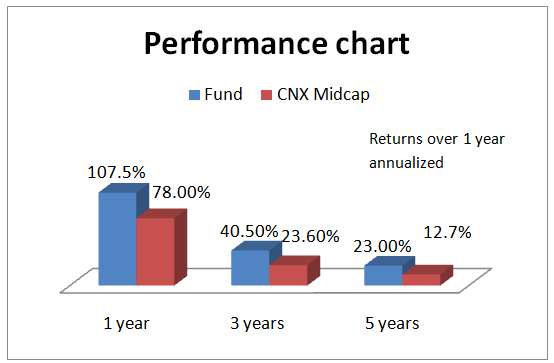 Of course, the premium valuations commanded by stocks in those sectors may also have dissuaded the fund from taking active exposure to those sectors, unless it had timed its entry much earlier. Its bounce back in 2009 though was done in style, and since then, after a near-neutral performance (compared with the benchmark) in 2010, the fund has consistently stayed ahead of the benchmark.
On a rolling 1-year return over the past 3 years, the fund beat it benchmark 96 per cent of the times, a commendable feat. This performance stands at 90 per cent (still a good one) when rolled daily over 3-year time frames, over the past 5 years.
Portfolio
Needless to say, the fund's performance did receive a fillip after Anoop Baskar joined UTI Mutual in 2007 and took over the management of this fund, among others. Known for picking stocks early on, Anoop picked winners for this fund too. Eicher Motors, IndusInd Bank and Supreme Industries were some of his top picks in the portfolio, even while market discounted these stocks in the down market of 2011. These multi-baggers (with Eicher being the biggest winner) still form part of the portfolio, although with changes in proportions held.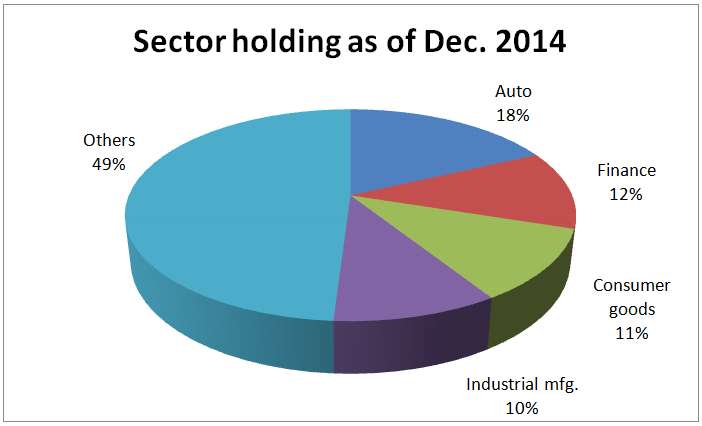 Similarly, the fund also made some deft moves when it came to stock exposure. It took bold calls in as early as December 2013, in sectors such as automobile and industrial manufacturing and benefited from a huge upswing in these spaces.
Currently, automobile is the top holding in its portfolio. Stocks such as Apollo Tyres, Bharat forge, Motherson Sumi Systems, MRF and Bosch are some of the auto component stocks that are present in the AMC's theme fund – UTI Transportation and Logistics. All of these delivered well for the UTI stable.
Currently, glass manufacturer – La Opala RG, textile company – Indo Count Industries, auto component – Mahindra CIE Automotives are some offbeat picks that not too many fund houses hold.
While these stocks have delivered well over a 1-year period, the sectors they are in, together with the pace of earnings growth in these companies, appear to hold potential for further upside.
*Mutual Fund investments are subject to market risks, read all scheme related documents carefully. Past performance is not indicative of future results. To know how to read our weekly fund reviews, please click here.
[fbcomments]