In its relatively short history, L&T India Prudence has put up an impressive performance. Called 'Fidelity Children's Plan – Education' when it was under the Fidelity house, L&T India Prudence has stayed in the top quartile of balanced funds in the one, three, and five year periods. It has beaten its category average by a margin of 2 to 5 percentage points in these time-frames.
The fund puts 65-75 per cent of its portfolio into equities, and the remaining in debt. It is benchmarked to the BSE 200 and the CRISIL Short Term Bond Index in a 70:30 ratio. Like several other balanced funds such as HDFC Balanced and Tata Balanced, this fund too moves well into the mid-and- small-cap zone.
Balanced funds are good bets for moderate risk investors, or for first-time equity investors who want to test the waters. They contain downsides far better than pure equity funds; in the one-year period for example, the category on an average has lost 8 per cent, against the 14.9 per cent average loss of large-cap funds. Against its benchmark, L&T India Prudence has done better by a margin of 2 to 9 percentage points in the one, three, and five year periods.
Staying at the top
Having been launched in February 2011, L&T India Prudence does not have the long track record of performance across market cycles that its peers such as HDFC Balanced, ICICI Pru Balanced or Tata Balanced do. But in the five years since its launch, L&T India Prudence has beaten the CRISIL Balanced Fund Index nearly all the time when one-year returns are rolled, in line with the likes of HDFC Balanced and Tata Balanced. This points to a good record of consistent performance.
Similarly, though the fund hasn't been tested in prolonged bearish cycles, it navigated the volatile period of the past six months very well. In the sideways 2013 market too, the fund did better than both its category average and the CRISIL Balanced Fund Index. On both volatility and risk-adjusted returns, L&T India Prudence has held above the category average. It has even done better than stable, established peers HDFC Balanced and Tata Balanced on these parameters.
Deft moves
The fund holds a diffused portfolio in both debt and equity portions. Individual securities are usually below 5 per cent of the portfolio. The fund takes significant mid-cap and small-cap exposure at over quarter the portfolio. Throughout 2015, L&T India Prudence kept its equity allocation below 70 per cent. Given that markets started correction from March 2015, this was a prudent allocation. Sector allocations change swiftly depending on market conditions, and the fund mostly got its timing right.
The fund also bucks convention from time to time, with a strict eye on growth prospects and business fundamentals. Banking is not the top sector holding, unlike most peers, having scaled back exposure through 2015. The fund had made similar moves in 2013 when the banking sector was troubled, where an exposure of around 13 per cent at the start of the year slashed to less than 5 per cent by the end. Pharmaceuticals and auto, the other pet sectors, also do not regularly feature in the top sector holdings.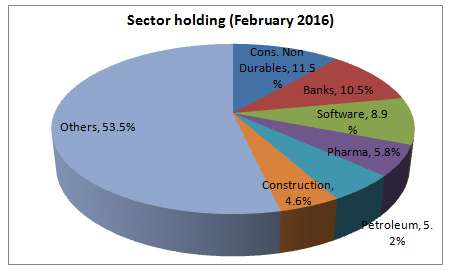 The fund instead, has moved into consumer non-durables such as HUL, ITC, P&G Hygiene and Healthcare, and McLeod Russell, given the growth visibility here and the quicker take-off once consumption revives. The sector now forms the biggest holding. Together with software and pharmaceuticals, the fund has a decided defensive tilt for now, which will help tide over the current uncertain markets. Exposure to cyclical sectors, apart from banks, is through petroleum and construction. The fund has moved into these sectors from the once-high cement and engineering sectors, given their better valuations.
In its debt portfolio, L&T India Prudence plays it safe by sticking to high-quality credit. It does, however, take duration calls. The fund pared exposure to government securities, which had formed nearly a quarter of the portfolio, in favour of corporate debt. With the rally in gilts not materialising as expected, the quick paring of exposure here compared to peers helped the fund's returns.
The fund is managed by SN Lahiri, Vikram Chopra, and Abhijeet Dakshikar. It has Rs. 1,474 crore in assets under management.
FundsIndia's Research team has, to the best of its ability, taken into account various factors – both quantitative measures and qualitative assessments, in an unbiased manner, while choosing the fund(s) mentioned above. However, they carry unknown risks and uncertainties linked to broad markets, as well as analysts' expectations about future events. They should not, therefore, be the sole basis of investment decisions. To know how to read our weekly fund reviews, please click here.
[fbcomments]