Are you looking for funds beyond the large-cap space but with limited exposure to mid-caps? Then Birla Sun Life Top 100 could be right down your alley.
This fund seeks to provide you with equity exposure by predominantly investing in large-cap stocks, but provides some kicker returns through limited mid-cap exposure. The fund delivered close to 24% compounded annually over the last 3 years and has picked pace in the last one year. It has also consistently beat its benchmark CNX Nifty over the above three-year period.
Suitability
Birla Sun Life Top 100 is suitable for those with sufficient exposure to large caps who are looking to pep their portfolio returns, but without too much risks (as would be the case with a mid-cap fund). This fund would also be suitable if you already have exposure to large and mid-cap funds, and are looking for funds with exposure to nascent large-cap stocks. The risk-return profile, as can be expected, would be marginally higher than a regular large-cap fund.
Performance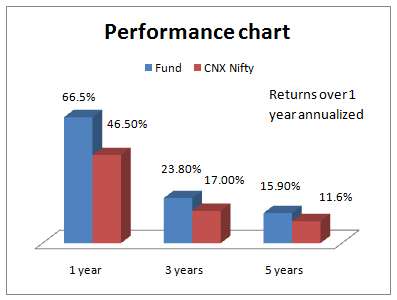 Birla Sun Life Top 100 is not one of those funds that sport an enviable track record across years. The fund has had its ups and downs. Given its mandate of investing predominantly in large caps, the fund did underperform in peak market rallies such as the one in 2007, when midcaps rose headily. But in the down market that followed in 2008, it did a decent job of containing declines.
Still, higher cash – as much as 16%, when markets made a u-turn in March 2009, hurt performance in that turnaround year as well. But the fund appears to have got its strategy right since 2010 and managed to beat more diversified peers such as HDFC Top 200 in calendar years 2010 to 2013.
In the last three years, on a rolling one-year return basis, the fund beat its benchmark CNX Nifty a good 97% of the times. This is higher than the outperformance of ICICI Pru Top 100 (89%) against the Nifty over the same period.
While this suggests consistency, the fund now sports a high beta; this is reflected in terms of improved outperformance of its benchmark. However, it may be forced to tweak its approach during market falls, if it has to maintain its record of containing declines better than its benchmark.
Portfolio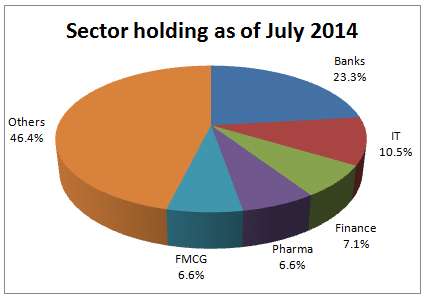 What makes Birla Sun Life Top 100's performance admirable is its ability to garner returns above the category average in the past one year, despite the fund not taking any significant exposure to cyclical/growth sectors.
While the fund did go overweight on banks and the financial sector, by increasing exposure between December 2013 and now, its exposure to cyclical sectors such as automobile, engineering or infrastructure remained low, when compared with quite a few peers such as HDFC Top 200.
Of course, this also meant that the fund had to settle for returns lower than the said peer. Still, its one-year return was higher than a few other diversified peers. The fund could not also have taken too much exposure to the sectors that rallied the most in 2014, without increasing stakes in mid-caps.
While the fund sports about a fourth in mid-caps stocks, in reality, most of the seemingly mid-market-cap segment stocks are in reality nascent large caps. If one were to look at stocks with a market cap of less than Rs 10,000 crore, the fund would have a much lower exposure to mid-caps.
As of July 2014, the fund held a diversified portfolio of about 65 stocks. Akzo Nobel India, Sanofi India and Raymond were among the interesting mid-cap picks. Cognizant Technology Solutions (international stock) also found a place with a little under 1-percent exposure.
The fund is managed by Mahesh Patil.
Disclaimer: Returns mentioned are past returns and are not indicative of future performance.
To know how to read our weekly fund reviews, please click here.
[fbcomments]