For those of you who are new to our platform, FundsIndia's 'Select Funds' is a list of investment worthy funds. Spread across various categories, this list helps you narrow down your investment choices from the hundreds of funds that you would otherwise have to sift through before investing.
This list is reviewed on a quarterly basis. There are additions to ensure that good choices are not left out. There are also deletions if we find certain funds' strategies to be inappropriate for the prevailing market conditions.
Before we move on to the changes we have made this quarter, here's an important message – none of the funds we've removed from our list warrant an exit unless we explicitly state that. We do not prefer that you sub-optimally churn your portfolio. Our endeavour, through the Select Funds list, is to choose funds that are good and appear to have an edge in the present environment. A fund that is removed may still be a good performer, and may help build long-term wealth. However, our call (for the purpose of this list) would have been based on whether a peer fund can do a better job when fresh exposure is taken today.
This quarter, our Select Funds list has very few changes. Read on to know what they are and what we think of some of the existing funds.
Equity Funds – Moderate Risk
Large-cap fund, Birla Sun Life Frontline Equity entered our list. This is not a fund that made a wild entry. It has been consistently figuring in our filters. However, as there was only a marginal difference between this fund and a sister fund from the same AMC, which we already have in our list – Birla Sun Life Top 100, we stuck to the latter as it has slightly more leeway in terms of investing beyond large-caps. However, Birla Sun Life Frontline Equity's outperformance could not be ignored, considering that it managed 2015 quite well, despite the dip in the large-cap space.
Also, the enhanced potential in large-caps now required us to add a large-cap fund. We decided to go with this fund. For those of you wanting a large-cap fund with a relatively higher leeway to hold mid-caps, you may consider Birla Sun Life Top 100. If you are looking for a slightly aggressive large-cap fund, then Frontline Equity should be your choice.
The list otherwise remains unchanged. We would like to sound you off that we are watching the performance of Axis Equity, which has been slackening a bit, but continuing in the list. The fund has comfortably beat its benchmark and large-cap peers over rolling 3-year periods (in the past 5 years), but struggled to beat multi-cap / diversified funds. We will keep watch over its performance on the basis on whether its own portfolio strategy leans towards large-caps or a broader universe.

Tax-saving Funds – High Risk
We have reinstated Religare Invesco Tax Plan after a few quarters of putting it on hold. While this fund may not seem the best in class on a point-to-point return basis, its returns rolled daily for several 3-year periods shows that it beat its category 99 per cent of the times, and its benchmark 100 per cent of the times. Such consistency, besides a value-conscious, mildly contrarian portfolio will work well in this market. Since the fund has a notable chunk of exposure in mid-caps as well, we have clubbed it in the high risk category within tax-saving funds.
Hybrid – Debt-oriented Funds

We decided to remove HDFC Children's Gift Savings Fund from this category. This particular call was not based on performance as the fund continues to remain among the best in this category. However, since it is only meant for investment by a minor, and used for goals such as children's education that are typically long term in nature, we felt that an equity-oriented fund could be a better choice for such goals. Hence, for those seeking to invest in the name of the minor, HDFC Children's Gift – Investment Plan (which is an equity-oriented balanced fund) should be a good option.
Debt – 6 Months to 1 Year
We have replaced Tata Floater with UTI Treasury Advantage in the ultra short-term bond category. While Tata Floater remains a good, stable fund, we like UTI Treasury Advantage's portfolio at this point in time. Relatively higher holding in very short-term corporate bonds (with top credit quality) in the UTI fund can prop returns a bit as opposed to just holding certificates of deposits and commercial papers. We chose the UTI fund for this reason.
Debt – 1-2 years – Low risk
In this category, we wish to make sure that credit risks are avoided. We also seek to keep the average portfolio maturity of funds at less than 3 years, and preferably closer to 2 years. However, we made an exception this time by adding Birla Sun Life Treasury Optimizer. This fund has upped its average maturity by adding some gilts. We see this as a tactical move as the rally in gilts can provide some upside to this fund, even as short-term debt fund as a category will see returns turning sedate, especially after March.
Also, Birla, as a house call, appears to have added gilts across funds in its debt portfolios, and it has worked well for it. Hence, while we would hesitate to seek returns from credit risk, especially in this category, we have taken the call of duration, albeit medium, with this fund. For those preferring shorter maturities and a portfolio with similar quality bonds, HDFC Short Term Opportunities, which continues to be part of our list, is an option.
This fund is classified as an 'income fund' in some places. However, its portfolio and average maturity in the past all exhibit characteristics of a short-term debt fund. We have replaced this fund in place of IDFC SSI Short Term. IDFC continues to remain a steady performer.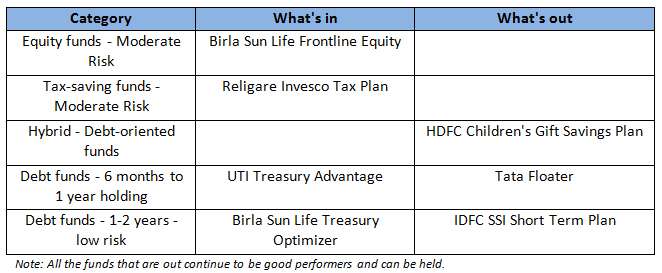 FundsIndia's Research team has, to the best of its ability, taken into account various factors – both quantitative measures and qualitative assessments, in an unbiased manner, while choosing the fund(s) mentioned above. However, they carry unknown risks and uncertainties linked to broad markets, as well as analysts' expectations about future events. They should not, therefore, be the sole basis of investment decisions. To know how to read our weekly fund reviews, please click here.
[fbcomments]