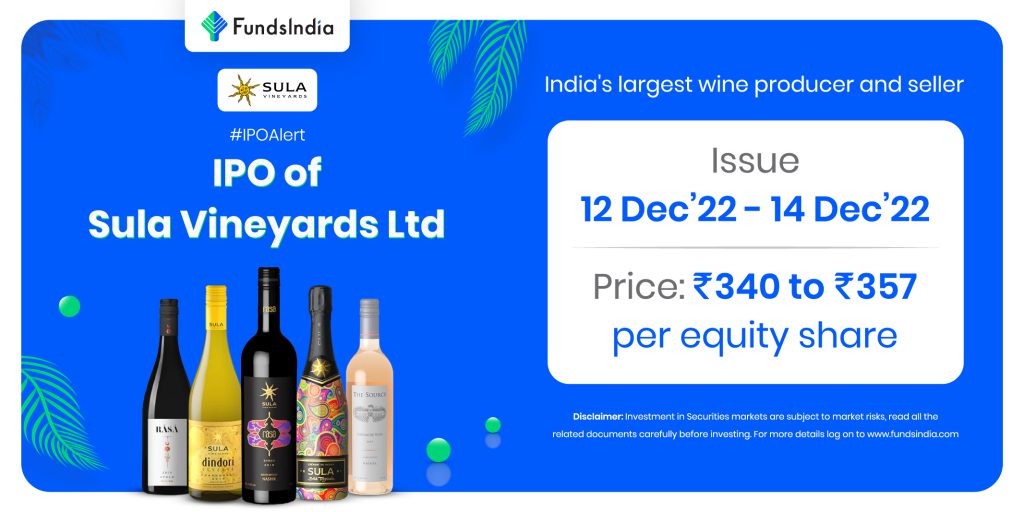 Company Overview:
Sula Vineyards Ltd (SVL) is a winery and vineyard located in the Nashik region of western India, 180 km northeast of Mumbai. Established in 1999, by Rajeev Samant, SVL was Nashik's first winery and paved the way for the city to become India's Wine Capital with almost 35 other wineries following suit in the region over the next decade. Sula currently has a production capacity of over 14.5 million litres, of which 12.7 million are housed in Maharashtra and 1.80 million in Karnataka. Sula distributes wines under a bouquet of popular brands. In addition to the flagship brand "Sula," popular brands include "RASA," "Dindori", "The source," "Satori", "Madera" & "Dia" with its flagship brand "Sula" being the "category creator" of wine in India. Currently, Sula produces 56 different labels of wine at 4 owned and 2 leased production facilities located in the Indian states of Maharashtra and Karnataka. The company's distribution platform included over 50 distributors, 11 corporations, 14 licensed resellers, 7 company depots, 3 defence units as of September 30, 2022, over 23,000 points of sale (including over 13,500 retail touchpoints and over 9,000 hotels, restaurants, and caterers) as of March 31, 2022.
Objects of the Offer:
To carry out the Offer for Sale of up to 2,69,00,530 Equity Shares by the Selling Shareholders
Achieve the benefits of listing Equity Shares on the Stock Exchanges
Investment Rationale:
Market Leading Positions: Sula Vineyards Ltd ("Sula") is India's largest wine producer and seller as of March 31, 2022. They have been a consistent market leader in the Indian wine industry in terms of sales volume and value (on the basis of the total revenue from operations) since Fiscal 2009 crossing 50% market share by value in the domestic 100% grapes wine market in Fiscal 2012 to 52% in value in Fiscal 2022. Furthermore, they are the market leader across all 4 price segments, being 'Elite' (Rs.950+), 'Premium' (Rs.700-950), 'Economy' (Rs.400-700), and 'Popular' (Rs.400), with a higher share of approximately 61% by value in the 'Elite' and 'Premium' categories in Fiscal 2022, as compared to their overall market share of 52% in the Indian wine industry. Furthermore, they are also recognized as the market leader across wine variants, including red, white, and sparkling wines.
Financial Track Record: The Revenue from operations has increased at a CAGR of 22% from FY11-19. FY21 saw a decline of 20% YoY in revenue at Rs.418 crs due to two main reasons. One is the pandemic and the other is the discontinuation of the beer business in their subsidiary company. FY22 revenue growth stands at 9% YoY at Rs.454 crs. The segment breakup of FY22: 83.9% of revenue from own brands, 7.9% from third-party brands, 7.6% from wine tourism, and 0.6% from others. Gross Margin has improved from 47.8% in FY20 to 65.2%% in FY22. The EBITDA margin has improved from 9.7% in FY20 to 25.6% in FY22. The debt/equity ratio stands at 0.6x as of FY22.
Strong Clientele: Sula has been a pioneer of wine tourism in India, which has led to a strong D2C presence. They offer curated experiences, such as wine-tasting sessions, winery tours, and gourmet dining options at their wineries, enabling the company to build a stronger connection with their consumers and popularise wine tourism in the country. They conducted approximately 90,000, 43,000, 85,000, and 59,000 wine-tasting sessions during Fiscals 2020, 2021, 2022, and the 6 months that ended September 30, 2022, respectively. They have increased the number of rooms at their Wine Tourism Business facilities from 33 rooms as of March 31, 2018 to 67 rooms as of September 30, 2022 and plan on adding additional rooms in the next few years. They continue to expand their Wine Tourism Business, to build on their brand, experience, and expertise in this business.
Key Risks:
OFS – The IPO is a complete Offer for Sale (OFS) by the Selling Shareholders. The Selling Shareholders will receive the entire proceeds from the OFS and the Company will not receive any part of the proceeds of the Offer. In the offer for sale (OFS), the promoter Mr. Rajeev Samant is offloading 9,37,203 shares and his stake is decreasing from 27.15% to 26.04%. Investors Cofintra S.A, Haystack Investments Limited, Saama Capital III, Ltd, and a few others offloading up to 2,19,71,700 shares.
Capital Intensive Risk – The company's operations are working capital-intensive in nature with high inventory due to the harvest of wine grapes once a year in Q4, which is converted into wines and stored in tanks to be sold in the subsequent months (Q3 is the peak sales season for the industry). Sula extends the 90-120 days credit period to state-run corporations, who pay after selling the bottles to their end customers.
Outlook:
The company is in the production and distribution of wine and the operation of wine tourism venues whereas their listed competitors (Radico Khaitan, United Spirits, and United Breweries) produce alco-beverage products. This differentiates Sula from others and its market-leading position gives the company a near Monopoly status in the listed space. At a higher price band, the listing market cap will be around ~Rs.3006 crs and Sula is demanding a P/E multiple of 55x based on FY22 EPS and 47x based on annualized H1FY23 EPS. While comparing the P/E with its listed peers, the company seems to be placed very close to a fairly valued category. The leadership position and unique product profile offer the company some competitive advantage. Based on the above views, we provide a 'Subscribe' rating for this IPO.
If you are new to FundsIndia, open your FREE investment account with us and enjoy lifelong research-backed investment guidance.
[fbcomments]