This article is a part of our new series – 'FundsIndia Features', an initiative to educate our customers on how best they can take advantage of their FundsIndia account to build better investment habits. In this post, we discuss 'Family Accounts' with FundsIndia, and the need to invest together as a family.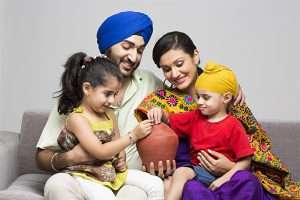 In any conventional household, the 'man of the house' manages the savings of the house. Even if the wife contributes to the income of the household, she rarely participates in savings-related decisions. We have data all around us to corroborate this statement. Just ask your friends, colleagues, or better still, analyse how investments and savings-related decisions are taken at your house. You'll find the answer right there.
Vidya Bala, Head – Mutual Fund Research, FundsIndia.com, says, "Investment decisions often do not translate to optimal wealth creation when they are managed by one person in the house. If a family takes savings decisions together, everyone understands why and how the money is being saved. This reduces conflicts, which often arise when there is no clarity on the 'whys' and 'hows' of savings. If decisions are taken together in an inclusive manner, everyone, including children, become more responsible towards money, leading to greater synchrony and harmony in the house."
There are innumerable benefits of investing together as a family. Some of them are:
1. Clarity is critical – Your spouse might know that you are saving money for your family. But does he / she know where and how much you've saved? Talking investments with your partner is not just critical, but also crucial, especially in times of a crisis. If your spouse doesn't know the details of your investments, how can he / she claim them during an emergency? Insurance companies and investment houses DO NOT handover your savings to your spouse / other members of the family if they are just listed as nominees for your investments. It is important to show vital proof while claiming the investments; proof that you must have disclosed and shared with them at an earlier date.
What can you do about it: Get your family on-board your FundsIndia account! It's that simple. FundsIndia promotes the concept of investing by allowing you to integrate your account with that of your family members. To do this, you just have to:
i. Add your family members to your account with the 'Add Investor' option – You will find this option after you login and select 'My Accounts' from the top menu. Once you select the type of investor (Resident Investor, Minor, etc.), you just have to fill-in the details of your family member, and complete the registration process by sending his/her ID and address proofs.
ii. Make investments separately for every member – The simple interface of FundsIndia.com allows you to make investments separately for every family member. Every time you select an investment, you can choose under whose name the investment has to be made from a drop-down menu.
iii. View portfolio performance of different members together / separately – Once you login to your account, by default, you will see the portfolios of all your family members listed in your Dashboard. If you like, you can choose which family member's portfolio performance you'd like to see separately by selecting his / her name from a drop-down menu on the top right corner of the page.
With your FundsIndia family account, you don't have to worry about multiple login IDs – you can maintain one login ID for the entire family, enabling ease and convenience like never before.
2. Money matters too – You aspire to give your kids the best education in the world. But did you know that a very important, yet oft-ignored part of this education is teaching your kids the importance of money and its management? Money management is similar to swimming in two ways:
• You can't learn it just by reading books, or even worse, you can't acquire the skills when suddenly pushed into the deep side of the sea (real life).
• If you don't learn it, you may just end up drowning (in debt), or even worse, finding yourself in shark-infested waters (credit sharks).
When you don't discuss money with your kids, they grow up without any idea of how it can be managed effectively. Many a times, young adults who just begin earning an income burn their hands several times before they realise the right way to manage their money. The fault isn't entirely theirs. Their money management lessons should have begun early at home.
What can you do about it: Prepare your kids for the road ahead. Teach them important lessons on money. Involve them when you plan the monthly budget of the house. Even better, go one step ahead and open a 'FundsIndia Minor Account' on their name (if your kids are below 18 years of age), invest for them, and when they get to their teens, discuss their investments with them. That way, you will not just be investing for a financially secure future, but for a well-prepared future for your kids.
3. It takes two to tango – We can't say this enough but you have to talk investments with your spouse. Give your partner the gift of liberation by allowing him / her to make an investment decision and save for it.
What can you do about it: Open a joint investor account with them. When you speak to your investment advisor, make sure your spouse is also present. That way, both of you will be able to appreciate your investments more.
Don't just be an 'investment planner' – be an 'optimal wealth planner' of your house. When you do that, you'll give life to the adage – 'A family that invests together, grows together.'
[fbcomments]