Okay folks, your gloom and doom picture is now complete as the month of August ends. The volatile equity and debt market and now the GDP numbers announced for the June quarter all provide a respectable funeral to a month that is best forgotten.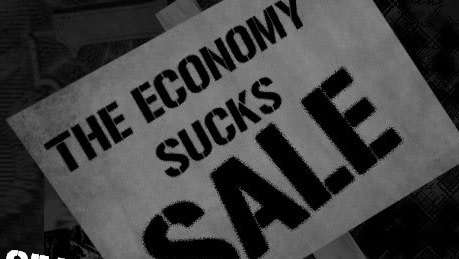 But as history suggests, you strike it rich only in a gloomy market. Agreed you are not going to mint money overnight and perhaps not even in a year's time but just step back and take a look.
The earlier gloom
At 4.4% growth over a year ago numbers, the GDP at factor cost is lower than the 4.8% seen in the March quarter. Also, it is the lowest since the 3.5% growth seen in the March quarter of 2008-09. So let us take a leaf out of the 2008-09 gloom. (GDP data considered from 2004-05, when the new base came in to effect).
As seen in the table below, GDP growth started dipping in the 2nd quarter of 2008-09, that is from the quarter ending September 2008. GDP numbers are typically published 2 months after the quarter. Hence, the September quarter numbers would have been released on end-November 2008.

Yes, you would never have known if that was the bottom, but say you simply invested on December 1 (after the November end GDP release), guess what would be your returns today in the Sensex? An absolute 110% or an 17% annual return!
Very well, if you had missed that and waited for the December 2008 GDP numbers (released in February 2009), you would have managed slightly higher returns of 114% or 18.7% annually till date.
Please note that the returns would have been as good (about 2 percentage point lower annualized returns), even if you had invested sometime during the said months (given above) and not exactly on the day following the GDP announcement.
But yes, the markets actually hit their bottom much later, in early March 2009. But then the GDP data was released only in May.
Had you seen this very low GDP growth and invested on say June 1, then your annual returns would have been a mere 5.4%; simply because the markets never wait for the data! There were enough indications from the IIP and Purchasing Manager's index, besides the many forecasts, for the market to move ahead of the release.
The lesson
You don't really wait for the bottomed out economic numbers, to invest. Investing ahead helps you quite well.
No doubt, this time around, it has become extremely complex to decipher whether we are seeing the economy at its dumps, going by how the quarterly growth numbers have been swinging (see table below).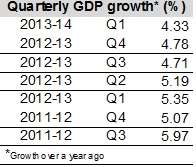 But seeing the deep trouble the economy is in and lack of quick fixes on various fronts (whether it is the depreciating rupee and current account deficit or the stubborn inflation), chances are that you will see some more pain points in the economy.
If that be the case, then the good news is that you have not missed an opportunity to invest. Perhaps the GDP for the September 2013 quarter will touch a low of 4%. So be it. If past data is anything, it simply means you need not wait till such a low.
Strategy
Agreed, it's all easier said on hindsight. But if you are the kind who believes that there are opportunities in gloom, then you should probably be investing now.
While it goes without saying that you need to keep your SIPs going, if you are interested in investing lump sums, set aside a portion and split them into three. Invest them at every dip of 3-5% in the index or simply invest one part right away (in case you are not aware, the Sensex is down over 8% from the high (in July) thus far in 2013. Average with a 3-5% fall.
What happens if the markets fall more even after you average? Stay put. Past lessons suggest that you do not have to time to a 'T'. Investing between September and December of 2008, for instance, was good enough even as the markets bottomed only in March 2009.
But do this only if you have surplus that you can spare for 5 years at least and not less.
And remember, as the saying goes, the big money is not in the buying or selling, it is in the waiting!
So, if you have decided to invest, where should you be putting your money? If you invest in the markets directly, then index ETFs are an option. Otherwise, choose large-cap funds such as ICICI Pru Focused Bluechip, UTI Equity or HDFC Sensex Index Plus.
[fbcomments]