Your fund houses are making the best of the markets. These are investing now, even as FIIs are exiting. Take a look at the data below, from the stock exchanges, on the purchase and sale activity of equities by foreign investors and domestic institutional investors (DII). DIIs include mutual funds, insurance companies and other institutional investors locally.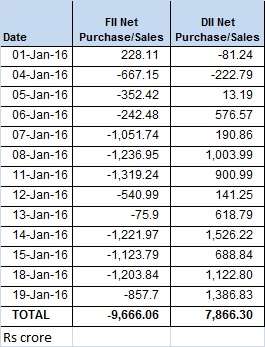 About half of the net purchases by DIIs is from mutual funds, if one correlates it to the data from SEBI. As the data suggests, DIIs have been steadily buying for well over 10 days in the past couple of weeks; even as foreign investors have been selling. Of course that FIIs sold more has meant that the market is overall down.
But what this means to you, as mutual fund investors, is that your schemes are buying in the equity market, on good dips. They are essentially bargain hunting; probably buying quality stocks at low valuations.
This is some reason for you to hold. Because it means your fund is building a portfolio at low prices. And if you deploy more in such depressing markets, it essentially means you are giving more money to your fund manager to buy into the market. Of course, markets could well fall from here. But that only means fund houses will continue to look for more opportunities. They likely know better than investors as to when to deploy/average in the equity market.
Stop worrying and stay calm. If you can do more than just that, then start investing!
[fbcomments]