Dynamic sector allocation and bold stock choices appear to be L&T India Value Fund's key traits. While the fund has been an above-average performer over the last 2-3 years, it is conspicuous in the fund chart in the last 6 months for a sharp rise in returns.
The Fund and Suitability
Launched in January 2010, under the Fidelity Mutual Fund banner (L&T Mutual took over Fidelity Funds in late 2012), L&T India Value Fund has mostly been in the top two quartiles of the equity fund performance chart. While the fund seeks to invest in undervalued securities, it is not a typical value fund that seeks to curtail downsides.
On the one hand, as a result of taking exposure to low-valuations and out-of-favour sector choices, the fund has often had to take sharp short-term blips. Still, it outperformed its benchmark S&P BSE 200 adequately in years of rallies.
The fund is therefore not suitable for those with a low risk appetite. The fund's limited track record, small asset size (Rs 45 crore as of March 2014) and somewhat chequered performance since inception, has meant a 'hold' call from our side for now.
The fund has a power-packed portfolio that is built for a market that is looking forward to an economic recovery. That the portfolio has already shown signs of significant outperformance exudes confidence. Investors holding the fund may have a 2-year perspective and review the fund.
Performance
L&T India Value shot up in the returns chart in the last 3-6 months as a result of very adept stock and sector moves. The fund delivered a quick 36.8% in the last 3 months alone, far ahead of its benchmark S&P BSE 200's return of 23%.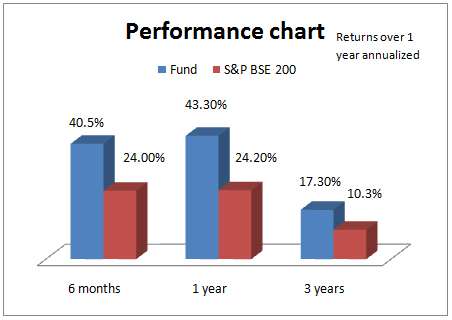 Over a longer 3-year period too, the fund convincingly beat its benchmark. However, its return of 13.3% annually since its inception falls a bit short of the benchmark's return of 14.3%. While this marginal underperformance may soon be made good by the recent spurt in its returns, it does suggest that the fund's historical performance has been a bit chequered.
The fund's 1-year rolling return also suggests that it has not always been consistent. Over the last 3 years, the fund beat its benchmark 72% of the times if 1-year returns are rolled daily. While that record is reasonable, established funds have clocked better numbers than that.
But there appears to be a marked improvement in the fund's performance as a similar record over the last year indicates that the fund beat its benchmark 93% of times.
Among peers, the fund is comparable to diversified equity funds as it has no specific market cap bias. It has comfortably beat its category average over 1, 2 and 3-year periods.
Over the last 2 years for instance, while the fund delivered 32.6% annualized return and beat established diversified plays such as UTI Opportunities by a good 10 percentage points, it marginally underperformed ICICI Pru Discovery's 35% annual return. Considering that L&T India Value may not always hold a mid-cap bias, the performance can be considered good.
Portfolio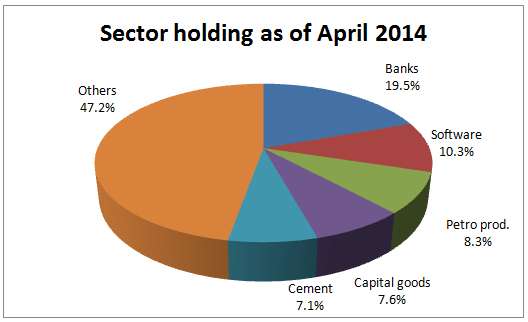 From a portfolio laden with IT stocks (that rallied in the last quarter of 2013) as of December 2013, L&T India Value quickly changed tact to increase exposure to banking stocks in 2014. Increased exposure to capital goods, cement, industrial products and construction projects all delivered well over the last 5 months.
It is not often that one would find a portfolio with stocks such as Wabco India, Fag Bearings and VST Tillers Tractors in its top 10 stock holdings. These stocks delivered between 35-46% returns in just 3 months.
While the fund's portfolio turnover (churn) at 0.68 is not high, the recent run up in many of the stocks could force the fund to replace some stocks sooner than later.
Still, the fund has plenty of value picks in its portfolio. Oberoi Realty, Sobha Developers and National Building Construction Corporation are some of the surprise candidates in the portfolio, albeit among the more fundamentally sound stocks in the realty/construction space.
Exposure to chemical and pesticide stocks such as PI Industries, United Phosphorus and Tata Chemicals also appear to be interesting picks to ride any improvement in agri-productivity.
The fund is managed by Venugopal Manghat.
[fbcomments]