Building a Steady Track Record
Investors can continue to hold their units in BNP Paribas Equity. The fund has been earnestly building a steady track record over the past 2 years, after witnessing quite a bit of shuffling – in terms of changing hands a couple of times until 2010 and also seeing some scheme mergers with itself in 2011.
Its 2-year return at a compounded annual 13.3% is superior to the benchmark CNX Nifty's return, as well as the category average return of 10.5% annually.
The Fund and Suitability
BNP Paribas Equity was launched in September 2004 by ABN Amro AMC. It collected about Rs 350 crore in its NFO, considered sizeable then. The fund was housed under the ABN Amro stable until 2008, when it changed hands to Fortis AMC. Again in 2010, as a result of changes in the fund's global parent, this fund came in to BNP Paribas AMC's fold.
The next year, in July 2011, a few funds within the house, including a sector fund and global fund, were consolidated into BNP Paribas Equity. This also helped beef up the fund's small size to over Rs 100 crore. The fund has since been making a mark in terms of well-calculated sector and stock moves.
BNP Paribas Equity is a diversified equity fund with a bias for large-cap stocks. Stocks with a market-cap of over Rs 10,000 crore accounted for about 80% of the fund holding as of August 2013. Still, it takes strategic positions in mid-cap holdings and gains well from active calls in that segment. It has therefore managed to deliver returns higher than typical large-cap focused funds.
While the fund's performance has been encouraging, given the changes it has witnessed, its performance record in its latest avatar is only a little over 2 years. Hence, while existing investments can continue in the fund, fresh exposure can be taken after watching its record for at least 1 more year.
Performance
We have taken a 2-year time period to assess the fund's performance, given the changes it underwent before that. On a rolling 1-year return basis, the fund managed to beat its benchmark CNX Nifty a good 92% of the times in the last 2 years.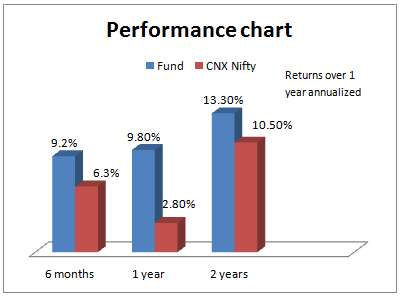 Notably, whenever the Nifty delivered negative 1-year returns, the fund managed to contain downsides better than the Nifty on all such occasions, suggesting that the fund coped with bear markets well. It did not do this by going in to high cash levels. It held over 93% in equities almost on all occasions, including the down markets in 2011 and in the volatility in 2013 thus far.
In the last 1 year, the fund has beaten diversified funds such as Canara Robeco Equity Diversified, Mirae Asset India Opportunities as well as more large-cap focused funds such as ICICI Pru Focused Bluechip. Its timely move in to the IT sector appears to be a key reason behind its recent success; besides profits in choice mid-cap picks.
Portfolio
BNP Paribas Equity has been fairly aggressive in churning its portfolio. Such active moves did the fund good in the volatile market of the last few years. The fund benefited well from the FMCG and pharma sectors in the down market of 2011.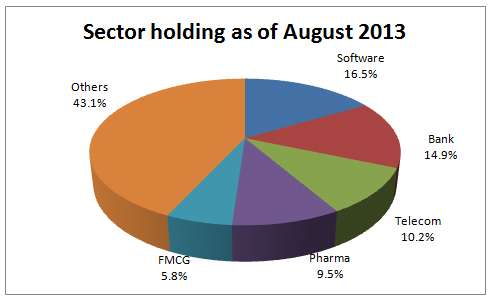 While it did hold on to FMCG in 2012, it upped exposure to the banking space, benefiting from the rally that ensued.  By early 2013, although banking remained its top sector, it was already paring exposure in this sector and instead, began accumulating software stocks. It also took some tactical calls in telecom. Meanwhile, it reduced exposure to the FMCG space. These sector moves were all well-timed.
Mid-cap picks such as Repco Home Finance, Idea Cellular, Vardhaman Textiles and more recently, Sobha Developers have all delivered well for the fund this year.
The fund is managed by Shreyash Devalker. It had Rs 128 crore of Assets Under Management as of September 2013.
[fbcomments]