Are you looking to add some mid-cap flavour to your portfolio? If you already hold a basket of well-diversified funds, then Religare Invesco Mid N Small Cap Fund can be a good addition to get you some kicker returns.
With a return of 36 per cent compounded annually over the last three years, this mid and small-cap focused fund convincingly beat its benchmark, CNX Midcap's performance of 19 per cent. Its rather offbeat portfolio of both mid and small-cap stocks can provide you with exposure to the lesser-known stocks in the smaller market-cap segment.
Suitability
Religare Invesco Mid N Small Cap Fund could be a part of your satellite holding, rather than your core holding. The amount of exposure you can take to funds in the mid and small-cap category is dependent on your risk appetite and your understanding of this market cap segment. In general, we do not recommend over 20-30 per cent of your equity exposure to pure mid- and small-cap funds. Remember, you are also taking further exposure to the mid- and small-cap segment through diversified funds. Hence, your overall exposure will be higher.
Large cap and multi-cap diversified funds could be a part of your core holding to cushion downside risks. You can invest in Religare Invesco Mid N Small Cap through the Systematic Investment Plan (SIP) route to avoid the risk of ill timing the market. A 3-5 year SIP can help average costs well and earn optimal returns.
Performance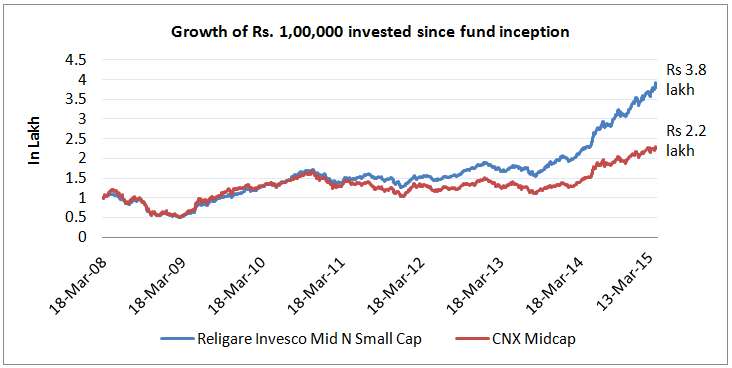 Religare Invesco Mid N Small Cap Fund's one-year returns, rolled every day, since its launch suggests that the fund beat its benchmark 86 per cent of the times. That is a sound record. The fund delivered 20.3 per cent annually since its launch in March 2008.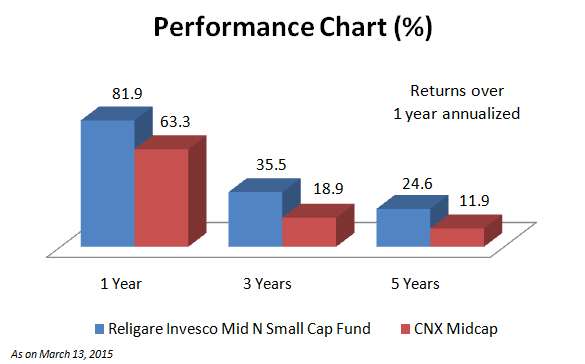 Had you started a Rs. 10,000-a-month SIP in Religare Invesco Mid N Small Cap at inception, you would have a handsome Rs. 24.6 lakh today. That's an Internal Rate of Return (IRR) of 30 per cent. The benchmark, CNX Midcap Index, on the other hand, would have fetched just Rs. 15.92 lakh; that's an IRR of 18 per cent annually.
Its return since inception could have been even better had the fund stayed fully invested in equities in the rally following the March 2009 lows. It had a fifth of its assets in debt and cash then. Still, by 2010, the fund found its feet well in the markets. It managed 35 per cent that year, well above the equity category average of 20 per cent. The fund's outperformance became visible from 2011 and it has, since then, been consistently beating the index.
Religare Invesco Mid N Small Cap Fund scores well on the risk front too. Its Risk-adjusted Returns (RAR), measured by the Sharpe ratio, is as good as its peers such as Franklin Prima and Mirae Asset Emerging Bluechip over a three-year period. The RAR of the fund is much higher than funds such as HDFC Midcap Opportunities, ICICI Value Discovery, and UTI Midcap.
Portfolio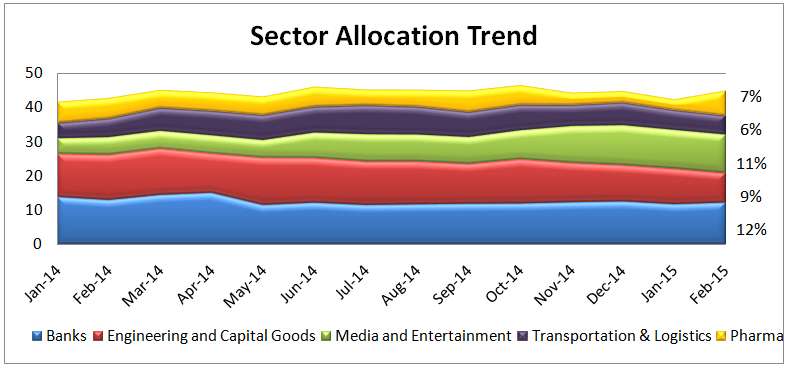 The fund follows a bottom-up approach to select stocks, with a bias for 'growth' stocks. The fund's primary focus is on companies that can grow in size and scale over time.
As of February 2015, 64 per cent of the fund's total equity holdings were in mid-cap stocks. The rest were equally in large-cap and small-cap stocks. The fund has adequately diversified its portfolio by holding 48 stocks over 20 different sectors. Its top 10 holdings account for 38 per cent of its portfolio. The fund has consistently adopted a buy and hold approach since inception. It also sports a low portfolio turnover ratio (just 0.51 times in last 1 year).
Like most other funds, the banking and financial sector remains Religare Invesco Mid N Small Cap's top pick. Media and entertainment is the second largest sector, followed by capital goods, pharma and auto. Shriram Transport Finance, Bharat Forge, ING Vysya Bank, IDFC and LIC Housing Finance were some of the top picks in the nascent large cap (10,000 to 25,000 crore market cap) space. DB Corp, Dish TV, Supreme Industries, City Union Bank, and Voltas were some of the top picks in the mid-cap space (5,000 to 10,000 crore market cap).
The fund is managed by Vinay Paharia.
*Mutual Fund investments are subject to market risks, read all scheme related documents carefully. Past performance is not indicative of future results. To know how to read our weekly fund reviews, please click here.
[fbcomments]