Kotak Select Focus, a diversified equity fund with a track record of over five years now, has been steadily making a mark in the equity universe. Returns of 27 per cent compounded annually in the last three years were higher than the benchmark index' (CNX 200) returns of 18 per cent annually over the same period.
Fund and Suitability
Kotak Select Focus is a diversified equity fund with a large-cap bias, but with about one-fourth of its assets in mid- and small-cap stocks. It can be compared with funds that come with a top 100 or top 200 market-cap bias.
However, given its reasonably concentrated exposure to sectors, its beta (measure of volatility) is quite high in relation to the index. The fund is, therefore, suitable for investors with a moderate-to-high risk appetite.
The fund's performance for over five years now (since its launch in September 2009, most of the years have been volatile until 2013) has been encouraging. But given that it does not have a track record of managing a bear market such as the one seen in 2008, the fund cannot be said to be tried and tested across market phases. Hence, at the present, it may be more suitable as a diversifier than for a core portfolio.
Performance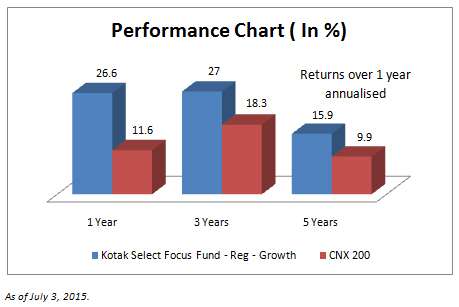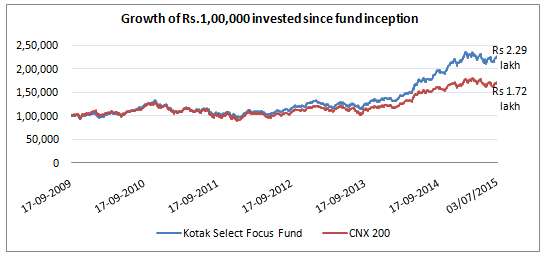 That said the fund still comes across as a consistent player in terms of delivering better returns than its benchmark. On a rolling one-year return basis since its launch, the fund beat its benchmark – CNX 200, 99 per cent of the times. That is an enviable record. It's worst one-year returns of -22 per cent over this period is still better than the -27 per cent fall witnessed by its benchmark.
A high-beta fund such as Kotak Select Focus is well suited for averaging using a Systematic Investment Plan (SIP). This is evident from its returns since inception. While its point-to-point returns since inception, at about 16 per cent compounded annually, is two percentage points higher than its benchmark return of 14 per cent annually, the picture looks better with an SIP. An SIP in the fund, since its launch in September 2009, would have delivered an Internal Rate of Return (IRR) of about 21 per cent, a good eight percentage points higher than the benchmark.
Portfolio
Kotak Select Focus holds a diversified portfolio of 51 stocks over 15 different sectors. Its top 10 holdings account for 39 per cent of its portfolio. As of May 2015, 76 per cent of the fund's total equity holdings were in large-cap stocks, 21 per cent in mid-cap stocks, and the rest in small cap stocks. This fund follows the buy and hold approach, and so, it sports a low portfolio turnover ratio of just 0.41 times.
Kotak Select Focus has benefited from being overweight on the banking and finance space when compared with its benchmark. However, it has made some deft moves to ensure that it participated in the rally beginning 2014 by reducing exposure to defensive sectors such as software, and instead upping stakes in segments such as auto, cement and construction projects.
Kotak Select Focus' high beta is visible when one looks at its performance since 2010. The fund delivered marginally higher than many peers such as UTI Equity or ICICI Pru Top 100 in up markets such as 2012 and 2014, but then fell a bit more than the others in years such as 2011.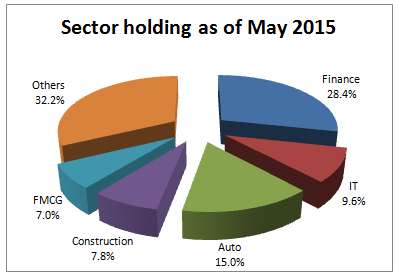 Like most other funds, the banking and financial sector remains the fund's top pick.
Auto is the second largest sector, followed by IT, construction and FMCG. Infosys, HDFC Bank, SBI, Axis Bank, and Larsen & Toubro were some of its top picks in the large cap space, while MRF, Max India, and Indraprastha Gas were some of its top picks in the mid-cap space. Harsha Upadhyaya manages the fund.
FundsIndia's Research team has, to the best of its ability, taken into account various factors – both quantitative measures and qualitative assessments, in an unbiased manner, while choosing the fund(s) mentioned above. However, they carry unknown risks and uncertainties linked to broad markets, as well as analysts' expectations about future events. They should not, therefore, be the sole basis of investment decisions. To know how to read our weekly fund reviews, please click here.
[fbcomments]