For the Conservative Debt Investor
If the recent volatility in the debt market has shaken you and you wish to keep such shocks at bay and still earn decent returns, then JP Morgan India Short Term Income Fund will suit you. This fund is suitable if you have a 1-2 year time frame and want post-tax returns better than FDs. The current debt market is also conducive for short-term debt instruments such as certificates of deposits and commercial papers to provide sufficient upside in the near term.
With a return of 9% compounded annually in the last 3 years, this fund comfortably beat its benchmark – Crisil Short Term Bond Fund Index, which had a return of 8.1%. The fund's return is also superior to the category average of 8.5% over this period.
Suitability
JP Morgan India Short Term Income is a short-term debt fund. That means it will seek to invest predominantly in short-term instruments with low maturity. The fund is suitable for investors with a low risk appetite. Investors may check other short-term debt funds given in FundsIndia's Select funds list, if their risk appetite is higher.
This is because JP Morgan seeks to restrict its holdings in corporate bonds to around 25-30% (and not more than 10% in government securities). A majority of the money is usually in money market instruments such as certificates of deposits. When interest rates fall and yields compress, corporate bonds may see a heightened rally when compared with money market instruments; although volatility is typically higher in corporate bonds. Hence, with limited holding in corporate bonds, this fund's rally may be a bit capped.
Performance
JP Morgan India Short Term Income has managed a high risk-adjusted return over the last 2 years, when compared with peers. This is mainly because of very low deviation from its mean returns. That means low volatility has helped it deliver better.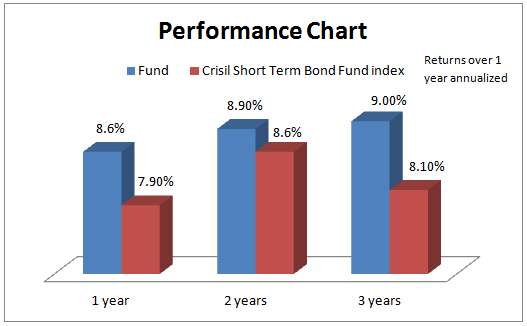 The fund is also among the few funds to fall in the negative territory for the least number of days this year. In 2013 thus far, the fund had daily negative returns (on a daily rolling basis) 14.5% of the times. The benchmark itself witnessed negative returns 26% of the times and peers from fund houses such as Morgan Stanley fell 32% of the times (January till date). One other fund that comes close to JP Morgan in terms of containing daily falls is PineBridge India Short Term Fund. Others such as Canara Robeco Short Term could not contain falls this well.
JP Morgan India Short Term Income also beat its benchmark 98% of the times on a rolling one-year return basis, analysed since its inception in March 2010. This, again, is a mark of consistent performance.
Portfolio
JP Morgan India Short Term Income's portfolio has an average maturity of 2.28 years at present. The modified duration (which measures the duration of a bond for a percentage point change in interest rates) at 1.67, though, suggests low volatility if rates move.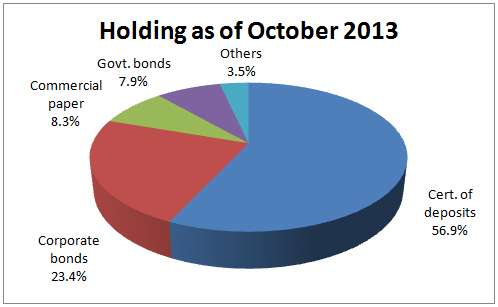 Currently, the fund has about 30% in corporate bonds, some with AA credit ratings. Some of its AAA-rated instruments include PFC, REC and NABARD while Jagran Prakashan, Indian Hotels and Cholamandalam Investment & Finance Company are some of the AA-rated bonds. The fund does not have holdings below AA rating.
While, we did mention that limited exposure to corporate bonds may cap upside in a rally, the current bond exposure (mix of very high credit-rated and reasonably good credit-rated instruments) should ensure that the fund gets sufficient participation, within its ambit of risk.
Close to 57% of its assets are in certificates of deposits issued by banks and the rest in commercial paper and money market bonds.
The fund is managed by Namdev Chougule & Ravi Ratanpal. The fund will have an exit load of 0.5% if redeemed before 6 months.
[fbcomments]