Are you looking for funds beyond the large-cap space, but with limited exposure to mid-caps? Then ICICI Pru Top 100 could be the right choice for you.
This fund seeks to provide equity exposure by predominantly investing in large-cap stocks, while providing some kicker returns through limited mid-cap exposure. It aims to generate alpha by active sector rotation through a top-down approach. ICICI Pru Top 100 delivered close to 26 per cent compounded annually over the last three years, and has picked pace in the last one year. It has also consistently beaten its benchmark CNX Nifty over the above three-year period.
Suitability
ICICI Pru Top 100 is suitable for those who have sufficient exposure to large caps, and are looking to pep their portfolio returns without too much risk (as would be the case with a mid-cap fund). This fund would also be suitable if you already have exposure to large and mid-cap funds, and are looking for funds with exposure to nascent large-cap stocks. The risk-return profile, as can be expected, would be marginally higher than a regular large-cap fund.
Performance
In the last three years, on a rolling one-year return basis, ICICI Pru Top 100 beat its benchmark, CNX Nifty, a good 88 per cent of the times. It has also beaten its large cap peer group 82 per cent of times. Its Systematic Investment Plan (SIP) returns (since inception) is close to 20 per cent, which is 5 percentage points higher than its benchmark. The SIP
table below is indicative of the kind of wealth you can build with this fund, which is far superior returns when compared to the index.

During its initial years, ICICI Pru Top 100 was barely able to beat the index. In 2009, Sankaran Naren took over as the fund manager, after which the fund's performance improved and it was able to beat the index. From 2012, its performance picked up substantially, and it has since, been consistently beating its peer group and benchmark.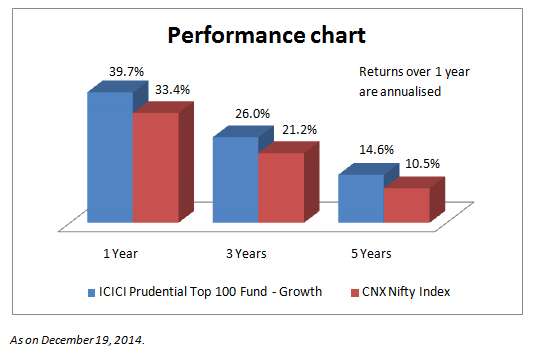 Portfolio
ICICI Pru Top 100 predominantly invests in the top 100 stocks by market capitalisation on the National Stock Exchange. It can also invest a small portion in companies outside this list.
The fund has adequately diversified its portfolio by holding 41 stocks from 20 different sectors. Its top 5 holdings account for 35 per cent of its portfolio. It holds around 77 per cent of the portfolio in large cap stocks, and the rest is invested in mid- and small-cap stocks.
During November 2014, ICICI Pru Top 100 added exposure in finance, power and auto sector stocks. It reduced exposure majorly towards telecom services, auto ancillaries and oil sector stocks.
The scheme remained relatively overweight on power, oil, gas and petroleum products, and agriculture and agri inputs. It remained relatively underweight on banks and finance, consumer non-durables, and retailing and auto.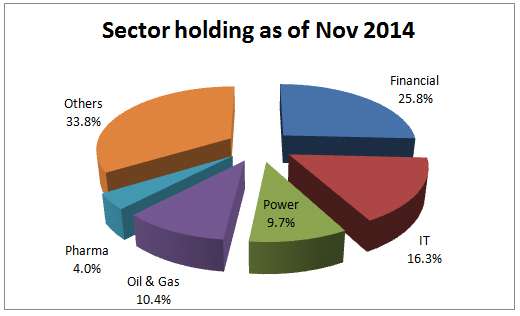 Stock strategies
The fund invested in ING Vysya Bank (mid-cap pick) and increased its exposure gradually over the last 9 months, much before the announcement of acquisition by Kotak Mahindra Bank. The merger would likely have delivered handsome returns.
After the formation of the National Democratic Alliance (NDA) government in May 2014, the fund manager appears to have expected decontrol reforms in petroleum products. This appears to be the case, going by the addition of energy stocks like IOC, BPCL, Oil India, and ONGC. Profit booking was visible in these energy stocks in more recent times. The fund manager partially exited some stocks (like IOC), and completely in a few others (BPCL, Oil India), to benefit from the rally in energy stocks.
Powergrid Corporation was the fund's top holding in its most recent portfolio. The fund held this stock for over a year and continues to be bullish on it due to attractive valuations and better growth prospects in the power distribution space.
ICICI Pru Top 100 is managed by Sankaran Naren & Mittul Kalawadia.
Past returns are not indicative of future performace.
Mutual fund investments are subject to market risks, read all scheme related documents carefully.
To know how to read our weekly reviews, please click here.
[fbcomments]