If you hold Franklin India Bluechip and have seen the fund's performance in the last one year, you may be tempted to stop your investments, or switch. After all, everybody likes to chase returns.
But Franklin India Bluechip is not one of those funds that is meant to deliver flashy returns; nor does it promise to generate superior returns in every bull market. So, what does it do and why would you hold the fund? Read on to know why this fund is still a worthy choice in every equity portfolio.
Suitability
Franklin India Bluechip is a true-blue large-cap fund; a large-cap fund that does not deviate from its mandate of being invested in large caps at all times.
This mandate handicaps the fund in the short to medium time frames on two counts: one, since it sticks to large-cap stocks, in rallying markets such as the present one, when mid caps run up significantly, the fund will lose out to more diversified peers.
Two, when it comes to an equity market recovery, especially after a prolonged bear market, it is cyclical stocks that tend to outperform, especially in the initial leg.
However, barring stocks in sectors such as banking and limited stocks in auto and cement, most cyclical sector stocks are in the mid and emerging mid-cap segment. Here again, the fund will be constrained from taking exposure to such sectors for want of stocks in the large-cap segment.
We have seen the fund underperform peers and sometimes even its benchmark, albeit marginally, in the market upswing in 2006, 2007 and more recently from October 2013. This cannot be termed to be the fund's poor performance. To us, it is the outcome of working within the constraints posed by its mandate; such an outcome too is corrected over longer periods of times, across market phases.
The fund is suitable for any long-term portfolio, where the primary aim of the investor is to build wealth with limited volatility.
You might ask if holding an index is a better option as the fund does not invest outside of blue chip stocks. We do not think it is an option at all as the fund's outperformance, over its benchmark, has been significant when seen over longer time frames. Of course, in an equity portfolio that has this fund, you would have to supplement your holding with slightly high beta funds to ensure your portfolio receives some kicker returns.
Performance
While Franklin India Bluechip's returns are not chart busters, the fund is a highly consistent performer. If you take the fund's rolling 5-year returns over the past 10 years, the fund did not underperform its benchmark on even a single occasion. That is a mark of high consistency.
Its risk-adjusted return is also superior in the long term but tends to be sober in three-year periods or lower. Clearly, the superior performance shows itself in its ability to contain declines. In all the years since its inception, the fund has never underperformed its benchmark in a bear market. Be it 1998, 2000 or 2001 or the more recent 2008 crash, the fund contained declines better than the Sensex and most peers.
Needless to say, the last one year has not been easy for the fund for reasons we discussed initially, i.e., its challenges in a typical rallying market where opportunities present themselves through mid-caps and cyclical bets.

The table above is indicative of the kind of wealth you can build with a fund that is consistent, but fetches far superior returns to the index.
Portfolio
In its October portfolio, Franklin India Bluechip had just one stock (Torrent Power, with less than 1 per cent exposure) with a market cap of less than Rs 10,000 crore; the rest all being over that mark. The fund continues to be marginally overweight on the banking and finance space, with holdings mostly in the private banking space.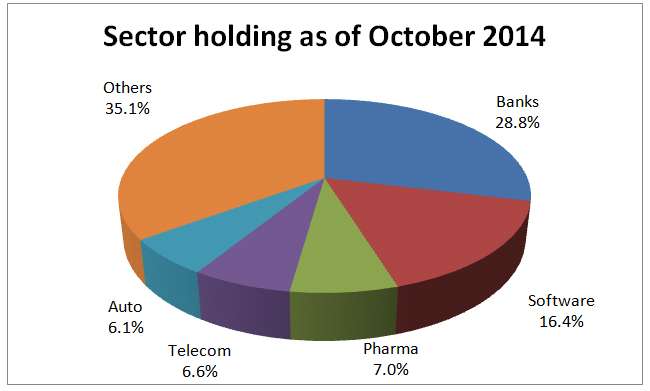 Compared with a year ago, the fund has cut down holdings in pharma, but upped its stakes in IT. It has done the best it could to participate in cyclical sectors and proxy plays on consumption with exposure to auto, cement and telecom stocks. The fund is managed by Anand Radhakrishnan and Anand Vasudevan.
[fbcomments]