Canara Robeco Equity Tax Saver is a tax-saving fund that enjoys deduction (up to Rs 1.5 lakh) under Section 80C of the Income Tax Act. The fund benefits from long term investing due to its lock-in period, and has a balanced portfolio of large and mid cap stocks. It follows the 'growth' style of investing.
Although Canara Robeco Equity Tax Saver is a diversified fund, it has a large cap bias. It takes tactical exposure towards mid- and small-cap stocks. The fund appears to be tilted in favour of growth-oriented sectors such as banking, IT, energy and auto sectors.
We still recommend Axis Long Term Equity and ICICI Pru Tax Plan from the tax-saving basket. If you are looking for slightly conservative options, then Canara Robeco Equity Tax Saver is a good scheme to invest.
Since this fund predominantly invests in large-cap stocks, it is known to contain downfalls during steep market corrections. At the same time, its one-third exposure in quality mid-cap picks during market upturns has aided performance.
Performance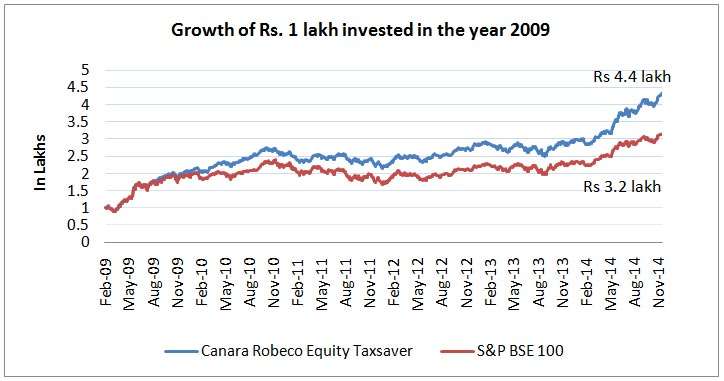 Canara Robeco Equity Tax Saver took some time to warm up to performance; however, it became a steady performer soon. During its initial years of inception (up to 2009), the fund underperformed in comparison to its category average and its respective index. Performance then picked up from 2009, and post 2009, the fund has been delivering consistent returns by outperforming its index by a good margin.
On a rolling one-year return basis (in the last 5 years), the fund beat its benchmark 82 per cent of the times. This is a good outperformance ratio. On a point-to-point basis, over the last 3 years and 5 years, the fund beat its benchmark with a good margin of 4 per cent and 6 per cent respectively.
Portfolio
Canara Robeco Equity Tax Saver's portfolio is adequately diversified. Its investment is spread across 14 sectors, with the top three sectors contributing to 51.4 per cent. The scheme's exposure to large caps is 64 per cent, while mid-cap and small-cap stocks constitute 31 per cent and 5 per cent respectively.
Canara Robeco Equity Tax Saver gradually increased its mid- and small-cap exposure over the last few months. It held 53 stocks in its portfolio as of October 2014, and recently, it increased its exposure to banking and IT stocks.
Currently banking, IT, energy, and auto are its top sector holdings. Canara Robeco Equity Tax Saver is under weight on the FMCG and metal sectors. Compared to its peer group, the fund churns its portfolio less often, with its portfolio turnover ratio being 0.89 times.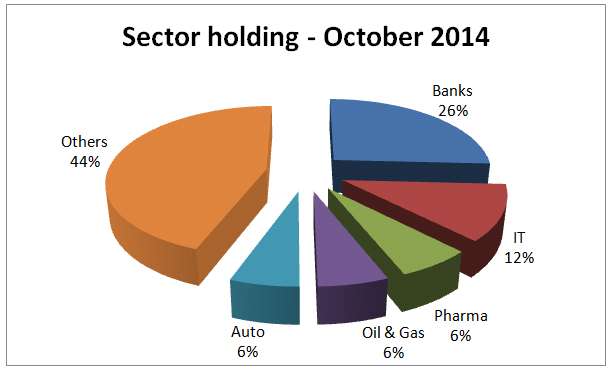 The top 10 stocks of the fund account for 40 per cent of the portfolio. HDFC Bank, ICICI Bank, Infosys and Reliance Industries are the top four holdings of Canara Robeco Equity Tax Saver. Ramco Cements, AIA Engineering, CMC Ltd. and IL&FS Transportation are few of the top mid-cap picks.
Krishna Sanghvi has been managing the fund since 2012.
Returns mentioned are past returns and are not indicative of future performance.
To know how to read our weekly fund reviews, please click here.
[fbcomments]