A good equity starter
Are you a conservative investor or a new investor looking to participate in equities, while wanting to limit its downside risks? Then Canara Robeco Balance may be a good fund to start with for you.
Had you invested in this fund every month in the past five years through SIPs, then your annual return would be 11.4 per cent. That's higher than the 7.7 per cent return of the benchmark Crisil Balanced Fund Index, using the same SIP route.
Suitability
Canara Robeco Balance delivers what a balanced fund ought to – better than equity index returns for lower volatility and lower downside risks. The fund has proven its mettle in managing downside markets exceptionally well, and is therefore suitable for investors looking for such a feature.
If you are merely diversifying your all-equity portfolio with a balanced fund, and if you can take some volatility, then you should prefer funds such as HDFC Prudence or Tata Balanced over this fund.
If you are investing now, you can consider either a lump sum investment or SIPs in the fund. While we do not normally advocate a lump sum approach, the current market conditions, together with the fact that the fund's NAV does not swing wildly means that a lump sum may not do much harm, if you have a very long-term investment approach (5-10 years). You can also top up a lump sum amount with small SIPs.
Performance
Canara Robeco Balance is best known for containing declines well. In the 2008 down market, for instance, it fell 38 per cent even as HDFC Prudence slipped 42 per cent and Tata Balanced dropped by 44 per cent. It did even better in 2011, containing the fall to just 9.7 per cent, while the balanced fund category, on an average, fell by 16 per cent.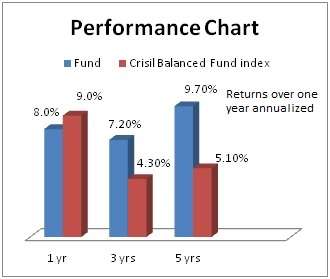 Canara Robeco Balance falls short of performance when compared with the two balanced funds from HDFC, on a risk-adjusted return basis over the last five years. But it is almost at par with Tata Balanced, the latter having relatively higher exposure to mid-cap stocks than Canara Robeco Balance.
That said, the fund is by far the most consistent performer in the balanced fund category. It beat its benchmark 97 per cent of the times on a one-year rolling return basis over the last three years. While ICICI Pru Balanced managed as much, HDFC Balanced and Tata Balanced score only 89-90 per cent on this parameter. This simply suggests that while the other funds may outperform the benchmark by a good mile, they may not be as consistent as Canara Robeco Balance in beating the benchmark.
The fund also comfortably beat the large-cap equity fund average of 3 per cent and 5 percent in the last three and five years respectively, thanks to a better performing debt market.
Portfolio
Canara Robeco Balance's limited risk-return profile stems from two fundamental attributes: one, it holds a more large-cap focused portfolio compared with most other top balanced funds.
Two, it mostly restricts its equity exposure to a little under 70 per cent, even as most others easily touch 75 per cent. These two reasons will therefore limit the upside for this fund in a steady rallying market. This is why this fund may not suit high-return seekers.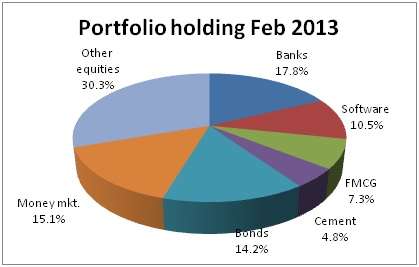 Canara Robeco Balance holds a highly diversified equity portfolio with as many as 60 stocks. Barring a couple of stocks, individual exposure to the rest is less than 3 per cent each. Close to two-thirds of the equity holdings are in large-cap stocks, with a market-cap of over Rs 10,000 crore.
But the fund has interesting mid and small-cap picks such as Prestige Estate Projects, Sadbhav Engineering, Kajaria Ceramics and VA Tech Wabag. Evidently, the fund likes to take exposure, albeit limited, in unpopular sectors such as real estate, construction and engineering. But individual exposure to these stocks remains low.
In the course of the last one year, the fund upped its exposure to banking even as it shed FMCG stocks and increased its holding in IT. With a weak rupee and IT giants, such as Infosys, making a slow comeback in the last earnings season, the fund's decision to shuffle holdings may have been well timed.
The fund's debt portfolio is reasonably liquid, what with 15 per cent of its total assets in money market instruments. Another 15 per cent is held in public sector and private company bonds.
The fund's management changed hands six months ago. It is now managed by Krishna Sanghavi and Suman Prasad. It was earlier managed by Soumendra Nath Lahiri.
[fbcomments]