PPFAS Long Term Value Fund is among the more unusual equity funds. What sets this diversified fund apart from other multi-caps is that, one, it can invest up to 35 per cent of its portfolio in foreign securities. It used this mandate and maintained an overseas exposure of around a quarter of its portfolio over the past two years. Two, it can take arbitrage positions if it finds such opportunities, and if the prevailing market environment doesn't provide other investment opportunities. This multi-cap fund is also the AMC's only fund.
Given PPFAS Long Term Value's (PLTV) offbeat approach, and its recent crossing of the three-year mark, now is a good time to take stock of the fund's performance.
Performance
In its short history, the fund has put up a good show. In the one-year period, PLTV ranks in the top quartile when compared to other multi-cap funds. In the three-year period, it is a mid-quartile performer. On an annual rolling return basis since its inception, the fund has beaten its benchmark Nifty 500 index 87 per cent of the time. This indicates a good record of consistency.
In the past three years, there has not really been a prolonged market slide like that of 2011 or 2008, to test the fund's mettle in bear markets. The equity market did slip into losses towards the close of 2015 and was well in the red for the first couple of months in 2016. In this period, PLTV still eked out slight gains, putting it well ahead of the index. Few peer funds managed the level of outperformance over the Nifty 500 that PLTV did in this period.
This is partly because it has a greater share of small-cap and mid-cap stocks, which are yet to correct as much as large-caps have. Two, its good international exposure of around a quarter of its portfolio which include stocks such as Alphabet Inc.(Google), helped.
On a risk-adjusted basis, PLTV is the best among its peers. Its volatility is also far lower than the category's average.
Winning strategy
The fund looks for stocks that are trading below intrinsic value, or which are cheaper, with a strict long-term view. This approach goes for both its domestic and international holdings. For example, IBM, which makes up around 3 per cent of its portfolio, trades at a PE of around 12 times, compared to the BSE IT index's 19 times PE.
Similarly, the international equivalents of stocks such as Nestle India and 3M India, which the fund holds, are much cheaper while also being larger companies. On the domestic front, holdings such as ICICI Bank, Zydus Wellness, and Persistent Systems are still relatively cheaper than peers.
Its portfolio turnover is extremely low at just 3-4 per cent. Maharashtra Scooters and ICRA, its current top holdings, for example, have been a part of its portfolio almost since its inception in May 2013.
The fund also has no bias towards market capitalisation or sectors. This is because, for one, it follows a stock-specific approach and does not look at overall macro numbers, and two, it has a compact portfolio of 20-25 stocks that does not give much room to play with sector allocations.
Its exposure to the besieged banking sector, therefore, is far lower when compared to both benchmark and peers. Over the past year, the fund has kept 3-6 per cent of the portfolio for arbitrage opportunities. It also recently upped cash holdings to 8 per cent of the portfolio for lack of investment opportunities. All these have contributed to the fund's strong performance in the past year.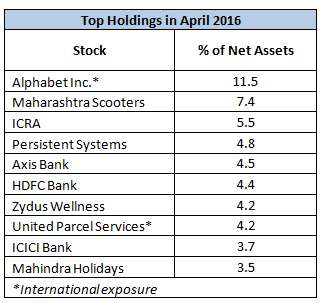 The fund will have at least 65 per cent of its portfolio in domestic stocks, which ensures that capital gains tax will be nil on holding for over one year. It also hedges its currency exposure and therefore, foreign exchange losses are unlikely to eat into returns. Of course, exchange gains won't boost returns, then, either!
The fund offers a good portfolio diversification, allowing participation in foreign stocks that have few or no domestic equivalents. But given the multi-cap nature of the fund and its long-term views on its portfolio, the fund requires a long-term time-frame and a moderate risk appetite. The fund is managed by Rajeev Thakkar, and has an AUM of Rs. 664 crore.
FundsIndia's Research team has, to the best of its ability, taken into account various factors – both quantitative measures and qualitative assessments, in an unbiased manner, while choosing the fund(s) mentioned above. However, they carry unknown risks and uncertainties linked to broad markets, as well as analysts' expectations about future events. They should not, therefore, be the sole basis of investment decisions. To know how to read our weekly fund reviews, please click here.
[fbcomments]