Kotak Select Focus, a diversified equity fund with a track record of over three years now, has been steadily making a mark in the equity universe showcasing consistency since launch. Returns of 15.6% compounded annually in the last 3 years were higher than the benchmark index' (CNX 200) returns of 10.6% annually over the same period.
Fund and Suitability
Kotak Select Focus is a diversified equity fund with a large-cap bias, but with about one-fourth of its assets in mid- and small-cap stocks. It can be compared with funds that come with a top 100 or top 200 market-cap bias.
However, given Select Focus' reasonably concentrated exposure to sectors, its beta (measure of volatility) is quite high in relation to the index. The fund is therefore suitable for investors with moderate to high risk appetite.
The fund's performance of over close to 4 years now (volatile years for a good part since its launch in September 2009) has been encouraging. But given that it does not have a track record of managing a bear market such as the one seen in 2008, the fund cannot be said to be tried and tested across market phases. Hence, it may be more suitable as a diversifier than for a core portfolio, at the present.
Performance
Kotak Select Focus' high beta is visible when one looks at its performance since 2010. The fund delivered marginally higher than many peers such as UTI Equity or ICICI Pru Top 100 in up markets such as 2012 or the present year but then fell a bit more than the others in years such as 2011.
That said, the fund still comes across as a consistent player in terms of delivering better than its benchmark. On a rolling one-year return basis over the last 3 years, the fund beat its benchmark CNX 200 98.9% of the times. That is an enviable record. It's worst one-year returns of -22% over this period is still better than the -27% fall witnessed by the benchmark.
A high-beta fund such as Kotak Select Focus is well suited for averaging using SIP. This is evident from its returns since inception. While its point-to-point returns since inception, at about 13 per cent compounded annually is less than a percentage point lower than its benchmark return of 13.7% annually, the picture looks different with an SIP. An SIP in the fund, since its launch in September 2009 would have delivered about 18% IRR, a good five percentage points higher than the benchmark.
Portfolio
Kotak Select Focus has a portfolio of close to 50 stocks with the top 10 stocks accounting for about 40% of the assets. The fund has benefited from being overweight on the banking and finance space, compared with its benchmark.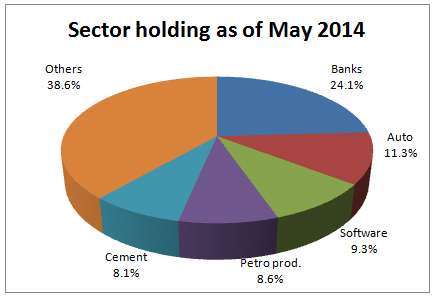 But it has made some deft moves to ensure that it participated in the rally beginning 2014 by reducing exposure to defensive sectors such as software, and instead upping stakes in segments such as auto, cement and construction projects. While there are no surprise candidates in the fund's large-cap stock list, in the mid-cap category, offbeat plays such as Ramco cement, J.K Lakshmi Cement and stocks from the beaten down real estate space – Sobha Developers and Prestige Estate Projects have all delivered well in the just completed quarter.
The fund is managed by Harsha Upadhyaya.
[fbcomments]