What
A large-cap equity fund
Bottom-up stock picking and concentrated stock holding
Why
Focused bets hold potential to deliver higher
Ability to contain downsides better than peers
DSP BlackRock Focus 25 (DSP BR Focus 25) is a large-cap equity fund with a concentrated portfolio of 25-30 stocks. With a return of 17.8 per cent annually in the last 5 years, the fund comfortably beat its benchmark and large-cap category returns by about 3 percentage points. Among the crop of funds which follow a similar strategy, DSP BR Focus 25 stands out for its ability to contain downsides better. However, this remains to be tested further as the fund has not witnessed more than one significant market fall (2011) since its inception in 2010.
Focused strategy
Funds that have the strategy of taking focused stock bets have been conspicuous for their performance since 2014. Specifically, the last two calendar years marked a period when the markets did not see any broad upswing, even as select stocks delivered high returns. In such a scenario, focused bets on stocks worked better so long as the fund picked the right stocks. Just to give an example, in 2015, when many large-cap funds stayed flat or delivered negative returns, funds such as DSP BR Focus 25, Motilal Oswal MOSt Focused 25 and Invesco India Business Leaders, with focused exposure to large-cap stocks, delivered positive returns, thanks to concentrated calls that worked in their favour.
Funds that take a concentrated exposure are not, in general, suitable for investors with limited risk appetite. This is because while the strategy can pay off very well, if the top stock calls do not deliver, the underperformance can be significant too.
Performance
The last 3 years' performance record of DSP BR Focus 25 is noteworthy. When it's 1 -year returns were rolled daily over the last 3 years, the fund beat its large-cap peers a good 93 per cent of the times.
We further took about 7 funds that adopt a focused strategy and rolled their 1-year returns daily for 3 years. Here again, DSP BR Focus 25 emerged the most consistent, beating this 7-fund category average 91 per cent of the times.
We also tried to test the fund's ability to contain downsides. In this same period (1-year returns rolled daily over last 3 years), the fund delivered negative returns only 13 per cent of the times as opposed to large-cap category average of 19 per cent. While large-cap funds such as Franklin India Bluechip, SBI Bluechip and Mirae Asset India Opportunities have marginally bettered this fund, none of them took such concentrated stock bets and were more diversified in their holdings. Among the funds that followed a similar strategy, Invesco India Business Leaders marginally bet the fund's record. Others such as Motilal Oswal MOSt Focused 25, lagged the DSP BR fund on this count.
All the above were tested in the last 3 years. If we take a longer period of 3-year returns (over the last 5 years), the performance was not as superior as in recent years. In other words, this is a fund that has been showing improvement in performance.
Portfolio
While we spoke of consistent performance, the last 1-year (point-to-point) returns is not something that DSP BR Focus 25 can boast about. And that can be attributed to some sluggish stocks among its top picks, viz., Infosys ITC, BPCL and other mediocre performers such as Sun Pharma Industries, Lupin and Tata Motors. While it had winners such as Maruti Suzuki India, that peers had higher weights to such winners did not help the fund as they raked in higher returns. But then, such is the outcome of focused strategies.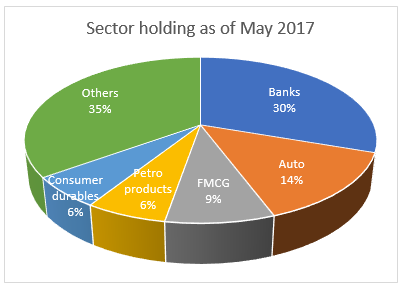 The fund had several well-timed winners over the years including Britannia Industries, Shree Cement, Bajaj Finance, Eicher Motors and Max Financial Services.
DSP BR Focus 25 does not seem to be in a hurry to churn its portfolio to keep its performance at the top. It marginally pruned Infosys and Tata Motors but added more in stocks like Lupin and ITC. That the fund has a low portfolio turnover ratio compared with peers suggests that it is willing to wait.
In terms of sector holdings, the fund's top few sectors are very similar to peer Motilal Oswal MOSt Focused 25; although stocks and stock weights within these sectors are very different. We think these 2 funds along with Invesco Business Leaders would be the ones to watch for, over a longer time frame, to see which of them emerge superior.
DSP BR Focus 25 is managed by Harish Zaveri and Jai Kothari.
FundsIndia's Research team has, to the best of its ability, taken into account various factors – both quantitative measures and qualitative assessments, in an unbiased manner, while choosing the fund(s) mentioned above. However, they carry unknown risks and uncertainties linked to broad markets, as well as analysts' expectations about future events. They should not, therefore, be the sole basis for investment decisions. To know how to read our weekly fund reviews, please click here.
[fbcomments]