A new addition to our 'Select Funds' list this quarter is SBI Magnum Equity. While SBI Bluechip, a top-notch fund from the same fund house also figures in our list, SBI Magnum Equity, is a recent addition.
SBI Magnum Equity is a pure large-cap fund, unlike its sister fund that takes some mid-cap exposure. As the list of pure large-cap players, with an established track record and sticking to large caps at all times, is not very high, we decided to add this fund. You will now have funds such as Birla Sun Life Frontline Equity, Franklin India Bluechip, ICICI Pru Focused Bluechip Equity and SBI Magnum Equity as pure large-cap options in our list.
Fund and suitability
In terms of risk-adjusted performance, SBI Bluechip scores over SBI Magnum Equity. The former has held an average of 30% in midcap stocks (categorised by us as stocks with market cap of less than Rs 20,000 crore) in the past year and the risk taken has paid off handsomely. Hence, in terms of its profile, SBI Magnum Equity may not be strictly comparable with Bluechip although both are categorised as large-cap funds.
SBI Magnum Equity is closer to ICICI Pru Focused Bluechip Equity in terms of its market-cap, risk profile and its value focus. It has scored marginally higher than ICICI Pru Focused Bluechip Equity in our quantitative scoring. The fund is suitable for investors looking for a pure large-cap fund and ability to tide bear markets better. For those looking for a more diversified fund, SBI Bluechip would be a better option.
Performance
SBI Magnum Equity is one of the few equity funds launched in the early 90s. While its performance record cannot be called top notch through the years, it has been a reasonably steady performer in the last few years. When its returns were rolled daily for 1-year periods, over the last 3 years, it beat its category average 62% of the times. While that is not great performance, it is better than funds such as Franklin India Bluechip, known for their pure large-cap holding.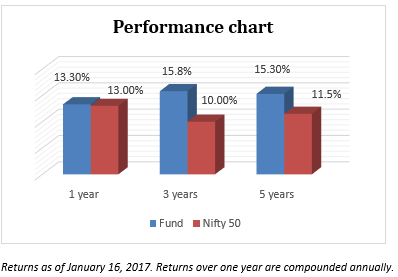 Where SBI Magnum Equity stands out, is for its Sortino ratio. Sortino is another measure of risk-adjusted returns, but unlike the Sharpe, it considers deviation(risk) on the downside. A higher Sortino implies superior ability to deliver returns typically in down markets (when the fund's returns are lower than its mean returns). On this count (over one-year returns for past 3 years), SBI Magnum Equity scores as much as Franklin India Bluechip; the latter is already known to be among the best funds in containing downside.
Portfolio
SBI Magnum Equity not only holds a contrarian portfolio but also holds a portfolio quite different from SBI Bluechip. The former is overweight on banking and financial services while the latter is not. SBI Magnum Equity's second highest sector holding is energy while Bluechip is underweight on energy and it is not among the top 3 sectors.
SBI Magnum Equity also holds a concentrated portfolio with the top 5 stocks accounting for close to 34% (December 2016) of assets. Each of these 5 stocks have an allocation in the range of 5-9.5%. With SBI Bluechip, top 5 stocks account for just 19% of assets. The latter is more diversified given its part mid-cap holding. SBI Magnum Equity also has a lower portfolio turnover (average of 63% in the last 6 months) as opposed to SBI Bluechip (similar average at 81%) suggesting that its calls are more buy and hold.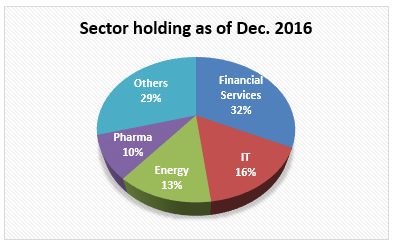 SBI Magnum Equity's value-tilted strategy did not deliver much in 2016. It beat the index but lagged some peers. The fund significantly increased its stake in oil marketing companies and other companies across the energy spectrum in 2016. It also took to value buying in specific stocks in the pharma and IT space. While the last 2 sectors may continue to lag for some time, its value strategy will likely pay off over the medium to long term. In the near to medium term, if the current rally in energy stocks continue, that may buttress fund performance. Despite several large-caps in its portfolio declining in 2016, stocks such as HDFC Bank Hero Motorcorp and SBI helped prevent the portfolio returns from moving to the negative zone last year.
The fund is managed by R Srinivasan.
FundsIndia's Research team has, to the best of its ability, taken into account various factors – both quantitative measures and qualitative assessments, in an unbiased manner, while choosing the fund(s) mentioned above. However, they carry unknown risks and uncertainties linked to broad markets, as well as analysts' expectations about future events. They should not, therefore, be the sole basis of investment decisions. To know how to read our weekly fund reviews, please click here.
[fbcomments]