After our long term update on the Nifty, there has been a lot of query about the short-term outlook. The recent spike in the Nifty has made quite a investors nervous!  Or atleast that is the impression we gather from the interactions that we have had with our investors.  Hence, we decided to post a short-term update to put things in perspective.
From the above daily chart, it is evident that the Nifty is progressing a bullish sequence of higher highs and higher lows. Irrespective of the general elections outcome, the 6,600-level is the key reference point for the short-term investors. Hence, there is nothing to worry about the uptrend or its longevity until the Nifty falls below the recent swing low of 6,600.
Similar to our earlier long term update, we have used the action-reaction methodology to project short-term targets. Direct your attention to the daily chart featured below.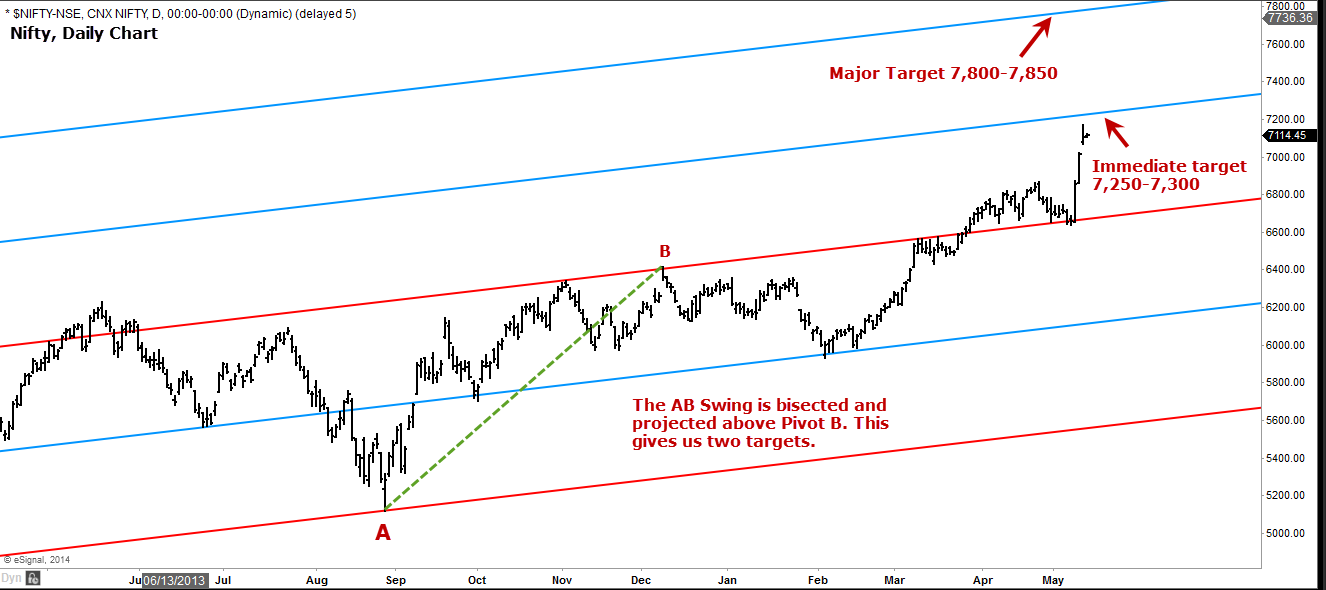 We have bisected the "AB Swing" and note how the price respected the centreline or the medianline of that swing. This is a sign that these lines are in sync with price action. The immediate hurdle for the Nifty is at the blue line at 7,250-7,300 range.
We however expect the index to reach the upper blue line at 7,800-7,850 before any meaningful downward correction sets in. So, please do not get swayed by the exit poll outcome or the actual general election results due on May 16 as the short-term trend remains bullish until 6,600 is intact.
Even if 6,600 is breached, it does not invalidate either the overall bullish view or the chances of a rally to 7,800. It would only mean that the eventual journey to 7,800 might get delayed a bit. More on that if and when 6,600 is breached.
[fbcomments]