Nifty has almost reached our earlier target of 6,850-6,900. Hence, we decided to put out a long-term update. While the headline of the post might sound dramatic, here is our logic behind the Nifty 11k target. Kindly turn your attention to the monthly chart of the Nifty posted below.
The blue trend line connecting the February 2000 high of 1,818.15 and January 2004 high of 2,014.65 forms the basis for our target of 11,000 on the Nifty. Amidst the global meltdown in 2008, this trendline did an amazing job in October 2008 of arresting the fall in the Nifty.
Also note how the high in January 2008 was right at 4x the distance from the gray "Action Line" drawn below this blue trendline.
We decided to use this blue trendline as the basis for our projection. We placed this trendline at the 2008 high and used it as a centerline to arrive at the target. We took the October 2008 low of 2252 as our "Action" point to measure the reaction on the other side of the new centerline.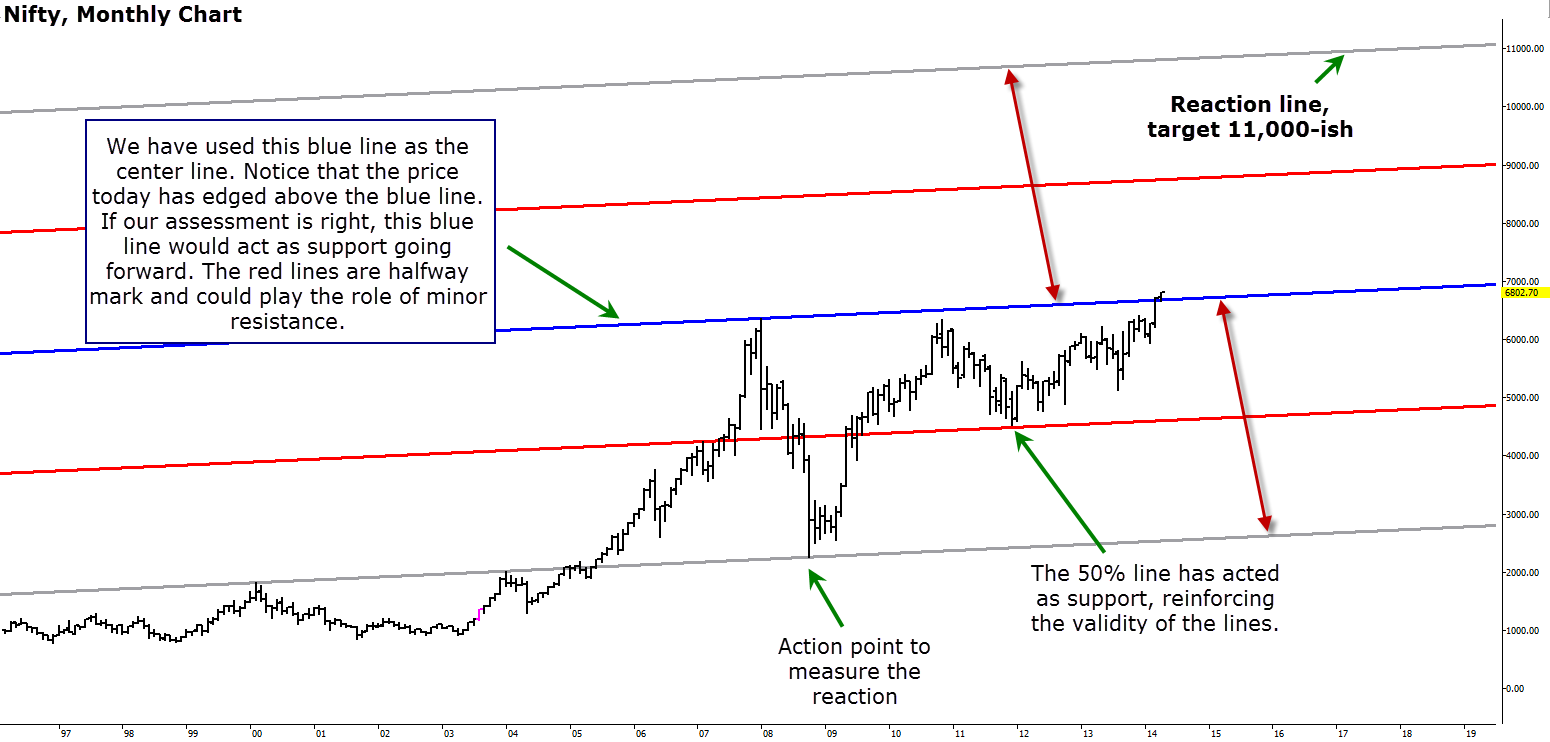 A look at the above chart indicates that the equidistant line on the other side of the centerline projects a target of around 11,000-ish.
Please be reminded that these targets are based off monthly charts and it might take several months or a few years for the Nifty to reach this target.
We would stick to this long term target as long as the Nifty holds above the recent swing low of 5,933. While a breach of this swing low would not invalidate our view, it would prolong the time taken to reach our target.
Sector wise, we expect banking, oil, and metals sector to play a key role in bolstering the index. Stock such as Reliance Industries, GAIL, SBI, Tata Steel, Tata Motors, Mahindra & Mahindra, Larsen & Toubro, Axis, ICICI Bank, Punjab National Bank and Bank of Baroda are the key stocks in our watchlist.
[fbcomments]