We get a lot of calls and mails asking about our view on the Nifty. The anxiety levels have picked up with the media playing its part in creating the hype about the outcome of state elections which will be out this weekend. We thought it would not be out of context to put things in perspective and chalk out a few scenarios. Have a look at the Nifty Daily Chart featured below.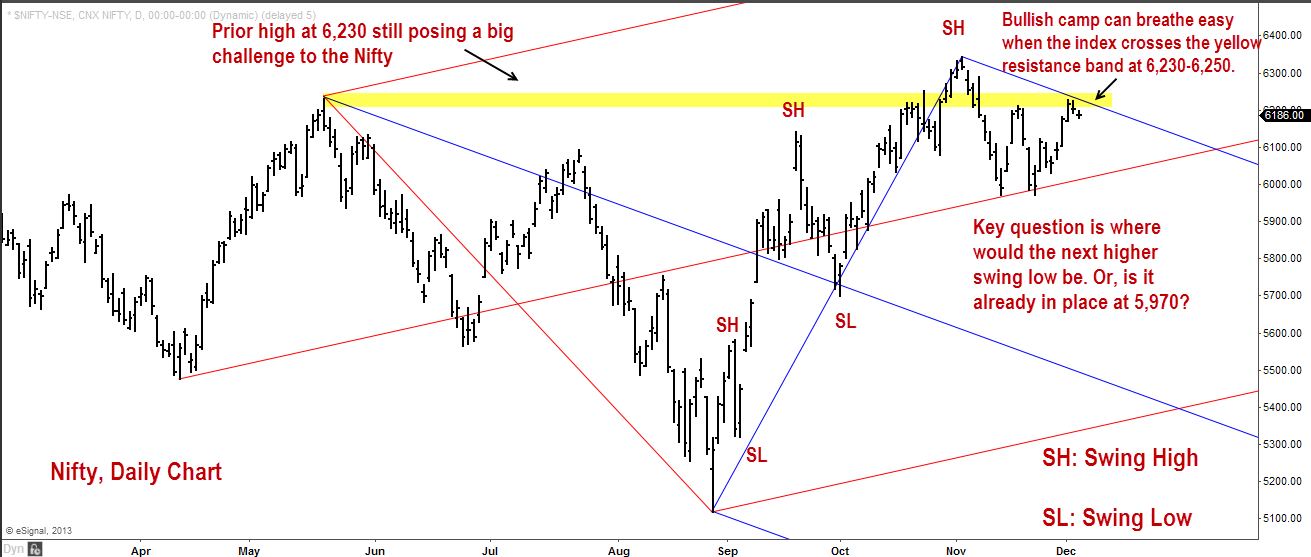 The bullish sequence of higher highs and higher lows is pretty much intact since the August 28 low of 5,119. This bullish sequence would be upset only if the Nifty falls below the major swing low at 5,700. Until this happens, the trend technically remains bullish and we would view any fall as a buying opportunity.
If we take a closer look at the recent price action, it is interesting to note that the prior swing high at 6,230 is turning out to be a strong resistance for the Nifty. After a brief poke above this level in October, the Nifty quickly snapped back below this level, which by itself is a worrying sign for the bullish camp.
Notice how the price has struggled in the past few days at this same level of 6,230-ish. The blue down sloping pitchfork and the red up sloping one are the key guide post to us. A breakout past 6,230 would a major positive sign and would also push the Nifty past the upper blue line. This could help the index seek the upper red line at 6,650-6,700.
What we have featured above is the best case scenario. IF the Nifty falls below the red middle line and more importantly below 5,970, we can then think of a deeper correction , challenging the major swing low at 5,700.
But, as observed earlier, a fall below the red line will not affect the long term bullish case scenario. It would only delay the eventual rally to new highs.
To sum up, the resistance at 6,230-6,250 and the recent low at 5,970 are the key levels to monitor from a short-term trading perspective. A breach of either of these levels would set the tone for the next short-term move. EVEN IF 5,970 BREAKS, please be reminded that it would not mean a reversal of the uptrend.
Hence, investors need not press the panic button. A fall below 5,700 would make us reassess the bullish case scenario. Don't panic on intra-day weakness and use any fall to pick up high quality stocks is the message we want to put across.
[fbcomments]