For those of you who are diffident to enter equities at this stage, we'd like you to know that there could be enough triggers now for you to start/accelerate your wealth building journey NOW.
Of course, we are strong proponents of 'any time is a good time' to investing in equities; provided you invest systematically and for the long term.
That said, the equity markets too require their own set of triggers to take them to the next level. These triggers, if effective, result in what is called as – 're-rating' of corporate earnings or simply 'market re-rating'.
We believe some of the reforms announced by the government could be triggers for the next leg of upswing in the market. While this could of course, come after some consolidation phase in the market, not delaying your equity investments any longer would ensure that you are there when the reforms juggernaut works in the market's favour.
Key economic reforms
With key state elections off the radar, the government now has little reasons to postpone reforms. The recent spate of news on this front is evidence to the fact that the government may be on a reforms spree.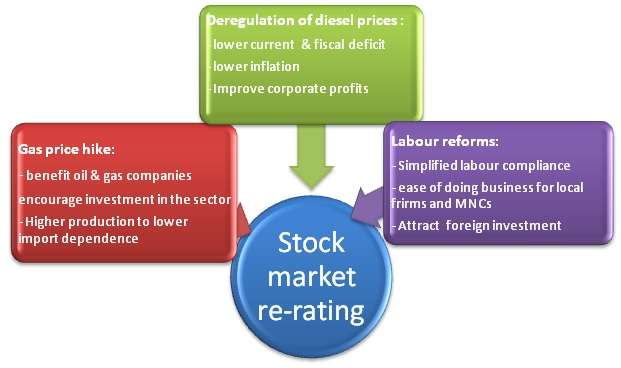 Whether it is deregulation of diesel prices, gas price hike or the impending re-launch of direct benefit transfer of LPG (from November 2014) or the impending coal mine e-auction, it has been reforms galore in the country. The above graphic suggests the impact of some of the key reforms that were announced recently.
While these are the latest set of triggers for the market, it is not as if the equity markets have not been listening to other macro cues: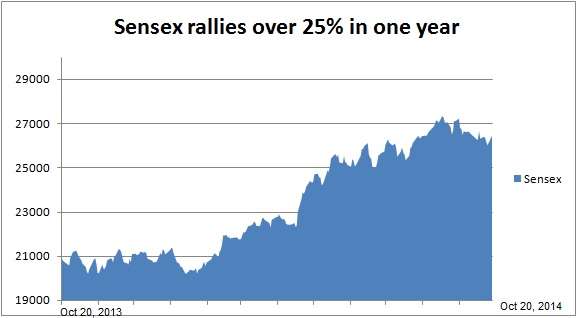 – From 8.6% consumer price inflation in April 2014 (over a year ago), CPI now stands at a much lower 6.5%
– With lower crude oil prices and lower imports, we seem well on our way to achieving the fiscal deficit target of 4.1% for the current fiscal; or even lower, if rupee remains stable
– Foreign exchange reserves have been steadily improving, growing a healthy 13% over the last one year to Rs 19,353 billion
Another key event that could serve as trigger for global investors to look at India is the forecast of India's growth. Even as analysts have been upping their earnings forecasts for select companies as well as the market, on the macro front, the IMF, this month, raised growth forecasts for India for 2014 and maintained its 2015 forecast.
This, even as it lowered both the emerging market and global growth forecasts. This could well buttress foreign fund flows to India, as money chases destinations that hold potential.
Time for action
So if you were one of those investors who missed the chance, before elections, to enter equities; or one of those who kept thinking one swallow does not make a summer – note that the above are all swallows and they well represent the onset of sunnier days!
Happy Investing!
[fbcomments]