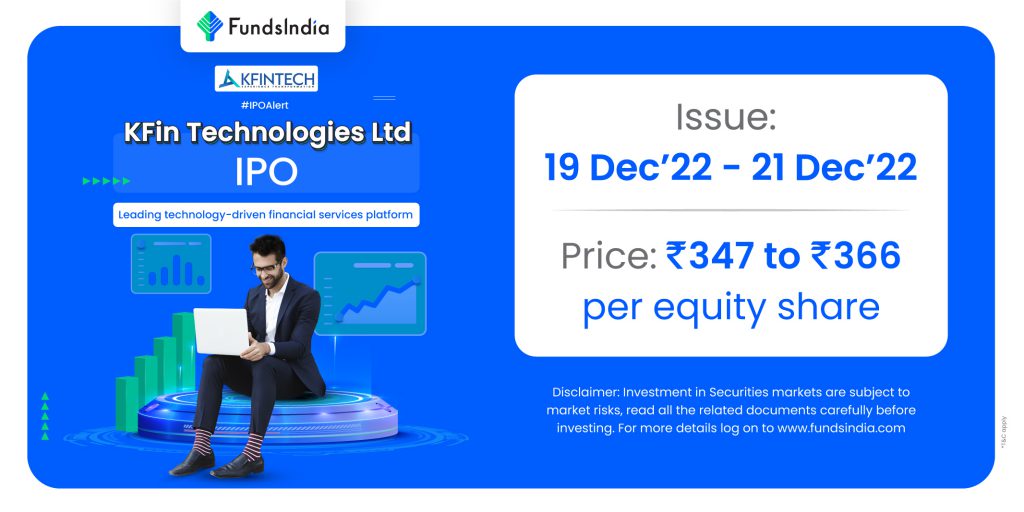 Company Overview:
KFin Technologies is a leading technology-driven financial services platform providing comprehensive services and solutions to the capital markets ecosystem, including asset managers and corporate issuers, such as omnichannel transaction origination and processing, channel management, which is mapping of mutual fund schemes of AMCs to distributors selected by the AMCs and related distributor management, including brokerage computation and channel servicing which includes brokerage pay-out, query solution, and GST compliance assistance, customer onboarding with integrated KYC, unit allocation and redemption, reporting and compliance checks on a real-time basis. It has an end-to-end transaction management platform across multiple asset classes such as mutual funds, direct stock investments, alternate investment funds, wealth, and pensions across India, Malaysia, Philippines, and Hong Kong. KFin is one of the two operating central record-keeping agencies (CRA) for the National Pension System (NPS). The firm also has 16 AMC clients in Malaysia out of 60 in addition to three clients in Philippines and Hong Kong.
Objects of the Offer:
To carry out the Offer for Sale of Equity Shares by the Selling Shareholders
Achieve the benefits of listing Equity Shares on the Stock Exchanges
Investment Rationale:
Leading Position: KFinTech is one of the 2 leading investor solutions providers in India as on September 30, 2022. They are providing services to 24 out of 41 AMCs in India, as on September 30, 2022, representing 59% of the market share based on the number of AMC clients. In addition, they signed on 2 new AMCs that are yet to launch operations as on September 30, 2022. They have onboarded 7 (including 2 AMCs that are yet to launch operations) of the last 11 new AMCs in India (including 1 AMC that has not yet appointed a registrar and transfer agent for their operations) for domestic mutual fund solutions. As on September 30, 2022, they have also onboarded 15 of the last 21 mutual funds launched in India. As on September 30, 2022, they serve more than 5,051 listed and unlisted corporates with 10.77 crore issuer solutions folios out of a total of 17.29 crore folios. They also had a 40% and 29% market share based on the number of mainboard initial public offerings handled in Fiscal 2022 and the 6 months ended September 30, 2022, respectively. They are servicing 301 funds of 192 asset managers in India as on September 30, 2022, representing 30% market share based on the number of AIFs being serviced.
Business Model: KFinTech operates an attractive business model with a demonstrated track record of consistent profitability and returns while operating an asset-light model which has previously generated a strong free cash flow. KFin's revenue model is different for each of its businesses. The company's "platform-as-a-service" business model provides their clients with comprehensive end-to-end solutions. The Company has implemented a platform-based cross-sell approach on a deep product stack. Its core service offerings provide end-to-end support across the front office, middle office, and back end combined with a suite of Value-Added Services.
Financial Track Record: The Revenue from operations has increased at a CAGR of 19% between FY20-FY22 from Rs.450 crs in FY20 to Rs.640 crs in FY22. The Gross Margin has improved from 51% in FY20 to 61% in FY22. The PAT margin posted strong growth of just 1% in FY20 to 23% in FY22. The Free cash flow to EBITDA stands at 64% in FY22 from 60% in FY20. The domestic mutual fund contributed 70.5% of the overall revenue in FY22, Investor solutions with 7.5%, Issuer solutions with 11.6%, Global business services with 6.6%, and others with 3.8%.
Key Risks:
OFS – The IPO is a complete Offer for Sale (OFS) by the Selling Shareholders. The Selling Shareholders will receive the entire proceeds from the OFS and the Company will not receive any part of the proceeds of the Offer. In the offer for sale (OFS), the promoter General Atlantic Singapore Fund Pte. Ltd. is offloading 4,09,83,606 shares (based on the upper price band) and its stake is decreasing from 73.41% to 48.95%.
Brand Reputational Risk – The former promoters of the company are subject to ongoing investigations by enforcement agencies, including Enforcement Directorate, Ministry of Finance, Government of India ("ED"), and the outcome of such investigations may adversely impact the Company and the market price of its Equity Shares.
Outlook:
KFin Tech is one of the leading financial services technology solution providers. It suffered a setback in FY21 but now is on track to recovery. The company's listed peer according to the RHP is CAMS. CAMS and KFin tech have similar business segments such as Domestic MF, AIF, Wealth, and NPS. But, KFin tech is also present in other segments like International Investor Solutions, Issuer Solutions, etc. where CAMS doesn't have any presence. At a higher price band, the listing market cap will be around ~Rs.6130 crs and KFin Tech is demanding a P/E multiple of 36x based on annualized H1FY23 EPS. While comparing the P/E with its listed peer, the company seems to be reasonably priced. Based on the above views, we provide a 'Neutral' rating for this IPO.
If you are new to FundsIndia, open your FREE investment account with us and enjoy lifelong research-backed investment guidance.
[fbcomments]