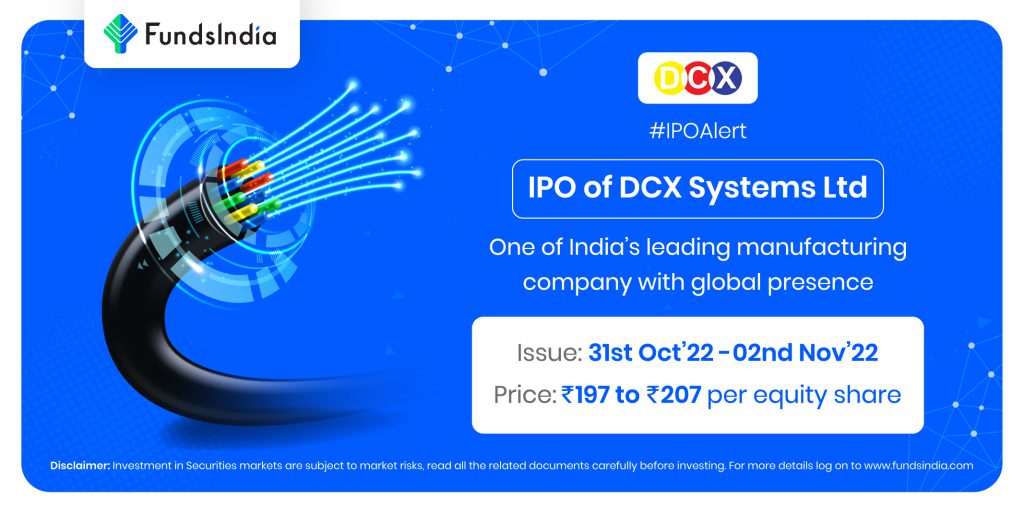 Company Overview:
DCX Systems is primarily engaged in system integration and manufacturing a comprehensive array of cables and wire harness assemblies and are also involved in kitting. The firm is among the leading Indian players for the manufacture of electronic sub-systems and cable harnesses in terms of manufacturing capability and revenue in FY2022. It is also one of the largest Indian Offset Partner ("IOP") for ELTA Systems Limited and Israel Aerospace Industries Limited, System Missiles and Space Division (together, the "IAI Group"), Israel, for the Indian defence market for the manufacture of electronic sub-systems and cable and wire harness assemblies. The manufacturing facility is located at the Hi-Tech Defence and Aerospace Park SEZ in Bengaluru, Karnataka. It has 26 customers in Israel, the United States, Korea, and India, including certain Fortune 500 companies, multinational corporations, and start-ups.
Objects of the Offer:
The Company proposes to utilise the Net Proceeds of the Fresh Issue towards funding the following objects:
Repayment/ prepayment, in full or part, of certain borrowings availed of by the Company.
Funding working capital requirements of the Company.
Investment in the wholly owned Subsidiary, Raneal Advanced Systems Private Limited, to fund its capital expenditure expenses.
General corporate purposes.
Investment Rationale:
Strong Base: The company is a preferred IOP for foreign OEMs (Original Equipment Manufacturers) for executing defence manufacturing projects. It undertakes "build-to-print" system integration and manufactures cable and wire harness assemblies for both domestic and international OEMs. The company caters to a mix of domestic and international customers and key customers include Elta Systems Limited, Israel Aerospace Industries Limited – System Missiles and Space Division, Bharat Electronics Limited, Astra Rafael Comsys Private Limited, Alpha-Elsec Defense and Aerospace Systems Private Limited, Alpha Design Technologies Private Limited, Astra Microwave Products Limited, Kalyani Rafael Advanced Systems Private Limited, SFO Technologies Private Limited, and DCX-Chol Enterprises Inc.
Financial Track Record: The Company has had strong revenue growth in the last 3 years. While it is not apple to apple comparison to compare standalone revenues with consolidated revenues, its revenues increased from Rs.465 crs in FY20 to Rs.1124 crs in FY22. Revenue from operations has increased at a CAGR of 56.64% between Fiscal 2020 and Fiscal 2022. Along with this, DCX has generated an ROE of 55% and a ROCE of 16% for FY22. The company's ROE is higher due to the high debt on its balance sheet.
Strong Order Book: The company's product portfolio is backed by its system integration and manufacturing capabilities has led the order book to grow from 45 orders aggregating Rs.1941 crs, as of March 31, 2020 to 48 orders aggregating Rs.2369 crs, as of March 31, 2022. As of June 30, 2022, the order book comprised 42 orders and was Rs.2564 crs with orders from several customers for projects to be executed in Fiscal 2023 to Fiscal 2025. The competitive advantages include efficiency in operations resulting in timely delivery to customers, maintaining quality control, and product security. This has enabled the Company to develop long-term and entrenched relationships with OEM customers that have resulted in growth in their operations and sizeable order book.
Key Risks:
OFS – The IPO is a mix of an offer for sale (OFS) and a Fresh issue with OFS being 20% of the overall issue size. NCBG Holdings and VNG Technology are the promoters of the company. Through this IPO, each entity will be offloading 15% of its stake through the offer for sale. Though only a significant part of the IPO is OFS, the company won't get anything from that part.
Client Concentration Risk – The top 3 customers account for 81% and the top 10 customer accounts for 99% of the revenue for FY22. The loss of one or more such customers or a reduction in their demand for the products could adversely affect the business, results of operations, financial condition, and cash flows of the company.
Outlook:
The company's listed peers are Bharat Electronics Ltd, Data patterns Ltd, and Paras Defence and Space tech. Ltd, Astra Microwave products, etc. At a higher price band, the listing market cap will be around ~Rs.2000 crs and DCX is demanding a P/E multiple of 30x based on FY22 EPS (Post fresh issue), which seems to be reasonable while compared with its peers. The company's top line is in the rapid growth phase also the order book of the company is huge along with a significant market share in the industry. One of the key advantages for the company is the industrial tailwind as the government has introduced a third positive indigenization list, which forbids the import of 780 LRU/components, and roughly 101 products from the defence-based imports category. However, the operating and net profit margin of the company is in the single digits which seems to be challenging for the company. Based on the above views, we provide a 'Subscribe' rating for this IPO.
If you are new to FundsIndia, open your FREE investment account with us and enjoy lifelong research-backed investment guidance.
[fbcomments]