SIP and get free life insurance!
We have made changes to the SIP with Insurance Product. Read the new blog here.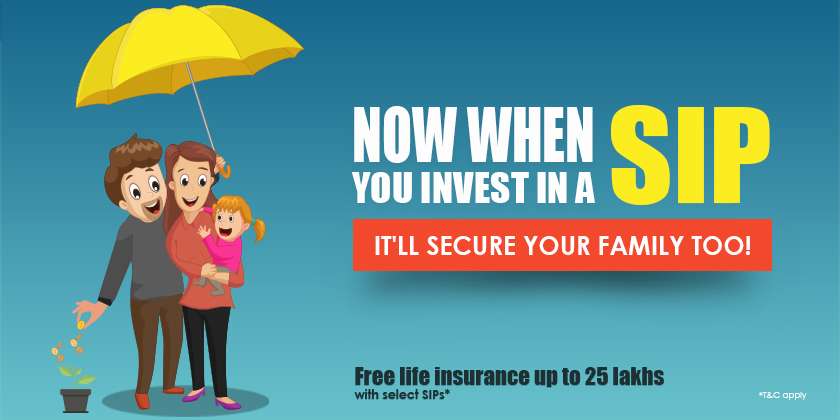 Starting a SIP is always a good idea. It helps you build long-term wealth in a consistent way, instills in you the habit of disciplined saving and investing, helps you get closer to your financial goals – the list goes on. However, if these benefits alone were not enough to encourage you to start investing systematically, here is something that will: your SIP now comes with a free insurance cover up to Rs.25 lakh*.
That's right! We, at FundsIndia, are happy to present to you exciting new SIP with Insurance mutual fund schemes. When you start a SIP in these schemes, you get a life insurance cover absolutely free.
How SIP with Insurance works for you
The SIP with Insurance scheme is aimed at making your investment journey more rewarding. Here's how it works for you:
Dual benefits
SIP with Insurance provides you all the benefits of a SIP, coupled with the safety net of insurance. While your investment multiplies your savings, the free insurance cover provides security for you and your family. A win-win situation.
Free insurance at no extra cost
That's right. With this scheme, you can get a free life insurance cover upto 120 times your monthly installment at no extra cost. Here's the breakdown of how much insurance you are eligible for with your SIP.
| Particulars | Reliance Mutual Fund | Birla Sun Life Mutual Fund |
| --- | --- | --- |
| 1st year | 10 x SIP amount* | 10 x SIP amount |
| 2nd year | 50 x SIP amount | 50 x SIP amount |
| 3rd year | 120 x SIP amount | 100 x SIP amount |
| On SIP discontinuation after 3 years | Equal to fund value | Equal to fund value |
| Maximum limit | 21 lakhs | 25 lakhs |
*Insurance cover depends on the duration and amount of your monthly SIP investments. SIP amount refers to monthly SIP investment amount.
Your insurance cover is valid even if you discontinue your SIP after 36 installments. In that case, your insurance cover is equal to the value of your investment.
3. Convenience
The entire process is carried out online, hence there is no need to fill additional documents or get medical tests done. All you need to do is fill in your details and you'll be good to go. Saves a lot of time and effort, doesn't it?
The SIP with Insurance plan is offered on select mutual fund schemes by the Birla and Reliance mutual fund houses. To know more about the list of funds that come with insurance, login to your FundsIndia account right away!
Don't have a FundsIndia account? You can simply click here to get started!
[fbcomments]