Our analysis of the June quarter results for the NSE Nifty 500 companies suggests positive earnings growth across sectors barring banks. Excluding banks, revenue for 464 out of the 500 companies rose 16.3% over a year ago and profits jumped 28.3% for the same period. Companies also saw improvements in operational efficiency as gross margins went up from 14.6% to 16.3%. However, it is noteworthy that the sales growth comes on a low base as the June quarter of FY-18 was hit by GST implementation.
Earnings trends by market cap of companies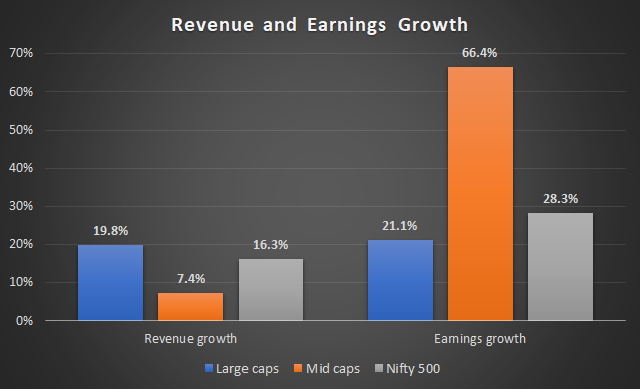 Larger companies saw superior revenue growth of 19%. However, their input costs also grew in tandem by close to 30%, leading to an overall profit growth of 9%. Mid-caps companies saw a revenue growth of 7.3% and profit growth of 27.4%. Small-cap companies, which saw a revenue growth of 7.6%, saw their profits dip by 93%. If we remove banking companies from the analysis, the profit growth figures for large, mid, and small caps were 21%, 66%, and 57% respectively.
Among the large-caps, iron and steel showed the biggest upmove in profitability, as the profits rose by 545% on the back of 23% higher revenue. Healthcare was another beneficiary, with profits and revenue rising by 93% and 16% respectively. Realty sector failed to shine yet again, and was the only non-banking sector among the large caps to report a loss. Aviation was another sector which reported a drastic fall in profitability due to the rising fuel prices.
Among mid-caps, capital goods and non-ferrous metals companies reported a sharp increase in the greatest increase in profits of 376% and 433% respectively. Revenues of mid-cap media and entertainment companies trebled and profit grew by 124%. Mid-cap banks showed the greatest fall in profits as the sector generated losses turned loss making in its entirety.
Earnings trends across sectors
Banks are still in the woods over their bad loan woes. Most banks reported huge losses with SBI taking the bottom spot, reporting a loss of over 4000 crores. However there was a clear divergence between public and private sector banks. While all public sector banks combined have reported a loss of about Rs. 12600 crore, private banks have reported a profit of Rs. 8800 crore. Even so, private bank profits were down 26% compared to corresponding quarter of last year. This is also reflected in the performance of banking sector indices on NSE. The NSE Nifty Bank index, which is dominated by private banks, is up 5% from the beginning of the year. However, the Nifty PSU Bank index is down 17.7% from the beginning of the year.
Media and entertainment companies were the best performing sector in this quarter in terms of revenue growth. The revenue reported was 55% higher than last year. However, profit growth failed to keep pace with revenue growth, growing at 42%. The lower profit growth was primarily because of higher interest costs. This is expected from a sector where newer avenues are constantly opening up and companies are trying to diversify their portfolio across market segments. Hence their borrowing needs would have gone up.
The Iron & Steel industry, which forms the backbone of the infrastructure segment, saw a tremendous recovery as demand steadily crept up over the past year. Revenue grew by almost 25%. The industry as a whole had reported  a loss of Rs. 900 crore same quarter last year. This year it reported a profit of Rs. 7300 crore. A recovery in steel sector bodes well for the overall economy. All the 11 companies within the sector reported profits higher than last year. Input costs went up faster than revenue, indicating companies were not able to pass on the rise in cost to their customers. The industry saw improvements in operational efficiency, resulting in a growth of 83% in operating profits. JSW Steel and Tata Steel, India's two largest steel producers, saw their operating margins going up from previous year.
Healthcare sector profits more than doubled. However, the growth was not distributed across the sector. The overall profit growth was mainly driven by Sun Pharmaceuticals, Dr. Reddy's Laboratories, and Cadila Healthcare. 31 companies out of 38 reported a growth in profit. Mid and small caps reported higher growth as compared to large caps.
In the telecom space, India's largest player, Bharti Airtel, saw an 8% fall in revenue and 5% fall in profits. Average revenue per user (ARPU) was down to Rs. 105 compared with last year's 154. Airtel's Africa business saw a revenue growth of 14% in constant currency terms. Idea cellular saw a 28% decline in revenue, but turned profitable once again, reporting a profit of Rs. 197 crore against a loss or Rs. 897 crore last year. Overall, the sector's revenue shrunk by 12.6% and loss narrowed by 82%. This, however does not include the results of Vodafone and Reliance JIO as the former is not listed in India and the latter is a part of Reliance Industries Ltd.
In the oil and gas space, market leader Reliance Industries reported a strong revenue growth of 56% y-o-y and 4.5% growth in profits. In its media release, Reliance reported that its consumer business contributed 20% of the consolidated EBITDA. State owned ONGC reported a 43% growth in revenue and 58% growth in earnings. State oil marketing trio reported revenue growth of 19% and profit growth of 76% as compared to last year.
FMCG reported a growth in profit despite a fall in revenue. Revenue fell by 3.6% while profit grew by 19.5% over the year.
Overall, while there has been a divergence in the performance of companies within different market-cap segments, some sectors clearly led the June quarter's performance. They are: Metals, capital goods, oil and gas companies, especially producers and select consumer segments. IT and pharma were conspicuous for their sharp improvement, partly aided by the strengthening dollar against the rupee. The results in the June quarter, does appear more broad based with more sectors participating in the growth.
Sector
Revenue Growth
Earnings Growth
IT
13%
13%
Oil and Gas
29%
40%
Capital Goods
18%
165%
Healthcare
16%
104%
Bank
9%
-129%
Automobile & Ancillaries
13%
-26%
FMCG
-4%
19%
Growth numbers represent year-on-year growth of Jun'18 quarter over Jun'17 quarter
Earnings numbers throughout the article are based on consolidated results, wherever available.
[fbcomments]