We are excited to announce the launch of the latest web experience of FundsIndia.com. Designed to make your experience smoother and more convenient, this new look is live for you to check out right now!
What's changed?
In this new layout, we've made navigation of the site much easier. We've gotten rid of the previous, complex menu. Instead, you can now access your entire account from a simple navigation bar on the left of the screen. Be it your dashboard, reports, various investment products/options, or your general account information – you can access it all from this menu.
 This should help you find all your favourite features faster and in fewer clicks.
We've also added a new 'Mutual Fund Home' page that provides quick access to all mutual fund related features and information in one place.
This page gives you direct access to all our research recommended funds, and our robo advisory service (Money Mitr). Via the 'Search' tab, it also gives you access to all other mutual funds offered on our platform.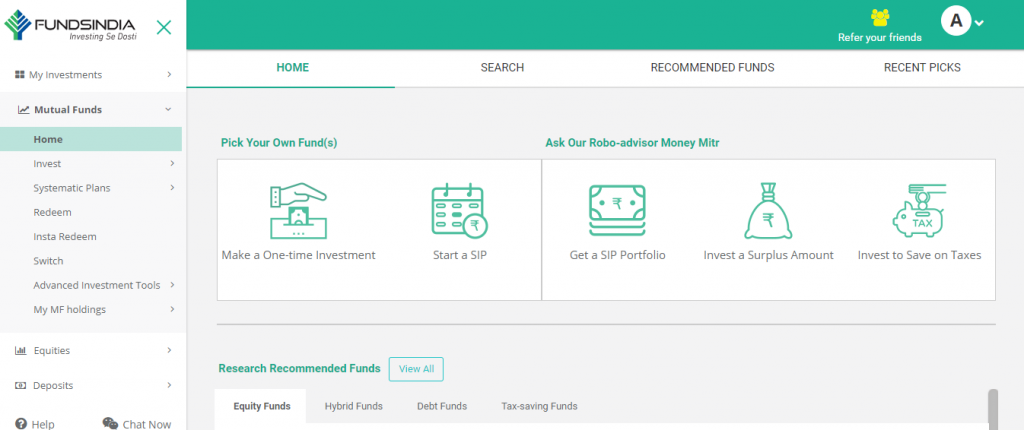 In addition to this, we've also included a 'Recent Picks' tab that gives you quick access all our latest research content – from recommendations to strategies – within this page itself. This ensures that you'll have easy access to all mutual fund related information and features from one screen!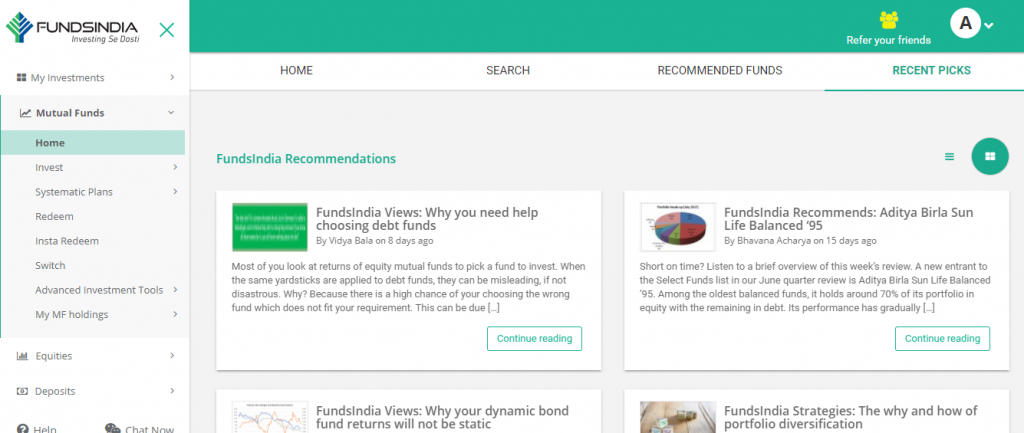 Why these changes?
As the FundsIndia platform has grown, so have the features and services we offer. However, many users have had trouble discovering all the features of their account. Due to this, they have not been able to make full use of their account.
This new navigation system aims to solve this problem by making all these features available in one simple, easy-to-use menu. It has been designed based on feedback from our customers and our own User Experience research. We hope you like it!
If you haven't tried it out yet, just log into your FundsIndia account, and click on the 'Try Now' button on the top of your screen.

Please note: We'll be shifting to the new user experience in a few days' time. If you haven't tried it out yet, be sure to do it soon to acclimatise yourself to the new look!
Do let us know what you think of it. We'll be happy to receive your feedback.
Happy investing!
[fbcomments]