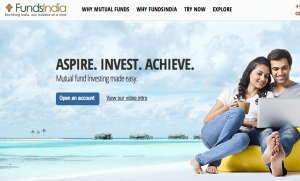 As you have probably noticed, FundsIndia.com has a new look. (If you are receiving this post via email, please come on over to our website and check it out)
Here's what's going on.
Over the past several months, we have been working on a whole new look and feel for our website, in total. This new look is the first phase of this effort.
In this phase, all the screens prior to logging into your account have been changed to a new, dynamic look. In the second phase, the post-login pages – the account pages – will get a new look, workflows etc.
Why are we doing this? Multiple reasons –
First, we wanted to give our entire site a more uniform look. Different parts of our site were created at different times and have had slightly different look and feel. It was time we consolidated the site into a single user experience.
Second, we wanted to make different elements of our website more accessible and more interconnected. The new UX gives us the opportunity to have our transactional, advisory, and planning sections of our website work closely with each other.
Third, we wanted to make our initial pages (pre-login pages) friendlier to people who are beginners to mutual funds in India and make them more informative for them. In effect, make these pages speak a language that is comfortably understandable to first-time investors.
The changes that we are making to inner pages (account pages) will focus on providing more information to investors about their portfolios, have more streamlined workflows, and, hopefully, make it easier to find things in our site for our customers.
As always, we get better when we hear back from you. Please do let us know what you think of our new design.
Happy surfing!
[fbcomments]