Welcome to the first article of 'My FundsIndia', our new initiative to introduce you to the various features of your FundsIndia account. A weekly series, My FundsIndia will show you how best to make use of your FundsIndia account by explaining one feature every week. This week, we cover Money Mitr – our friendly automated investment advisory service.
You know you need to start investing. Your friends are already well on their way and they've told you how easy it is to invest regularly with a SIP. The finance section of your newspaper is telling you daily how mutual funds have been growing, and how more and more people are taking to it. But you wonder – how do you get started? Where do you go? How do you pick funds that are suited for you? And how will you get guidance over the years?
Worried? Don't be! Money Mitr is here to help you.
A robust and friendly robo-advisory service,  FundsIndia's Money Mitr allows you to invest instantly, anytime.
What is Money Mitr?
Money Mitr is India's most comprehensive automated investment advisory service.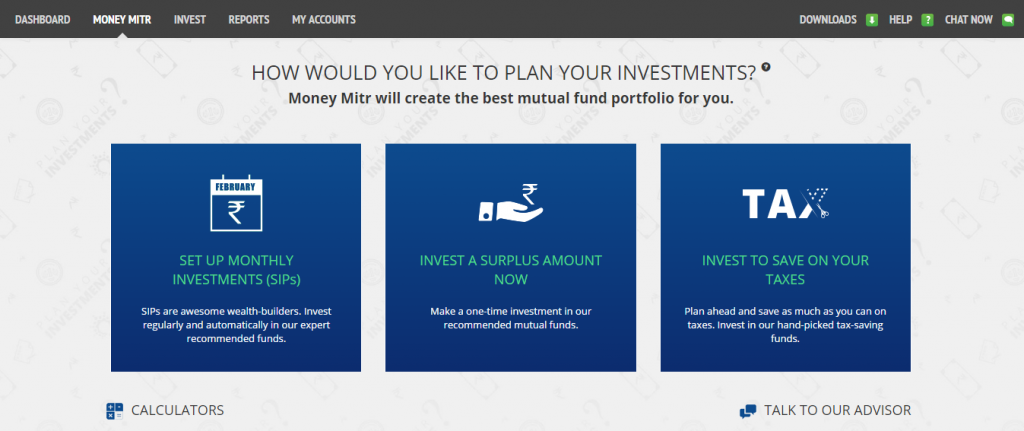 An evolution of our existing robo-advisory services, it combines the expertise of our Mutual Funds Research Desk with the power of technology, to deliver great investment advice to you, in a quick and scalable manner.
One tool to solve them all
Money Mitr is your Swiss army knife of investing – a single tool that will give you investment solutions for a vast variety of needs.
Many of you might have been familiar with Smart Solutions – our goal-based robo-advisory service, and SIP Designer– our tool for those whose goals didn't fit under Smart Solutions. Money Mitr brings both of these together under one roof, and then takes them several steps further, offering you more options than before.
Wondering what this means for you? It means you can now get personalized, automated recommendations for all your investment needs in one place!
Money Mitr helps you:
1.    Get to your goals systematically: Whether you're investing for your retirement, your child's wedding, or just to build some wealth, Money Mitr will help you do it all. Just pick your goal, fill in the details and Money Mitr will design an investment portfolio fine-tuned just for you in minutes!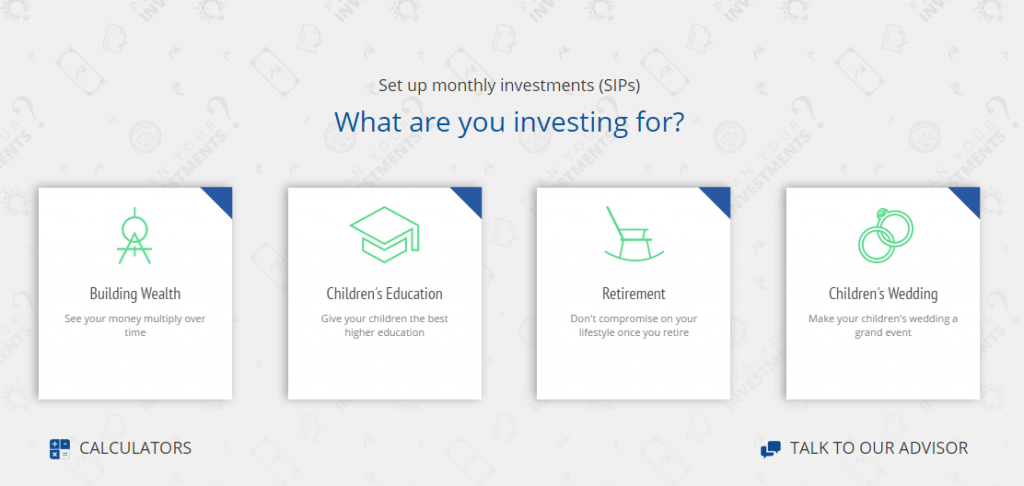 2.    Deploy extra money and bonuses: Did you just get a bonus? Or are you looking for a place to put your extra cash? Money Mitr will help you find a suitable home for it. Just name your portfolio, pick your amount and time-frame and Money Mitr will do the rest – scanning through the list of India's best mutual funds, hand-picked by our Mutual Fund Research Team, to create a portfolio tailor-made for you.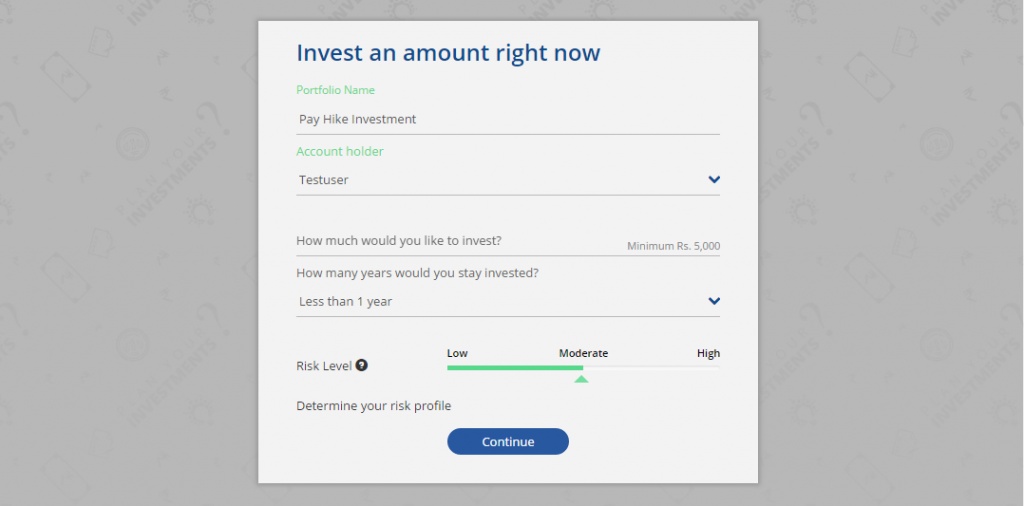 3.    Cut down on your income tax: Do you want to cut down on your tax outgo using tax-saving mutual funds in one fell swoop? Or would you rather eat away at it bit by bit throughout the year? Whichever you prefer, Money Mitr has got you covered. Just tell it how you want to save taxes, and Money Mitr will show you how to get started.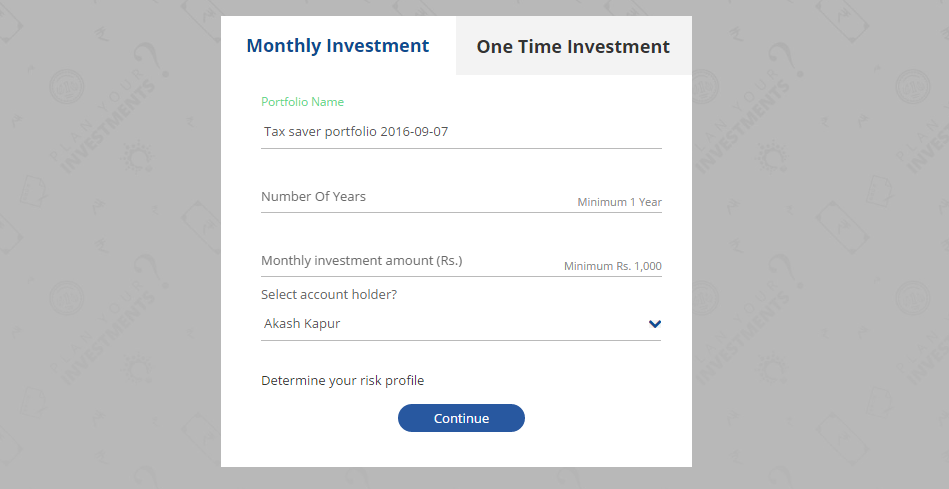 Why Money Mitr will work for you
Everything we do and created is aimed at making your investment experience delightful and more rewarding. That is why not only is Money Mitr easy to use, it is also designed to make sure that you get the most out of your money. Here's how:
1.    It gets to know you first: Money Mitr makes sure it understands your investment needs before creating a portfolio as per your needs. It takes into account your age, your investment time-frame and investment goals. It also gets to know your risk appetite through a set of simple questions before designing a portfolio tailor-made for you.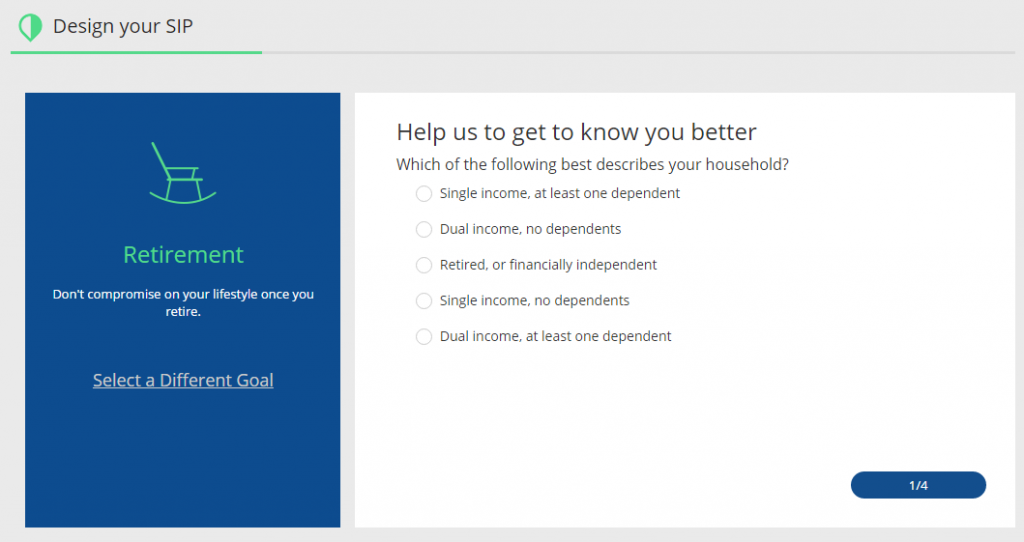 2.    It's powerful and consistent: Money Mitr runs on robust algorithms that ensure that it always picks the best funds for your investment needs. It assigns your portfolio a risk level based on your inputs, and accordingly divides your investments into various fund categories, picking the best funds under each. And with our Mutual Fund Research Desk reviewing the algorithms and the funds on a regular basis, you can rest assured that with Money Mitr, you're getting the best fund recommendations money can buy – for free!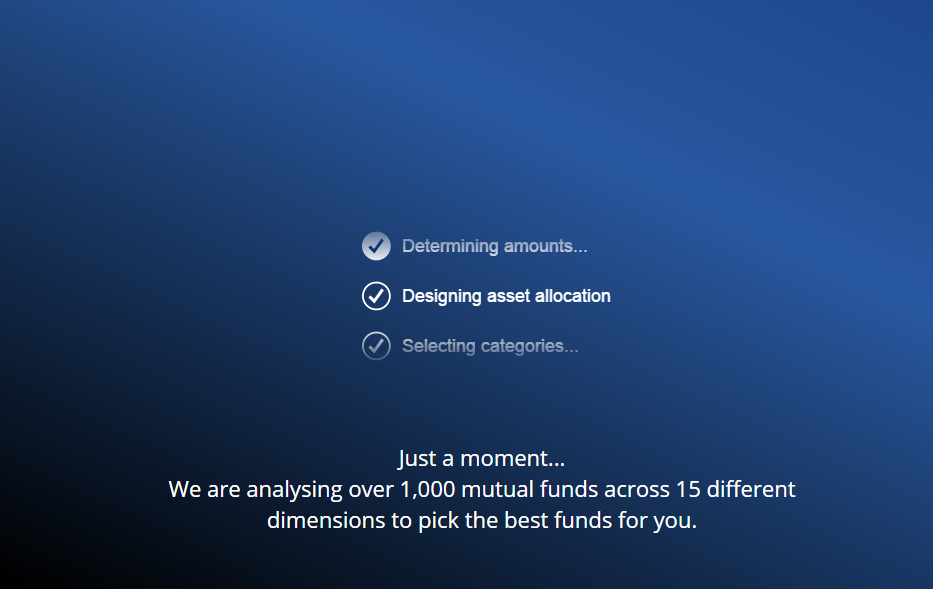 3.    It's flexible: Don't like a particular scheme Money Mitr picked for your wealth building SIP? Money Mitr will be more than happy to allow you to change it. You can cycle through different schemes in a particular category to arrive at a scheme that's more to your liking. So, while the category allocation remains the same, the funds you invest in can be changed.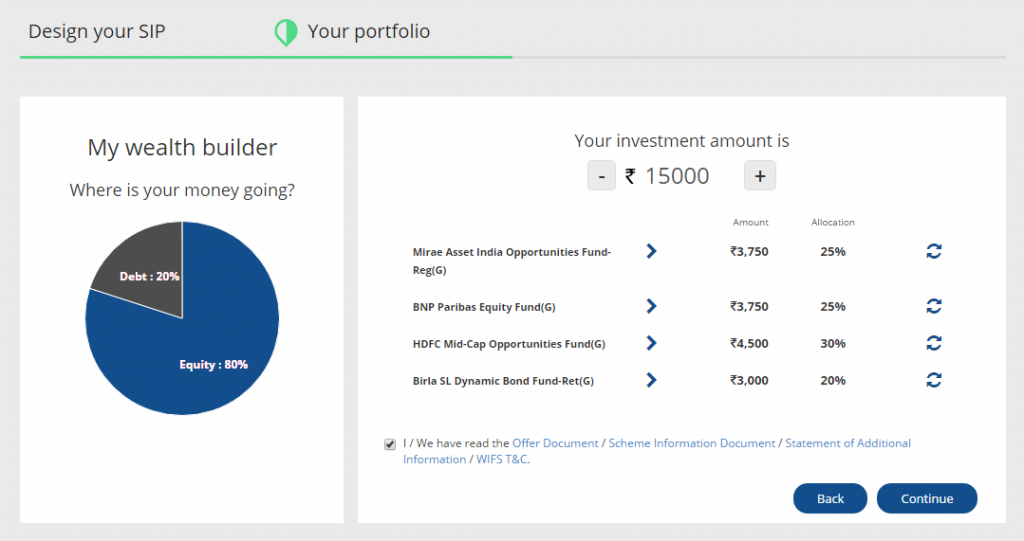 4.    It stays with you till the end: Money Mitr keeps an eye on your goal-based investment portfolios throughout your investment journey. It automatically tracks and reviews their progress towards various goals. And if a portfolio veers off-track, Money Mitr will suggest click-easy changes to make sure you get back on track to your target. All you will need to do is click 'Yes' to get these changes implemented right away!
 5.    It's available anytime, anywhere – Money Mitr is also available on the FundsIndia mobile app. This means you can kick-start your investment journey no matter where you are. The best part? It takes less than 5 minutes to start investing with Money Mitr.
So, what are you waiting for? Login to your FundsIndia account to give Money Mitr a spin today.
[fbcomments]