With a spate of New Fund Offers (NFOs) in the market, here's a quick ready reckoner on what these NFOs offer.
SBI Equity Opportunities Fund – Series 1
This is a three-year closed-end equity fund that will seek to build a concentrated portfolio of stocks with mid-cap bias. The graph below shows the performance of small and mid-cap stocks over a 10-year time frame.

Lower activity levels in the market (as a result of low liquidity), as well as lower analyst coverage in the small and mid-cap segment, often leaves a good number of stocks in this segment waiting to be discovered; this could provide high return opportunities for those who pick the right ones first.
The fund believes its closed-end structure could provide it with an opportunity to discover such stocks without any liquidity pressure. The fund has also identified themes/sectors that it will pursue in its portfolio building strategy. It will seek to invest in stocks from emerging export sectors such as auto and auto ancillaries, light industrials, and also fine chemicals. It is noteworthy that while IT and pharma have dominated India's exports, the above mentioned sectors have seen increased export sales.
Announcements made by the new Government also resulted in many MNCs in auto and auto ancillary space, as well as engineering sectors, making higher commitments towards sourcing from their Indian units. This makes these sectors a play on India's export potential. The fund will also focus on the defence sector – post relaxing of FDI norms and licensing norms for defence equipment by the government. It will also look at companies in the pharma space with generic business models.
The scheme will be benchmarked against the S&P BSE 500 and managed by Dharmendra Grover. The NFO will close on September 25.
This open-ended equity scheme will seek to generate income through arbitrage opportunities between the equity cash and futures market, and will also allow moderate participation in equities. That means, unlike regular arbitrage funds, it will have some unhedged exposure to equity that will help gain from equity rallies. The chart below explains the asset allocation the fund will normally seek to follow.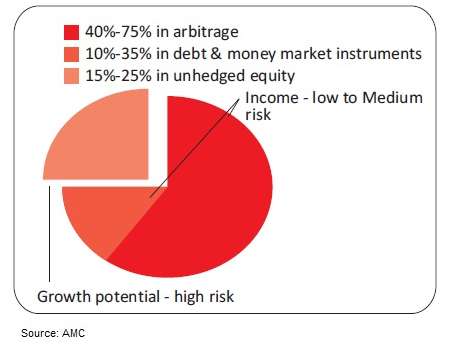 In the chart on the left, the unhedged portion of the equity may go up (within the given range) in a falling market, when the fund manager may seek to take advantage of equity prices, and go down when markets look expensive.
This fund seeks to position itself as being less risky than regular equity funds as it has only a small proportion of unhedged equities, with the rest being hedged or in debt. It may be comparable with MIP schemes, but it has the tax benefit of a regular equity fund. It will have a combined benchmark of 75% of Crisil Liquid Fund Index and 25% of CNX Nifty.
Deepak Gupta and Abhishek Bisen will manage the fund. The fund will have an exit load of 1% for redemptions made within a year. The NFO will close on October 1.
JP Morgan India Equity Savings Fund
This open-ended equity fund opens for subscription on September 22. It will also seek to use hedged arbitrage exposure, and will also have an unhedged portion.
The fund also seeks to provide automatic asset rebalancing. It will seek to buy underweight asset classes when they are cheap and sell overweight asset classes which turn expensive. The normal asset allocation strategy it plans to follow is given below.

The fund is suitable for those looking for low volatility, while wanting to participate in equities to a limited extent. As with the other NFO, this fund too will enjoy the tax benefits of an equity fund.
The return expectation from this fund should not be higher than that of a debt-oriented fund as a majority of the exposure will be hedged using derivatives.
The NFO will close on October 1. It will have a combined benchmark of 70% of Crisil Liquid Fund Index and 30% of CNX Nifty. Redemptions made within 18 months will suffer an exit load of 1%. The equity part of the fund will be managed by Amit Gadgil and Karan Sikka, while the debt portion will be managed by Namdev Chougule and Ravi Ratanpal.
Next week, look out for our review of another open-ended equity NFO – IDFC Dynamic Equity Fund.
Investing in NFO is made simple with FundsIndia. Open a free FundsIndia account in less than 20 minutes for NFO investing.
[fbcomments]