Small-cap stocks have been the market favourite for four years now. Funds focused on this market segment, however, are turning cautious. The proportion of their portfolios invested in small-cap stocks has been coming down over the past few months. Mid-cap funds that held a portion of their portfolio in small cap stocks have also done the same.
Shifting into mid-caps
Several small-cap funds, and even some mid-cap funds, began restricting inflows last year citing the lack of opportunities, expensive valuations, difficulty in liquidation, and impact cost. With no signs of a lasting correction, these concerns are exacerbated. Liquidity concerns also take centre stage, if a correction does happen.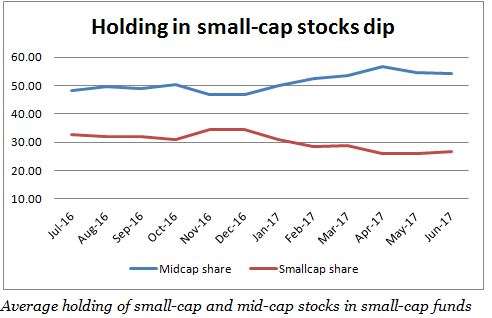 No small-cap fund invests exclusively in small-cap stocks. They combine both mid-caps and small-caps. A small-cap fund simply has a much higher share in small stocks than a mid-cap fund would. For small-cap funds, this proportion of small-cap holding has been inching lower since January this year.
The share of mid-caps in the portfolio is climbing instead as funds seek stability and liquidity without compromising too much on returns. The shift is so drastic in some small-cap funds that they can well be classified as mid-cap funds. For some of these funds, it was a conscious strategy change to become a mid-cap fund.
On an average, the share of small caps stocks for fifteen small-cap funds has dropped to 27% of the portfolio in June 2017 from the 35-40% it was last year. A small-cap stock here is defined as stocks with a market capitalisation of less than Rs 3,000 crore. In line with this drop, the average share of mid-cap stocks for these funds climbed to 54%. Almost every single small-cap fund has cut their exposure to the small-cap segment since January this year, even as they hiked holding in late 2016 as the correction offered buying opportunities. A third of the funds cut their small-cap stakes by a significant margin of 5 percentage points or more between January and June 2017. Some funds have added large-cap stocks to their portfolio. Some have upped their cash holdings.
The trend holds true for mid-cap funds as well. The average small cap share dropped to 9% by June 2017 from the 12-15% it was last year. Close to a third of the universe has brought the small-cap holding to just 1-3% of their portfolios now, when this share had been in the double-digits before.
For small-cap funds, this move shows up in their returns as well. In the year to date, the average return of 29.8% for the category is below the 31.9% of the BSE Smallcap Index (the benchmark for most small-cap funds). These returns are more on par with the BSE MidSmallcap index's 29%. There are, of course, funds that have outperformed the small cap index in this timeframe, and not all funds have uniformly cut holdings. These fund moves just serve to emphasise the point of the small-cap universe being overheated.
This article was first published in Economic Times' online edition.
[fbcomments]