Axis Mid Cap Fund has garnered an asset size of well over Rs. 1,200 crore in the four years it has been around. In this period, its returns of 26.7 per cent is leaps ahead of its benchmark's (BSE Midcap Index) 17.6 per cent. On an annual rolling return basis since inception, the fund has outpaced its benchmark almost all the time. Compared to its peers, it has also done well in containing volatility with its standard deviation much lower than that of its peers.
However, Axis Mid Cap's one-year return puts it in the bottom half of the mid-and-small cap category. Indeed, measuring this fund's returns against its category over the past four years shows it returning less than the average on an annual rolling return basis.
Tamer Run
Much of this can be explained by its inability to match up to the sky-high returns of funds such as Sundaram SMILE, Reliance Small Cap, or HSBC Mid Cap Equity clocked over 2014.
But Axis Mid Cap is not alone in its relative under-perfomance in this period. Stalwarts such as HDFC Mid Cap Opportunities and BNP Paribas Mid Cap also struggled to consistently beat the category average in 2014. Still, in a similar mid-cap fuelled rally in 2012, Axis Mid Cap stood above the category average.
The market uptrend that began in September 2013 saw mid-cap and small-cap stocks skyrocket. Many funds that topped the charts in this period were those that picked up multi-baggers such as TVS Motors, Ceat, HSIL, FAG Bearings, Aurobindo Pharma, Ipca Labs, and so on.
Axis Mid Cap Fund had snagged fewer multi-baggers in this period than several peers, thus affecting its overall performance. It also has a diffused holding, with individual stocks rarely accounting for more than 5 per cent of the portfolio. This can also limit the impact sharp price run ups have on the overall performance. The fund has begun to outperform the category average over the past two months.
Axis Mid Cap has moved a chunk of its portfolio into large-cap stocks (those with a market capitalisation of Rs. 10,000 crore and above), as have quite a few peer funds. From accounting for around 6 per cent of Axis Mid Cap's portfolio at the start of 2014, large-caps took up a 25 per cent share by December, and is now at 32 per cent. Peers such as Canara Robeco Emerging Equities and Franklin India Smaller Companies have lower proportions of large-caps.
Another indicator of the fund's relatively cautious approach is its swift juggling of sectors or stocks when prices rise, and its mandate to pick larger companies or leaders in the mid-cap space. On a risk-adjusted basis, Axis Mid Cap does much better than peers.
Changing Portfolio
The cautious approach the fund seems to take shows up in its paring stake in auto ancillaries, which have had a strong run for a couple of years now. It also lowered its holding in consumer non-durables in 2013 as valuations turned pricey. Both sectors, though, have continued to out-perform.
The fund hopped on to the banking sector and made merry in their stellar rally in 2012, and the first half of 2013. Holding here has been cut from the 20 per cent plus level in 2012, to around 13-15 per cent in 2014, to 9.5 per cent now.
The top sector weight has shifted from banking to pharmaceuticals now, given the growth clarity in this sector. Axis Mid Cap has upped exposure to non-banking finance companies as well, while lowering its holding in software over the past few months, where growth is slowing.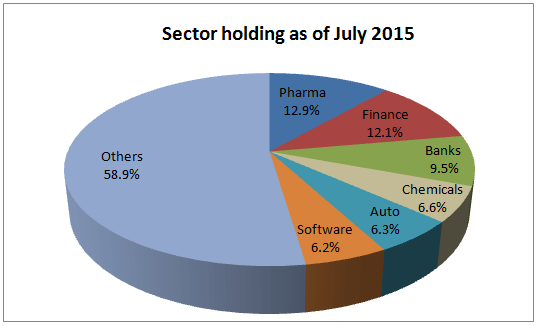 The fund has also recently added to its holding in chemicals, with Tata Chemicals being the top stock in the current portfolio. Similarly, it made timely cuts in sectors such as gas, logistics, real estate, and infrastructure.
However, Axis Mid Cap's mettle in falling markets has not been tested yet, since it started only in February 2011. Its move into large-caps now, as well as its backing sector leaders can help it weather a bear market better than its riskier peers.
We will continue to have this fund in our watch list to observe its performance over several market phases. For now, the fund appears to be one of the mid-cap funds that has a slightly higher average market capitalisation than typical peers in the category.
Pankaj Murarka and Sudhanshu Asthana manage the fund.
FundsIndia's Research team has, to the best of its ability, taken into account various factors – both quantitative measures and qualitative assessments, in an unbiased manner, while choosing the fund(s) mentioned above. However, they carry unknown risks and uncertainties linked to broad markets, as well as analysts' expectations about future events. They should not, therefore, be the sole basis of investment decisions. To know how to read our weekly fund reviews, please click here.
[fbcomments]