With equity markets running up a fair bit thus far in 2014, some of you wanting to make an entry now may be hesitating a bit. For first-time investors into mutual funds, or for those who want a bit of equities in their portfolio (but not too much), HDFC Multiple Yield Fund – Plan 2005 can be an option.
With a return of 11 per cent annually in the last five years and around 10 percent since its launch in August 2005, this debt-oriented fund is amongst the top performers in the monthly income scheme / debt-oriented category. This return is also a good three percentage points over its benchmark Crisil MIP Blended Index.
With a very low average portfolio maturity compared with quite a few peers, the fund's portfolio could deliver stable returns with lesser volatility.
Suitability
If you are a first time investor in equity, you may consider this fund by taking a little equity exposure. This fund is also a good choice if you wish to diversify your equity-laden portfolio with some debt.
If you can stomach risks that are somewhat higher than holding pure debt funds, and if you're expecting slightly better returns than such funds, then HDFC Multiple Yield Fund – Plan 2005 (MIP) is a good option.
Even though it is a debt-oriented fund, it can invest up to 20 per cent in equities as well. That means in times of steep equity declines, the fund can slip in to negative returns. Still, thus far, it has compensated investors with returns for the risk assumed.
Performance
Within the debt-oriented conservative category performance chart, HDFC Multiple Yield Fund Plan 2005 is in the top 5 over the last five-years, and it is in the top 10 over the last three years. The fund's three-year rolling return is an average 9.5 per cent compounded annually. That means, irrespective of when you invested, your average three-year returns would have been around this figure.
Franklin MIP comes close to this number on a rolling return basis. However, it is to be noted that Franklin MIP, sometimes, goes over 20 per cent on equities. However, HDFC Multiple Yield Fund Plan 2005 sticks to its mandate of up to 20% in equities.
Among the universe of MIP funds, HDFC Multiple Yield Fund Plan 2005 scores well on a risk-adjusted basis too, measured by the sharpe ratio. Over a five-year period, HDFC Multiple Yield would have delivered an yield of 12 per cent annually had you invested through an SIP. Lump sum returns over this period were around 11 per cent.
That said, HDFC Multiple Yield Fund Plan 2005 has had a taste of the bitter pill too. It did not have a great period in late 2008, besides being hurt by the equity downfall in 2008. As a result, it suffered negative returns in the last quarter of 2008. However, it recovered smartly in the 2009 equity rally and outperformed its peers.
The above is an illustration of the risky call the fund took, albeit delivering in the end.
Portfolio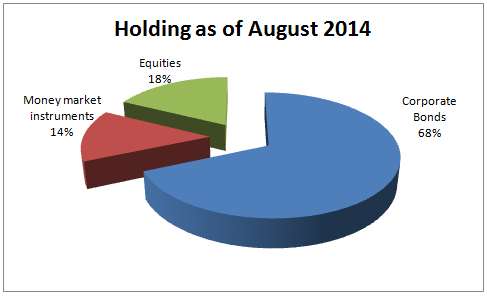 The fund invested 82% of its portfolio in debt instruments. Its current portfolio average maturity stands at 0.4 years. This is much lower compared with the 8-9 years average maturity of debt portfolio funds such as Reliance MIP or HDFC MIP Long Term.
The fund normally sticks to the low average portfolio maturity of up to one year. This makes its debt portfolio less volatile and risky (in terms of exposure to interest rate movements) compared with the above-mentioned peers.
The fund seeks to invest the balance of nearly 18% of the net assets of the scheme in stocks where the dividend yields are moderate to high. Currently, the investment focus appears to be on mid-cap stocks some of which have above-average dividend yield.
The fund has a majority of its assets in corporate bonds with an exposure of 68 percent, and about 32 per cent in short-term money market instruments. Majority of the portfolio is AAA-rated with some exposure in AA papers of quality companies such as Tata Motors, Sundaram BNP Paribas Home Finance, Shriram City Union Finance and Cholamandalam Investment and Finance Company.
The fund is managed by Anil Bamboli and Chirag Setalvad. An exit load of 1 per cent will be charged by the fund for redemptions made within 15 months.
[fbcomments]