A fund with an enviable track record, Kotak Select Focus is a good bet for moderate-risk investors. Since its inception in September 2009, the fund has shown its mettle in keeping ahead of its benchmark, the Nifty 200, at all times.
Kotak Select Focus takes heavy bets on a few sectors, which is where the 'select' nature of the fund comes in. The fund follows a growth-oriented approach. It does not chase value picks. It has brought down its mid-cap exposure over 2015 and 2016 compared to the earlier years, giving it a large-cap nature. Still, it has a higher mid-cap allocation than pure large-cap funds and is thus slightly riskier.
Kotak Select Focus is also part of the tactical call that we gave last week, following the results of the US election and the government's demonetisation moves. The fund requires a holding period of at least five years and is eminently suitable for investments through SIPs.
Where it invests
The fund's current portfolio is well-positioned to make the most of a longer-term rally in cyclical sectors. It has some exposure to consumption too. The fund cut down early on, by mid-2015, on software, plagued now by low growth forecasts. It has also maintained a relatively low holding of 3-5 per cent in pharmaceuticals, another sector where valuations were attractive but growth is now in question over the policies of the US and the UK, two key markets.
The fund's current portfolio is heavily instead overweight on automobile and cement stocks. Both sectors can see a dip in performance owing to a real estate and consumption crunch following the government's moves to curb black money. But infrastructure demand (which can rise further on improved government finances) can compensate for the lower retail demand. The sector is also a safer play on the infrastructure sector since most infrastructure stocks are heavily indebted and several have corporate governance issues.
A consumption dip is likely to be felt more in higher-end products; the stocks the fund holds, such as Hero MotoCorp, Maruti Suzuki, and Ashok Leyland are not in this end of the spectrum. They are also a play on reviving rural consumption and manufacturing and infrastructure growth. Financials, of course, take up the highest sector weight where the fund holds a mix of private sector banks, a variety of NBFCs, and insurance.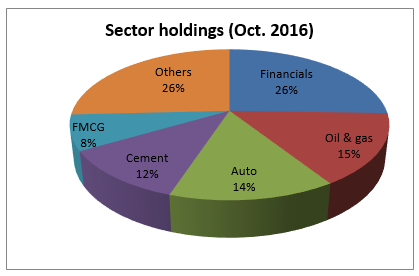 For Kotak Select Focus, the top five sectors usually make up 70-75 per cent of the portfolio. Within this, though, individual stock weights are not concentrated. The top stocks rarely account for over 6 per cent of the portfolio. It can show quite significant deviations in sector weights compared to its index and the fund has benefited in the past from early calls on sectors, such as cement in 2015, construction and financials in 2014, and software in 2013.
It can also very swiftly cut down and pick up sectors should the need arise. For instance, it had reduced auto holdings by end 2015 given the run up in prices but quickly picked it back up after the early 2016 fall and better monsoon augured well for the sector. While swift moves can cause higher churn, Kotak Select Focus has significantly brought down its portfolio turnover over the past two years.
Performance
Against its Nifty 200 benchmark, the fund has performed admirably well. Rolling three-year return since its inception has the fund beating the index all the time. Rolling one-year returns over five years also shows a similar performance, indicating that the fund scores very well on consistent performance.
While the fund has not seen a protracted bearish market, periods such as 2011, 2013, and 2015 offer good insights into the fund's ability to manage market cycles. In these periods, the fund has stayed well above its benchmark. But owing its high-beta strategy, the fund has not matched up as well to its peers in such periods. In 2011, for instance, its returns were below the category average for large-caps. Even compared with diversified funds, the fund just about matches the category average in these periods. Its overall volatility in returns is higher, compared to peers.
For the risk it takes, though, the fund delivers commensurate returns – on the Sharpe metric, Kotak Select Focus is the best among its peers. Compared to diversified funds too, it ranks high. In the one, three, and five-year periods, the fund has stayed in the top quartile among large-cap funds.
The fund has an AUM of Rs 6704 crore. Harsha Upadhyaya is the fund's manager.
FundsIndia's Research team has, to the best of its ability, taken into account various factors – both quantitative measures and qualitative assessments, in an unbiased manner, while choosing the fund(s) mentioned above. However, they carry unknown risks and uncertainties linked to broad markets, as well as analysts' expectations about future events. They should not, therefore, be the sole basis of investment decisions. To know how to read our weekly fund reviews, please click here.
[fbcomments]