It's around this time that most of us begin to think about tax planning. Among the options allowed under Section 80C deductions, Franklin India Taxshield is a good one. An ELSS fund, Franklin India Taxshield invests in equity, and has a three-year lock-in period from the date of investment. The majority of its portfolio is in stable large-cap stocks, making it a good fit for any kind of investor. It is a winning combination of low volatility, near-perfect consistency in beating its benchmark over the long term, and superior returns. Evergreen performer Franklin Taxshield puts around three-quarters of its portfolio in large-cap stocks (stocks whose market capitalisation is above Rs 20,000 crore). Most ELSS funds have lower large-cap exposures. By virtue of this large-cap slant and its valuation-rooted, quality-conscious investment style, Franklin Taxshield contains losses better than most in correcting markets. In the 2008 crash, for example, Franklin Taxshield's 56 per cent drop was below the average of 62 per cent for the ELSS category and even the 59 per cent average loss large-cap funds delivered.
Of course, this strategy limits gains when markets take off. The fund still does deliver above-average returns during market upswings. But peers such as Reliance Tax Saver, Axis Long Term Equity, and Birla Sun Life Tax Relief 96, deliver higher bull-market returns–the three funds, for instance, clocked gains of 165 percent, 133 per cent and 117 per cent, respectively, in the 2013-2015 bull run against Franklin Taxshield's 106 per cent. But these funds are more volatile; though they rise more, they fall more. Reliance Tax Saver, for example, dropped 29 per cent in the correcting 2011 market, BSL Tax Relief 96 lost 33 per cent while Franklin Taxshield lost 17 per cent; this pattern repeats in other correcting market cycles too. At the same time, the fund is also able to deliver superior risk-adjusted returns, measured by the Sharpe ratio. In fact, Franklin Taxshield has among the lowest volatility and the highest Sharpe among ELSS funds.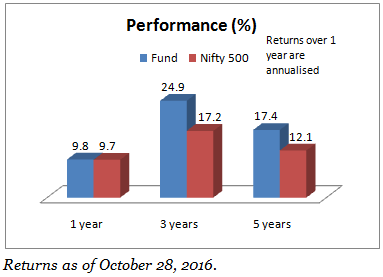 On consistency too, the fund does well. While the fund goes through short periods where it can underperform its category or benchmark, it usually recovers quickly. It has beaten the category average a high 97 per cent of the time when rolling 3-year returns over the past ten years. Against its benchmark, the Nifty 500 index, Franklin Taxshield is similarly good. Since its inception, the fund has done better than the index 97 per cent of the time, when rolling 3-year returns. Barring Axis Long Term Equity, Franklin India Taxshield has among the best records of consistency in beating both category and benchmark. In the one, three, and five-year periods, Franklin Taxshield's returns are in the mid-quartile. This is partly due to the comparatively lower mid-cap and small-cap holding at a time when these two segments have been indefatigably marching higher. Another reason is its sector shift and stock choices.
Portfolio change Franklin Taxshield takes a long-term perspective on its stocks, tending towards a buy-and-hold approach. It considers stock valuations in light of long-term growth prospects, and tends towards companies with high corporate governance and quality. Given the promise in economic growth and recovery, the fund has significantly increased holding in banking. The sector now accounts for 32 per cent of the portfolio, up from the 26 per cent six months ago. It still holds mostly private sector banks here; Axis Bank is one stock where the fund has increased holding and which has recently seen sharp corrections. Automobiles is the second sector where the fund has increased stake; here too, the fund has upped share in Mahindra & Mahindra, which can benefit from both a rural and urban recovery, and Maruti Suzuki.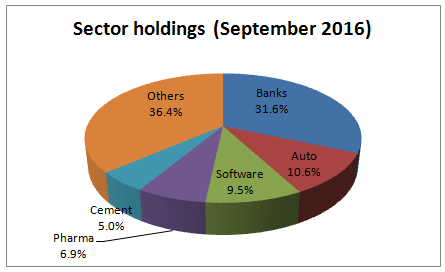 The fund hasn't moved much into other recovery-driven but troubled sectors such as metals, construction, infrastructure, engineering, or energy; these sectors form very small shares in the overall portfolio, even as peer funds hold these. This is also a contributing factor to Franklin Taxshield's short-term underperformance compared to peers as these sectors have run up sharply in the past six months. Significant exposure is limited to cement, where demand as well as company fundamentals are far more robust. As with most funds, Franklin Taxshield has cut holdings in the software sector, though the sector is still near the top. Telecom holdings are also down.
Still, the fund's portfolio holds a balance between cyclical, defensive, and consumer themes that can hold it in good stead. The fund is managed by R Janakiraman and Lakshmikanth Reddy, and has an AUM of Rs. 2392 crore. FundsIndia's Research team has, to the best of its ability, taken into account various factors – both quantitative measures and qualitative assessments, in an unbiased manner, while choosing the fund(s) mentioned above. However, they carry unknown risks and uncertainties linked to broad markets, as well as analysts' expectations about future events. They should not, therefore, be the sole basis of investment decisions. To know how to read our weekly fund reviews, please click here.
[fbcomments]