At a time when rates have dropped and are expected to drop further, investing in an income fund may seem incongruent. But it is a good move for many reasons. A good part of the duration rally is already past. Two, the currency withdrawal has hastened the pace of interest rate cuts by banks in both deposits and lending. With its effect on growth and inflation unclear, when and by how much further policy rate cuts will happen is not an easy guess any longer.
Thirdly, yield movements also depend significantly on FPIs, who pulled out late last year in record numbers. Their own activity will depend much on the dollar strength, US inflation, and US rate hikes.
Within the accrual space, going for funds that invest in slightly higher-yielding papers can provide and sustain better returns even as interest rates fall. But it's best to step carefully as risks are high as higher yields seldom come with high credit rating
In this regard, DSP BlackRock Income Opportunities fund appears to be doing a good balancing act. The fund plays the middle ground between a pure credit opportunity fund and a regular income fund. The fund suits investors who are willing to take some extra risk in their debt funds in order to get higher returns. The fund requires a minimum 3-year holding period.
Risk-averse investors who simply want tax-efficient, FD-plus returns can invest in HDFC Medium Term Opportunities, which sticks to top-rated papers.
Performance and strategy
In early 2014, the fund changed its strategy from investing in very short-term floating-interest papers into a longer-term accrual fund. Since then, the average maturity of the portfolio has held at 2.5-4 years.
The fund holds about 45-50 per cent of its portfolio in papers rated AA and below. Other income funds have minimal to no exposure to such papers. This results in the fund's yield to maturity of 8.99 per cent being the highest among income funds. In the past two years, its YTM has consistently held above the category average by a good 1.5-2 percentage points. At the same time, its risk profile is a notch lower than pure credit opportunity funds, which put upwards of 65 per cent of their portfolio in low-credit papers.
Most income funds seek to boost returns in a falling rate cycle either by trading on a small portion in government securities or by trading on AAA-rated PSU bonds. DSPBR Income Opportunities does neither. The fund thus uses its high YTM to sustain returns even as interest rates fall in the coming months. It may also benefit from credit upgrades as growth kicks in across sectors and falling rates reduce corporate debt burden.
The fund's risk-adjusted return, measured by Sharpe, is well above the average for both income and credit opportunity funds indicating that the risk it is taking is paying off. Rolling its one-month returns over the past three years has it delivering negative returns just 2 per cent of the time, among the lowest figures for both income and credit opportunity funds, on par with funds such as HDFC Medium Term Opportunities.
DSPBR Income Opportunities also delivers above-average returns. Its average rolling 1-year return over the past three years at 10.1 per cent is well above the 8.7 per cent average for income funds and the 9.1 per cent for credit opportunity funds. It is able to beat the category average of credit opportunity funds 60 per cent of the time on this rolling return, no mean feat given their far higher risk profile.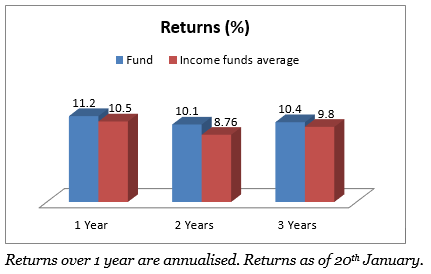 Portfolio
In its current portfolio, DSPBR Income Opportunities holds 36 per cent of its portfolio in AAA-rated securities; the segment has accounted for similar levels across months. Together with government bonds, money market securities and AA+ papers, the higher rated papers accounts for just under half the portfolio.
The bulk of portfolio exposure is to micro-finance companies, housing finance companies, and other NBFCs. There may be temporary setbacks from these due to the currency withdrawal, but holding the fund for the recommended period should allow tiding over of such shocks. Similarly, the fund has exposure to power companies, but this exposure is mainly through less vulnerable PSUs and transmission players.
The fund's top five holdings are slightly concentrated at 5-6 per cent, but they are all AAA-rated save one. The AMC itself has seen more of its debt papers upgraded than downgraded in last three years, which provides some comfort.
The fund has an AUM of Rs 5848 crore, managed by Pankaj Sharma and Laukik Bagwe.
FundsIndia's Research team has, to the best of its ability, taken into account various factors – both quantitative measures and qualitative assessments, in an unbiased manner, while choosing the fund(s) mentioned above. However, they carry unknown risks and uncertainties linked to broad markets, as well as analysts' expectations about future events. They should not, therefore, be the sole basis of investment decisions. To know how to read our weekly fund reviews, please click here.
[fbcomments]